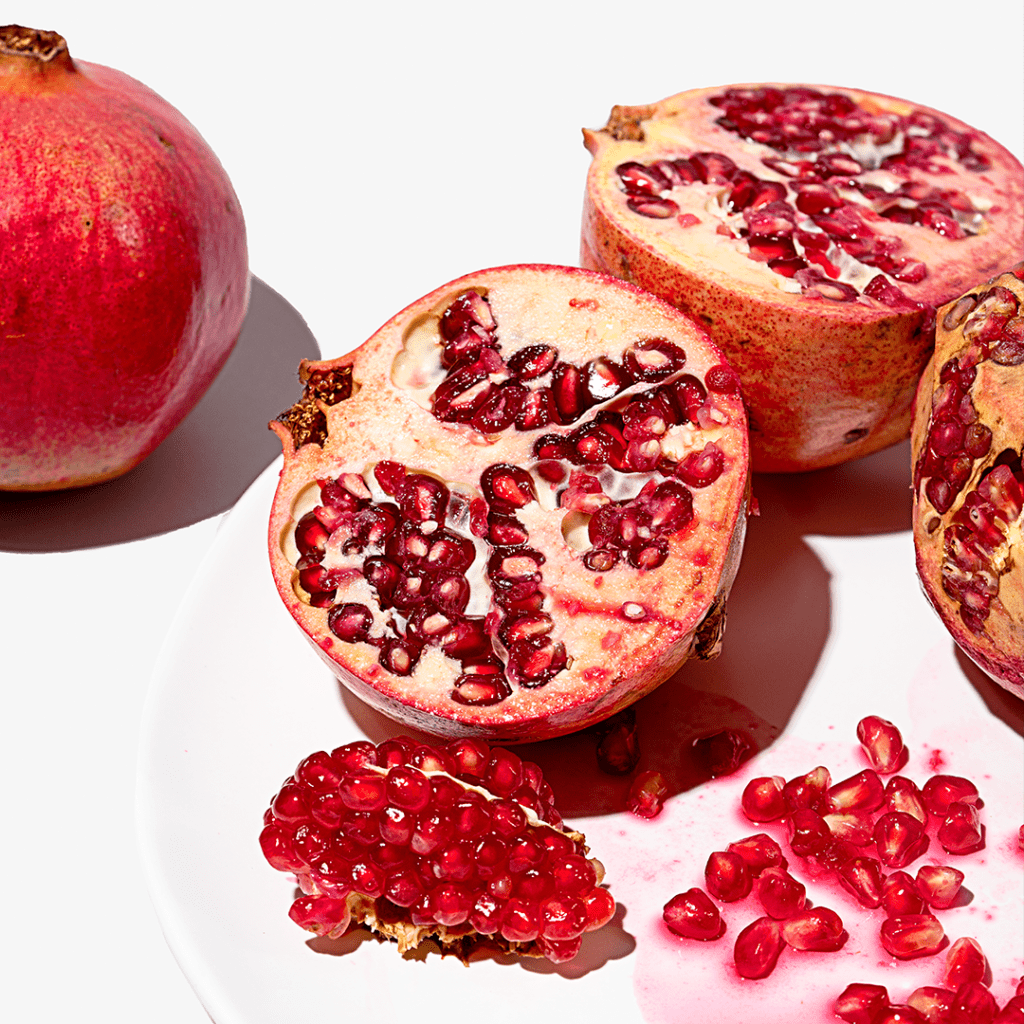 Fun fact! In Latin, pomegranate means "apple with many seeds." Appropriate, due to the fact that the seeds—aka arils—are the only edible part of this fruit.
While the pomegranate's sweet yet tart flavors complement both savory and sweet dishes alike, even we can admit this winter fruit can be a bit intimidating. Don't worry. We've got you covered. Watch now for one of the easiest ways to remove all of those pesky arils.
Then, try one of our 10 favorite recipes that feature those ruby gems.
We can't get enough of salads, and this bright dish, in both taste and appearance, is definitely our go-to. It's chock-full of roasted sweet potatoes, diced green apples, walnuts, and—the star of the show, of course—pomegranate arils.
If you have extra pomegranates sitting around, you might be interested in making your very own homemade pomegranate juice. We know store-bought is easier, but homemade is definitely worth the effort.
Cheers to the new year and this holiday season with this holiday-themed mimosa. We think the pomegranate makes a great addition to this classic drink.
This gluten-free stuffing has all the flavors of a traditional bread stuffing with a surprising amount of flavor and texture from cauliflower. The pomegranate arils and almonds transform the dish to give it a splash of color and crunchy texture.
Need to sweeten up your vinaigrette? This recipe's got you covered. The best part is this recipe is not only gluten-, dairy-, and refined sugar-free, but it's also paleo and vegan friendly.
You can't go wrong with salsa. We think the pomegranate arils paired with grapefruit make for an exciting spin in this classic sauce.
What's better than avocado toast? Avocado toast paired with some of our favorite winter staples. Top toast with tart pomegranate arils, a touch of sweetness with honey, and you'll have yourself a treat!
The pomegranate arils give this cookie the pop the color it deserves. Not only do these taste great, but they sure are pretty!
Single pan meals always work great with a busy schedule and minimal ingredients. The tender chicken marinated with sweet pomegranate and sour lemon juice makes for a great work night meal. And don't forget very little cleanup.
Bobby Flay is at it again with this easy winter dish that brings to life delicata squash with pomegranate arils, almonds, and a drizzle of pomegranate molasses. You don't even need to wait long. This single pan meal will be ready in 20 short minutes!
What pomegranate recipe are you most excited to try?