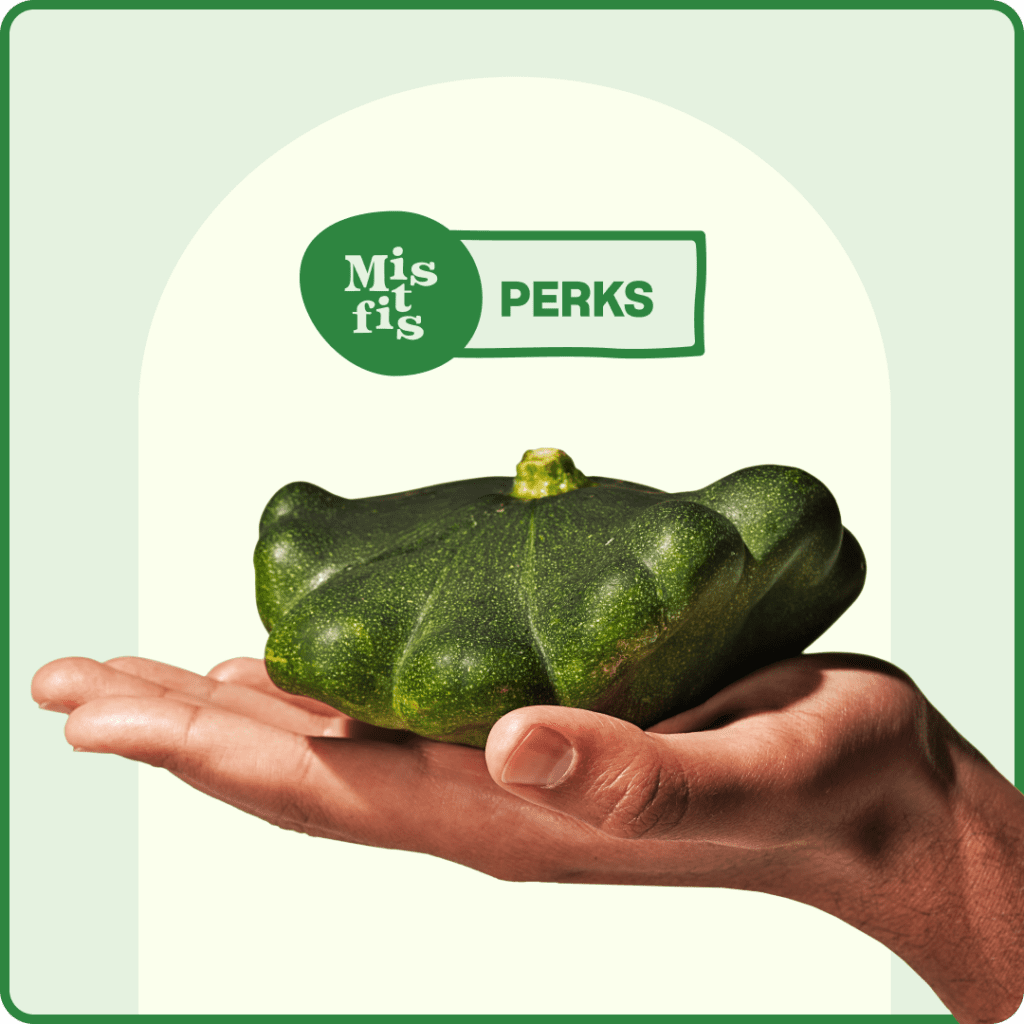 You asked for it, we delivered! Misfits Perks is our new grocery loyalty program that helps you save even more when you shop with Misfits Market. Now, on top of the everyday savings we offer (up to 40% off grocery store prices!), you can enjoy even more benefits by shopping regularly and taking advantage of our exclusive loyalty perks.

With Misfits Perks, you can earn points for every purchase, plus additional points for simple actions like downloading our easy-to-use Misfits Market app. You can then redeem Misfits Market points for perks—rewards like discounts on grocery orders or two levels of free gift offerings.
Getting started couldn't be easier. When you become a Misfits Market customer, you're automatically enrolled in Misfits Perks for free. Already shopping with us? You're automatically in, too—and you're eligible to earn points on all future orders.
How to Earn Points
When you buy more, you earn more! If you're enrolled in our weekly grocery plan, you're eligible to earn 2 points for every $1 spent on grocery purchases*. If you prefer to shop a la carte, you'll earn 1 point for every $1 spent on grocery purchases*.
Even better, there are other easy ways to get points; find more info in the Perks Hub on your account page. Bonus: There's no limit to the number of points that you can earn!
How to Redeem Points for Perks
When you log into your Misfits Market account, you'll see which perks you're eligible for on your upcoming order based on your points balance. Pick your favorite within your balance, select "Redeem," and it's yours. You can choose from among discounts on an order, a Mini Gift (an everyday item like a snack or produce item), a Mega Gift (a premium item), or even multiple gifts at once.
If you select a Mini or Mega Gift option, you'll be able to shop a special section of Misfits Market when it's time to build your next order. Depending on your earned points, this section will showcase available items for you to pick from. Perks available may change from time to time, depending on our seasonal assortment.
When you redeem your perk, it will automatically apply to your next order. Best of all, you can redeem points while also using other discounts from promo codes and referrals so you can save even more on your grocery orders.
Happy shopping!
*Dollar amounts are calculated based on the subtotal of products purchased (in other words, not including tax and shipping) in each order. Purchases must be made through our website or mobile application to earn points. Eligible grocery purchases exclude alcoholic beverages and gift cards. Some restrictions apply. See the Misfits Perks page and our Terms of Service for more details.