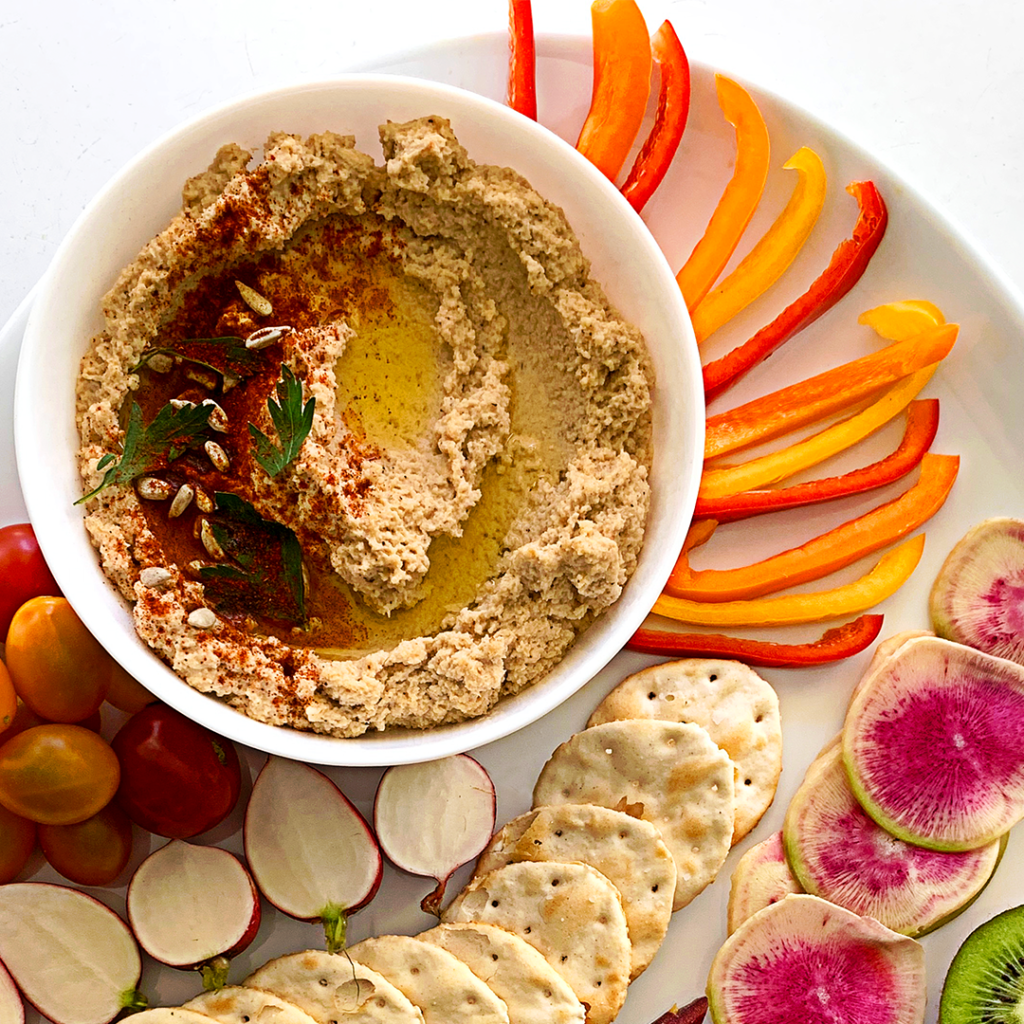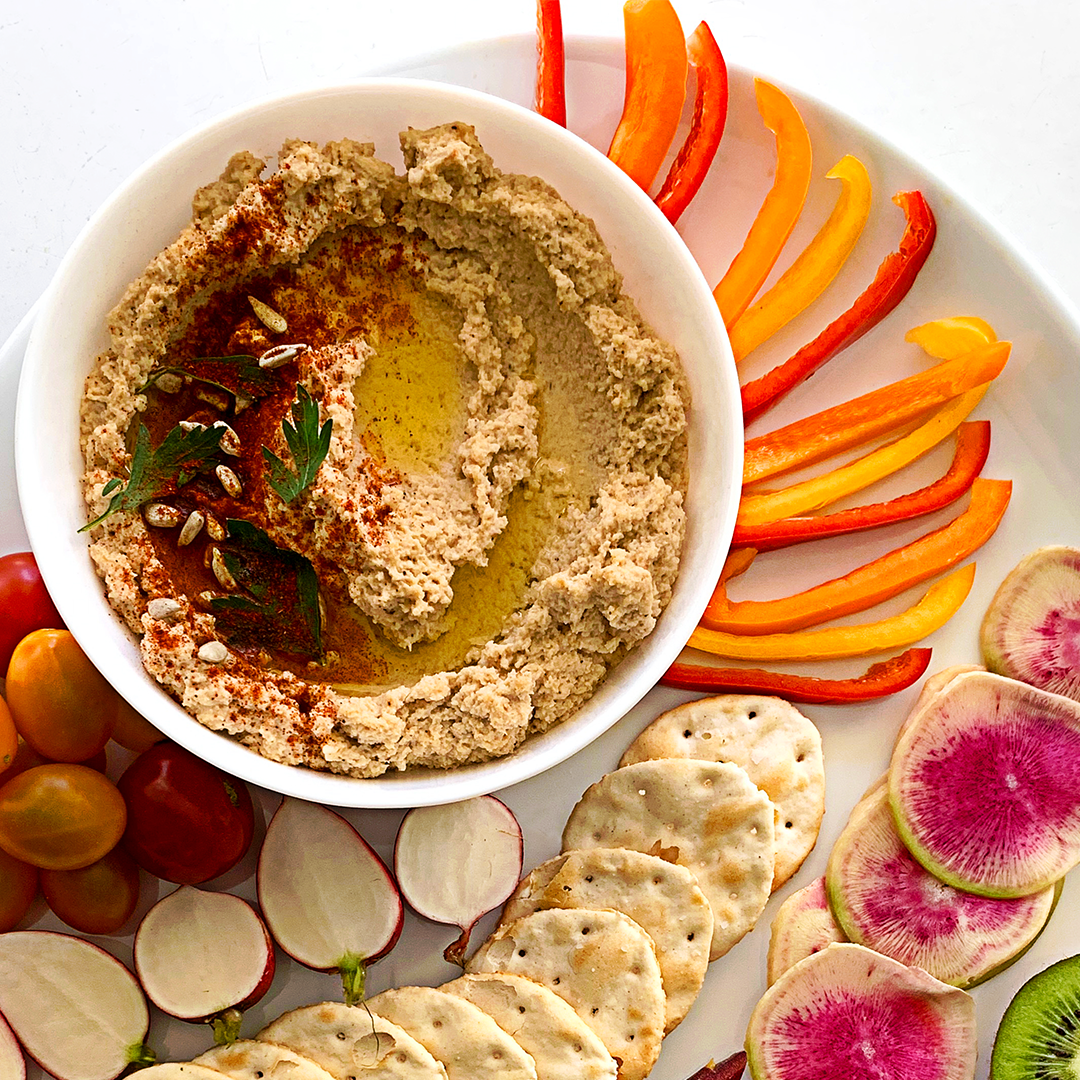 There's nothing we love more than attending (or hosting!) a holiday party chock-full of good company… plus delicious dips, fresh crudité, and cheese. Lots and lots of cheese and crackers. Though the holidays—and all gatherings—in 2020 have looked a little bit different than last year (or any year for that matter), that doesn't mean we're ditching our love for homemade dips.
Here, three easy dips you can make to celebrate the holidays. Even if it's just you this year. May these savory and sweet dishes make your holidays bright.
(And as for the add-ons like crackers, cheese, and fruit? Use what you have! There are no rules.)
Print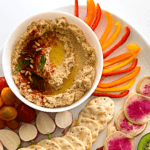 Cauliflower Hummus Spread
---
4 cups

cauliflower 

1 tablespoon

olive oil, plus more for serving

2 1/2 tablespoons

lemon juice 

4 tablespoons

tahini

1 teaspoon

salt 
A few grinds of pepper

1/2 teaspoon

cumin

1/4 teaspoon

paprika

1

clove garlic, sliced

1/4 cup

of water

1 tablespoon

sunflower seeds, toasted (optional)
---
Instructions
Preheat oven to 400 degrees.
Toss cauliflower florets with olive oil. Bake in the oven for 35-45 minutes or until slightly browned and fork tender.  
Put roasted cauliflower, lemon juice, tahini, salt, pepper, cumin, paprika, and garlic in a food processor. Pulse. Drizzle in water slowly and pulse until you get a thick, smooth, dip-like consistency. Add more water, 1 teaspoon at a time as necessary.
Put in a small serving bowl. Garnish with toasted sunflower seeds, a swirl of more olive oil and a dash of paprika, if desired. Serve on a platter with carrots, cucumbers, radishes, multi-colored peppers, kiwi, and cherry tomatoes. 
---
Print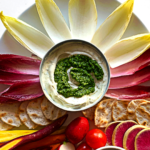 Mixed Greens Pesto Swirl Dip
---
4 cups

mixed greens like parsley, cilantro, carrot or beet greens—whatever you have on hand 

1

large garlic clove, sliced

1/4 cup

pine nuts, lightly toasted

2 1/2 tablespoons

parmesan, grated

1/3 cup

of olive oil 

1/2 teaspoon

salt
Pinch of black pepper

3 teaspoons

lemon juice

1 teaspoon

zest

1/2 cup

mayonnaise

1/3 cup

sour cream
---
Instructions
Put greens, garlic, toasted pine nuts, parmesan, salt, pepper, lemon juice, and zest in a food processor. Pulse to blend. Then, add oil in a slow, steady stream. Taste and season accordingly. 
In a serving dish of your choice, mix mayonnaise and sour cream together. Then, swirl pesto over the top. 
Serve on a platter with endive, radicchio, boiled potatoes, carrots, and cherry tomatoes. 
---
Print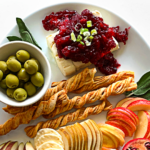 Cranberry Cream Cheese Spread
---
6 ounces

fresh cranberries

1/2 cup

of sugar 
Zest and juice of 1 large orange (approximately 1/2 cup of juice)  

3 tablespoons

scallions (about 2-3), finely sliced, plus more for garnish

2

pinches of salt 

1

6-ounce block of cream cheese 
---
Instructions
Put cranberries, sugar, orange juice, zest, scallions, and salt in a saucepan over medium heat. Bring to boil, reduce to simmer and stir. Let simmer for about 5 minutes or just until the cranberries burst. Smash stubborn berries with the back of a wooden spoon. 
Take off the heat and cool. (Note: Visually, we like to see big chunks of berries, but if you want more of a salsa-type consistency, feel free to pulse gently for a few seconds in a mini processor.) Taste. More salt? Season accordingly. Too sweet? Add a splash of vinegar. 
Put cream cheese on a small serving plate or dish and cut a line down the middle. (This will help to let sauce sink in.) Pour cooled cranberry sauce over the cream cheese and sprinkle with more scallions. Serve with fruit—persimmons and pears work well—and cheese, crackers, olives, and breadsticks. 
---