Get the recipe for Chicken Enchiladas with Roasted Green Bell Pepper Sauce:
Print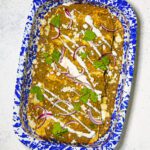 Chicken Enchiladas with Roasted Green Bell Pepper Sauce
---
Green Bell Pepper Sauce
6

green bell peppers

1

white onion, halved

2

jalapeños

2 tablespoons

olive oil

½ cup

chicken stock or water

½ cup

cilantro, leaves and tender stems

3

cloves garlic, skins removed

1½ tablespoons

lime juice
Kosher salt
Enchiladas
3

cloves garlic, skins removed and smashed

⅓ cup

cilantro, leaves and tender stems

4

skinless, boneless chicken breasts
Kosher salt

12

corn tortillas

8 ounces

Cotija cheese, crumbled, plus more for serving

½ cup

Mexican crema or sour cream
Red or white onions, thinly sliced, for serving
Cilantro, for serving
---
Instructions
For the green bell pepper sauce, arrange the top oven rack to the second rung from the top (around 6 inches from the broiler) and preheat to 475 degrees F.
Place the whole bell peppers, onion, and jalapeños on a parchment-lined baking sheet. Drizzle olive oil over both sides of the bell pepper mix. Roast, flipping everything halfway through, until the skin of the bell peppers is browned and blistered, 40 to 45 minutes. Remove the jalapeños earlier if they are getting too browned, and cut the stems off once cooled. Let the bell peppers cool (they should look deflated and wrinkly), then remove the skin, stems, and seeds.
Transfer bell peppers, jalapeños, onions, and any roasting juices to a food processor. Add chicken stock, cilantro, garlic, and lime juice. Bliz to form a smooth purée. Transfer sauce to a large bowl and season with salt to taste.
For the enchilada filling, add garlic and cilantro to a medium pot. Fill with water and 1 tablespoon kosher salt and bring to a boil. Turn heat down to low and poach chicken breasts until cooked through, 9 to 11 minutes. Transfer chicken to a large bowl and let cool. Shred the chicken into small pieces with either your fingers or two forks.
To assemble, preheat the oven to 350 degrees F.
Grease a 2-quart baking dish and spread a layer of sauce on the bottom. Working 1 tortilla at a time, soften by heating each one in a dry, hot pan for 5 seconds on each side. Dip each tortilla into the sauce, place on a plate, and fill with ¼-⅓ cup of shredded chicken. Roll into a log, then transfer into the baking dish, seam-side down. Repeat with remaining tortillas.
Top with cheese, then spread remaining sauce over top. Bake until the cheese is melted and begins to bubble, 20 to 25 minutes. Let cool for 10 minutes before serving.
Meanwhile, combine sour cream (if using) and 1 tablespoon water, and season with salt.
Serve enchiladas with the crema, extra cheese, sliced onion, and cilantro on top.
---
Hungry for more? Try this: