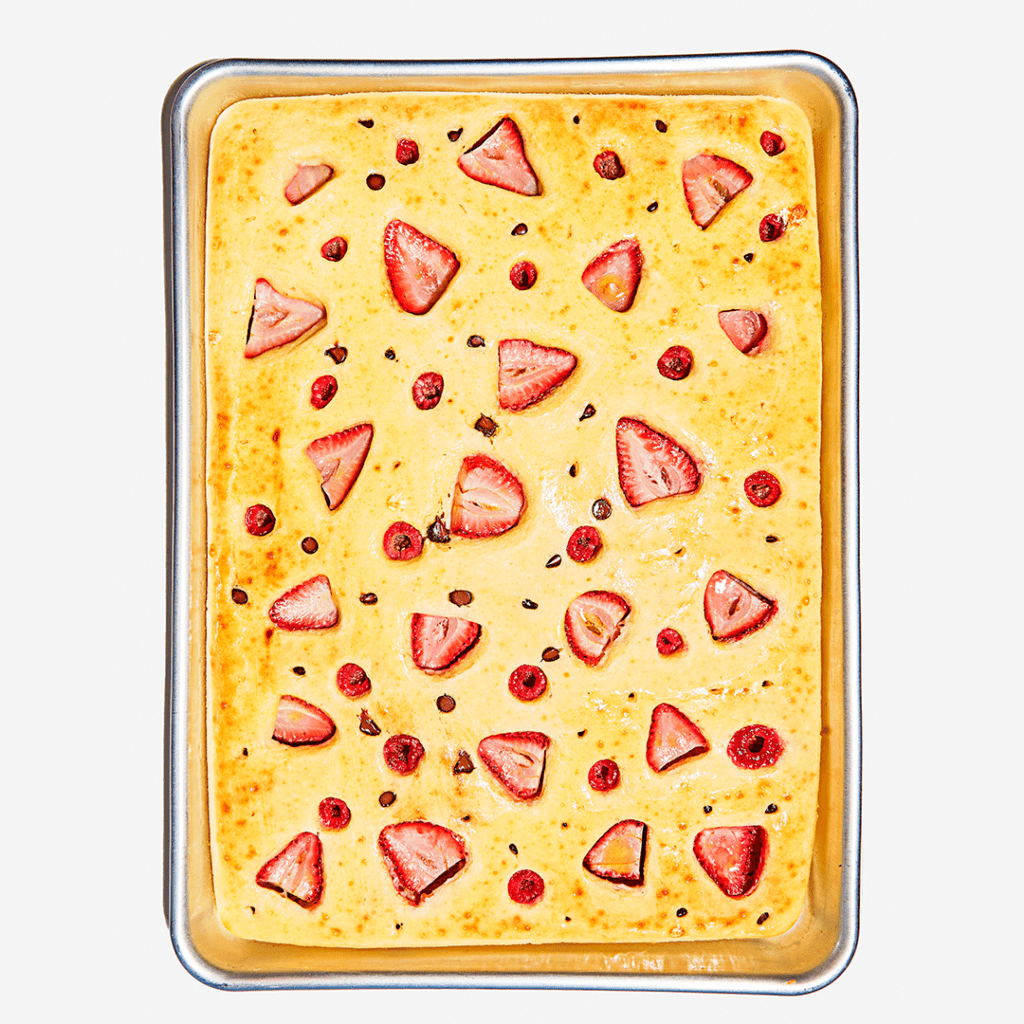 Remember when millions of people were trying to get their hands on any flour available at the beginning of the pandemic? Some of us bought cake flour in a pinch only to realize this low-protein flour isn't quite the same as all-purpose flour or bread flour. So, if you've still got some cake flour kicking around, this recipe from our Cabinet Castaways series is just what you need. Sheet pan pancakes are tender and totally customizable—just swap in whichever add-ins are your favorite.
No cake flour? No problem. If you want to use regular all-purpose flour, take one cup of all-purpose flour, remove two tablespoons, and then add two tablespoons of cornstarch instead. Sift together before using.
Print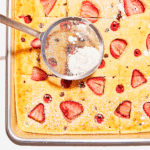 Cake Flour Sheet Pan Pancakes
---
2 3/4 cups

buttermilk 

2

large eggs, beaten

1 1/2 teaspoons

salt 

2 teaspoons

vanilla extract 

1/3 cup

granulated sugar

2 3/4 cups

of cake flour

1 tablespoon

baking powder

1 1/2 teaspoons

baking soda
Butter for greasing the pan (about 2 tablespoons)
Optional toppings: Sliced strawberries, semi-sweet chocolate chips, coconut chips, blueberries, peanut butter, strawberry jam—the options are endless!
---
Instructions
Position the rack in the middle of the oven and preheat the oven to 500 degrees. 
In a medium bowl, whisk together buttermilk, eggs, salt, vanilla, and sugar. In a separate, larger bowl, whisk together flour, baking powder, and baking soda. Pour wet mixture into dry and stir to combine. 
Butter a 18"x13" sheet pan and pour in the batter, carefully tapping the baking sheet to level the batter out.
Top with strawberries and chocolate chips. (Or, add other desired toppings like peanut butter, jelly, coconut chips, and other sliced berries.) 
Put the sheet pan in the oven and reduce heat to 400 degrees. Bake for 17-23 minutes, rotating the sheet pan halfway through. 
Serve sliced with maple syrup, whipped cream, confectioners' sugar, or a side of more fresh fruit, as desired.
---