Our favorite kinds of dinners are the ones that are full of lots of veggies yet so hearty they require no sides, no salads, and no soups. This cheese- and fresh herb-filled lasagna is just that: filling and delicious enough that you don't need anything else. Swap your traditional lasagna noodles for sweet butternut squash slices for a healthy-ish dinner that you won't be able to get enough of. The best part? No matter what hardy squash you have—acorn, butternut, pumpkin, or kabocha—you can follow the same recipe below (which includes how-to for a simple béchamel).
Watch now to learn how to bake your own cheesy butternut squash lasagna.
Print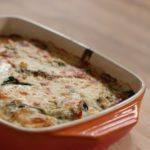 ---
---
1

medium-large yellow onion, diced

2

shallots, diced

1

butternut squash, peeled, seeded, quartered and thinly cut into

¼

–

½

-inch half moon slices

1

bunch Swiss or rainbow chard, cleaned and cut into thin ribbons

2 cups

whole-fat mozzarella cheese, shredded

1 cup

parmesan cheese, grated

1 cup

pecorino romano cheese, grated

1 tablespoon

rosemary sprigs, finely minced

3 tablespoons

sage leaves, finely minced

3 tablespoons

extra virgin olive oil, more if needed

¼ cup

all-purpose flour

¼ cup

unsalted butter

3 ½ cups

whole milk

¼ teaspoon

nutmeg, ground
Kosher salt to taste
Cracked black pepper to taste

1 tablespoon

parsley or carrot tops, finely minced (Optional)
---
Instructions
Preheat oven to 375 degrees.
In a sauté pan, heat 1 tablespoon of olive oil and lightly caramelize the onion and shallot, about 8-10 minutes. Season with salt and pepper. Transfer to a small bowl and set aside.
Mix mozzarella, parmesan and pecorino cheeses together in a bowl and set aside.
For the béchamel sauce: Heat a medium saucepan over medium heat. Add butter.
Once butter has melted, whisk in flour to incorporate and then slowly pour in milk and add nutmeg, consistently whisking. Bring mixture to a boil and then reduce heat to a simmer, whisking constantly for 5-7 minutes until the béchamel is nicely thickened and silky, not clumpy. Season with salt and pepper.
To arrange the lasagna, use a 9" x 13" glass baking dish or ceramic casserole dish to layer ingredients. Distribute approximately ½ cup sautéed onion and shallot over the bottom of the dish.
In a "fish scale" scalloped pattern, layer butternut squash slices over top.
Drizzle slices with olive oil, rosemary, and sage and season with salt and pepper.
Top squash with a handful or two of Swiss chard, followed by 1 cup or so of the shredded cheese mixture.
Pour ½ – ¾ cup of the béchamel sauce over top.
Begin again with the onions and shallots for the second layer, repeating all steps above. Ingredients should be plentiful for 4 layers.
Cover the baking dish with aluminum foil and bake for 20-25 minutes.
Remove foil and bake for an additional 20-25 minutes or until cheese is golden brown.
To serve, sprinkle parsley or carrot tops over top.
---