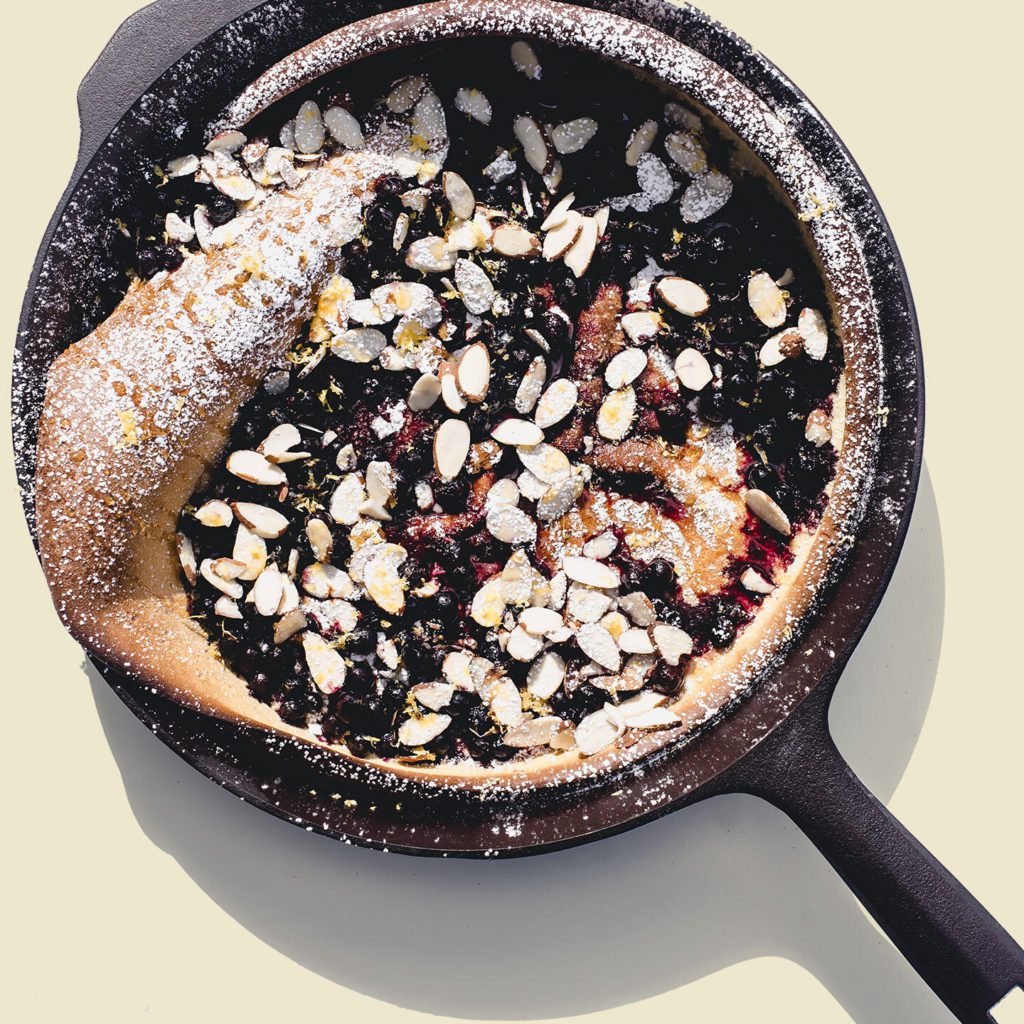 We've never met a pancake recipe that we didn't like, but this light-and-airy Dutch baby pancake might take the, yes, cake. Never had the pleasure of digging into one before? Well, think of it as a crepe-popover-pancake mashup. What sets it apart from your average stovetop pancake is the fluff factor. So. Fluffy. 
A cast-iron skillet really makes this recipe better. And lucky for us, our friends at Field Company sent us a rescued one. Yep. A rescued cast-iron skillet.
This skillet is part of their Field Factory Seconds collection, which all cook just as well as every full-price skillet, but include cosmetic imperfections here or there. Needless to say, we're quite smitten with our new favorite piece of cookware. It's a match made in misfit heaven, you might say. Every nick, scrape, and ding is a piece of this skillet's unique history.
Shop now: Field Skillet, Factory Second, $110 at FieldCompany.com*
Happy cooking!
Print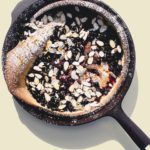 Blueberry Almond Dutch Baby Pancake
---
3

eggs

1/2 cup

all-purpose or einkorn flour

1/2 cup

whole milk or milk alternative

1 teaspoon

almond extract

1 tablespoon

granulated sugar

2 tablespoons

salted butter

1 cup

blueberries

1/4 cup

slivered almonds

1 tablespoon

honey

3 tablespoons

powdered sugar
---
Instructions
Heat a cast-iron skillet or oven-safe pan in a 425°F oven. (We used the #10 Factory Second Field Skillet.)
In a blender, mix eggs, flour, milk, almond extract, and sugar for 30 seconds. Scrape down the sides, blend again until combined and frothy, about 15 more seconds. Set aside.
Once the oven reaches 425°, remove the skillet and add butter. Use a spatula to spread the butter and coat the bottom and inner sides of the skillet. Pour the egg mixture into the cast iron pan and transfer it back into the oven immediately.
Bake for 18-20 minutes, or until the pancake it golden and puffed.
When ready, remove from oven. Garnish with blueberries, almonds, a drizzle of honey, and dust with the powdered sugar.
Share and serve as soon as possible! Enjoy!
---
*Disclaimer: Some of the links in this post are affiliate links, which means, at no additional cost to you, we may earn commission on all purchases through these links.