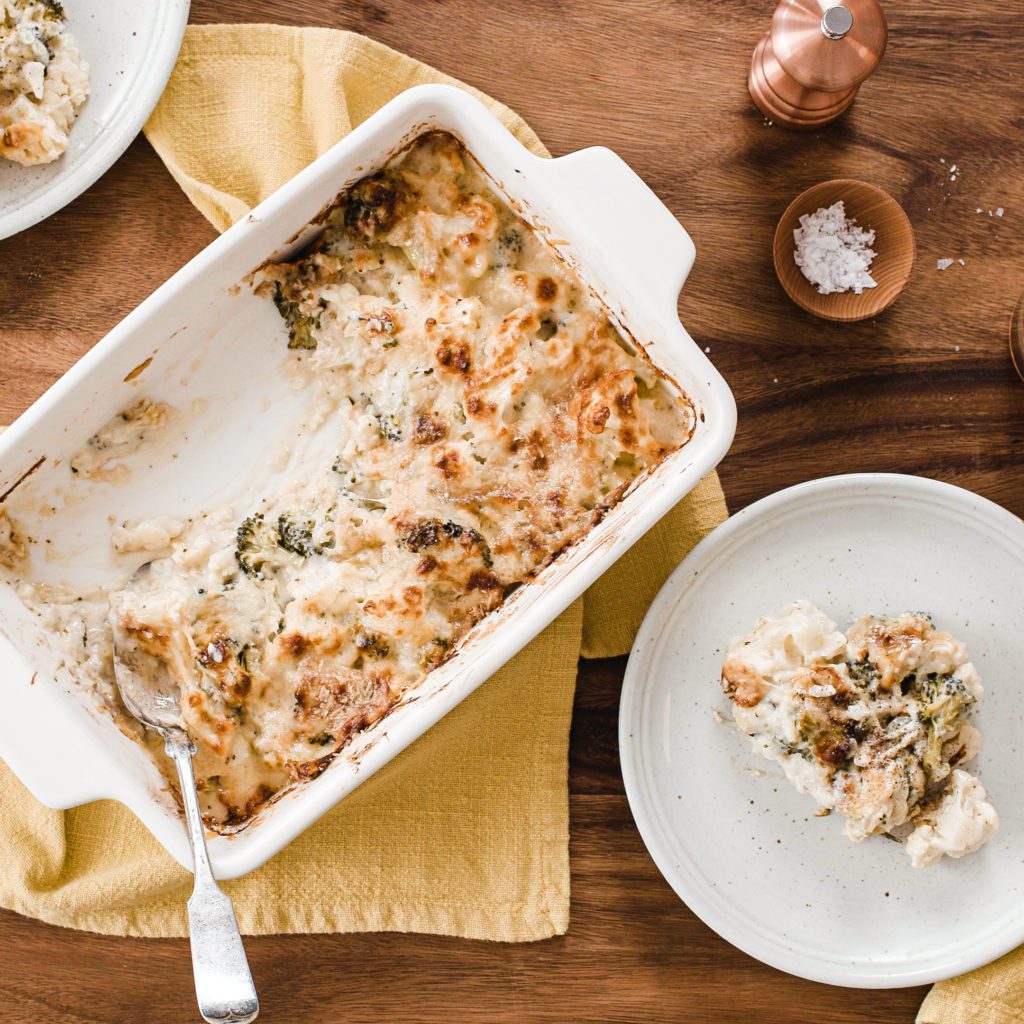 Anyone else out there refuse to eat broccoli or cauliflower as a kid unless it was slathered with cheese? This one's for you. The magic still happens when cheese meets cruciferous veggies, but instead of trying to disguise some limp, steamed veg, we're enhancing the nuttiness of these amazing vegetables by baking them. (If you're still in the anti-broccoli camp, pour the cheese sauce over cooked pasta instead for a tasty spin on macaroni and cheese.)
Print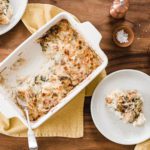 Broccoli and Cauliflower Gratin
---
5 tablespoons

unsalted butter, divided 

1

sweet onion, finely chopped 

2

cloves garlic, minced

1/4 cup

all-purpose flour

1 1/2 cups

whole milk

1/2 cup

heavy cream

2

sprig rosemary 

1/4 teaspoon

nutmeg
Kosher salt
Freshly ground black pepper

1

head broccoli, cut into 1-inch pieces (about

12 ounces

total)

1

head cauliflower, cut 1-inch pieces (about

12 ounces

total)

1 cup

Gruyère or Swiss cheese, grated

3/4 cup

grated Parmesan cheese, grated
---
Instructions
Preheat oven to 400 degrees.
Grease a large casserole dish with 1 tablespoon of butter.
In a medium pot, heat 1 tablespoon butter over medium heat. Add onion and cook until translucent, 4-5 minutes. Add garlic and cook until fragrant, 1 minute more.
Add remaining 3 tablespoons of butter to the pot and melt. Stir in the flour to combine. Cook, stirring occasionally, until the mixture is lightly golden in color, 2-3 minutes.
Add the milk gradually to the pot, using a whisk to combine. Do same with the cream, then bring mixture to a simmer, whisking constantly until the sauce is thick enough to coat a spoon, 5- 7 minutes. Season the sauce with nutmeg, salt, and pepper.
Add broccoli and cauliflower to the pot and toss well to fully coat. Then, add broccoli cauliflower sauce mixture into the prepared casserole dish. Sprinkle both grated cheeses evenly over the surface.
Bake until the sauce is bubbly and the cheese is golden, 35-40 minutes. Let rest 10 minutes before serving. Enjoy!
---