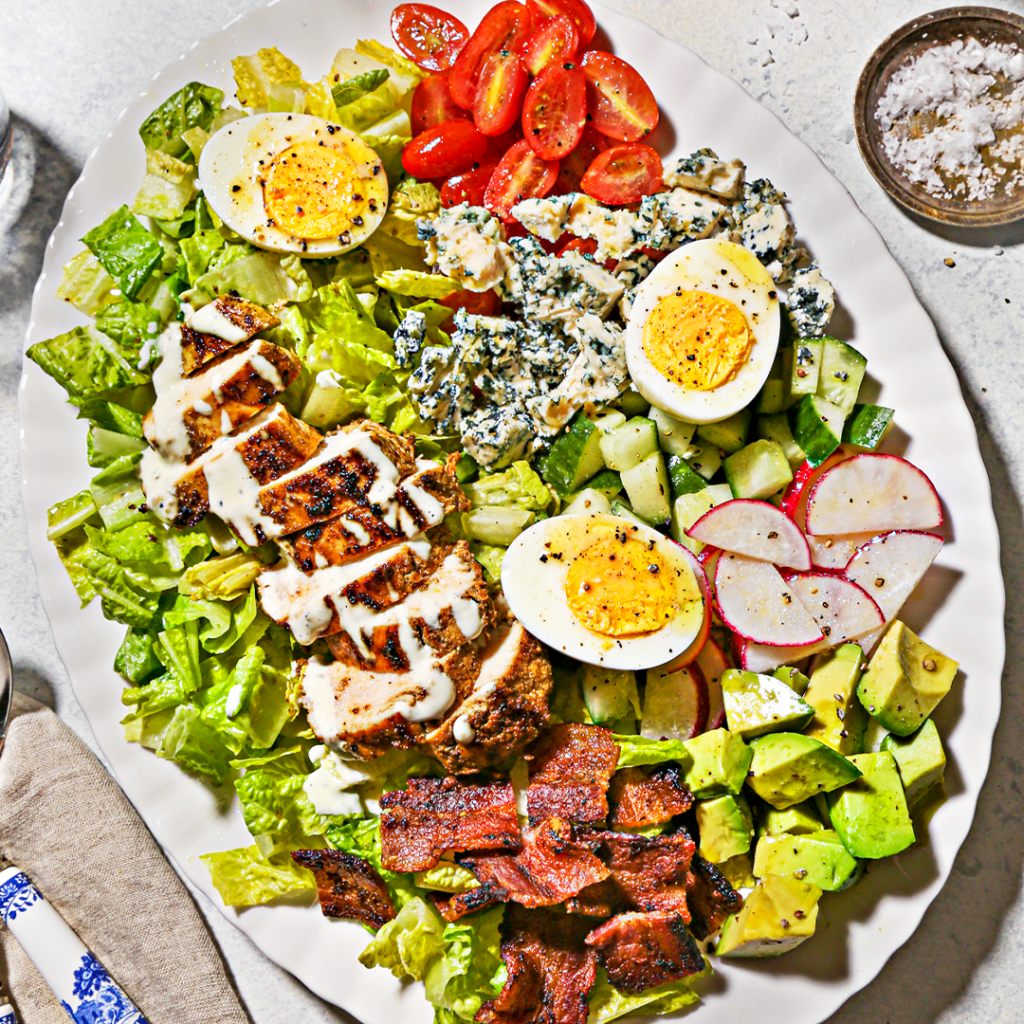 This is not your average Cobb salad. This is a Bobby Flay Cobb salad. That means you can expect a little bit of spice (thanks to Adobo-marinated chicken), a versatile homemade dressing you'll want to pour over everything, and a healthy amount of bacon.
Watch Bobby prep this brunch-worthy salad—it serves up to 4 and utilizes a lot of crunchy fresh veg from your Misfits box—and just wait until about the 7-minute mark. You'll never cut avocados the same way again.
And then save the full recipe for the future!
Print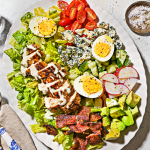 Bobby Flay's California Cobb Salad with Adobo Chicken and Buttermilk Ranch Dressing
---
Adobo Marinated Chicken
2 cups

orange juice

2 teaspoons

ancho chile powder

1 1/2 teaspoons

sea salt, plus more for seasoning

1 teaspoon

garlic powder

1 teaspoon

onion powder

1 teaspoon

dried oregano 

1/2 teaspoon

ground cumin

6

boneless, skinless chicken breasts

2 tablespoons

canola oil
Kosher salt and freshly ground black pepper 
Buttermilk Ranch Dressing
1/2 cup

mayonnaise

1/2 cup

buttermilk

2 tablespoons

sour cream

1 teaspoon

Dijon mustard

1

clove garlic, finely chopped

1 teaspoon

apple cider vinegar

2 tablespoons

shallot, finely diced

1/4 teaspoon

celery seeds
Kosher salt
Freshly ground black pepper
Simple Dijon Vinaigrette
1 tablespoon

Dijon mustard

1/4 cup

apple cider vinegar
Kosher salt
Freshly ground black pepper

¾ cup

extra virgin olive oil
Cobb Salad Assembly
1

large head Romaine lettuce, chopped into

1

inch pieces

2

adobo chicken breasts, sliced 

4

slices bacon, cooked until crisp, chopped into

1

inch squares

1

avocado, diced

2

hard boiled eggs, peeled and cut in half

10

grape or cherry tomatoes, halved

1

English cucumber, diced

3 ounces

of blue cheese, crumbled (feta or goat cheese would also be a nice substitute)

1

large watermelon radish, cut in half and sliced into thin crescent moons
Kosher salt
Freshly ground black pepper
Dijon vinaigrette, to taste
Buttermilk ranch, to taste
---
Instructions
Preheat oven to 400 degrees.
For the adobo marinade, whisk together the orange juice and spices in a medium baking dish until combined. Add the chicken and turn to coat, cover, and then marinate in the refrigerator for at least 2 hours and up to 12 hours. 
Remove the chicken from the refrigerator 30 minutes before cooking it.
Heat oil in a large oven proof sauté pan over high heat until the oil begins to shimmer. Remove the chicken from the marinade, allowing the excess marinade to drip off, patting dry if necessary. Season the chicken on both sides with salt and pepper and place into the pan, and cook until golden-brown, about 2-3 minutes. 
Flip the chicken over and continue to cook on the stove top for 2 minutes. Place the pan in the oven and continue cooking until lightly golden brown, and just cooked through, about 8-10 minutes, depending upon thickness. (An instant read thermometer inserted into the center should register 155 degrees F.)
Remove the chicken from the oven and let rest for 10 minutes before slicing. 
For the buttermilk ranch dressing, whisk together all ingredients in a small bowl and season with salt and pepper. Cover and refrigerate for at least 1 hour to allow flavors to meld. 
For the Dijon vinaigrette, whisk together all ingredients in a small bowl to combine. Set aside.
To assemble the salad, lightly toss each ingredient, individually, in a large bowl with the simple Dijon vinaigrette and season with salt and pepper. Repeat the process so that each individual ingredient is lightly dressed. Arrange the salad on a large platter, starting on a bed of dressed romaine, assembling by bundling each ingredient in a section. 
Dress the sliced chicken with buttermilk dressing and arrange on the platter. Garnish with more of the buttermilk dressing on top, if desired. Serve and enjoy!
---