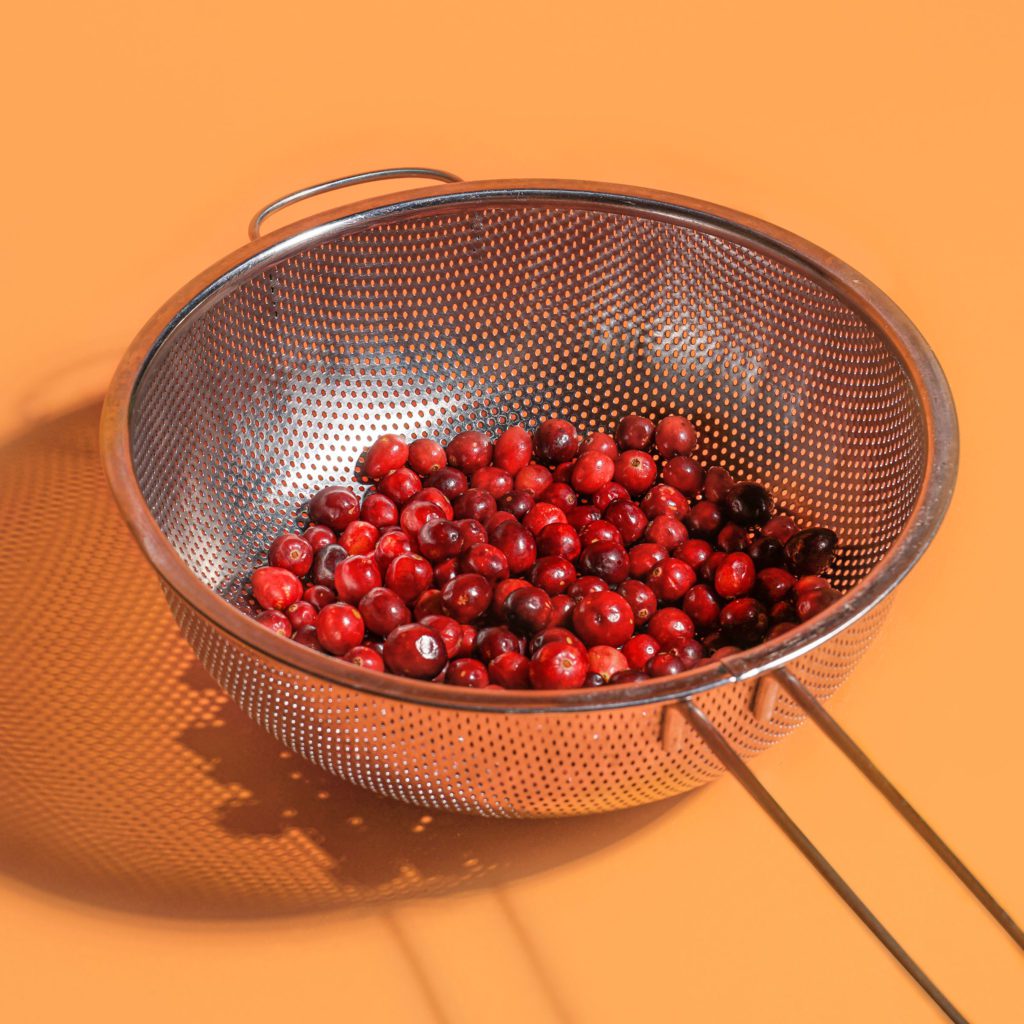 Even we can admit that the oft-bitter cranberry can be tricky to cook. But once you figure out the right methods to finesse the fresh kind, you'll hesitate to go back to the canned stuff. The fruit is surprisingly versatile and adds a tart note that elevates creamy cheese dishes, mild salads, and baked goods.
We're now selling fresh cranberries in The Marketplace—your one-stop shop for even more fresh foods and pantry staples to supplement your affordable organic produce—as a premium add-on just in time for holiday cooking. Don't stop at just holiday-inspired dishes though! Make the most out of this seasonal fruit by trying one of these 11 recipes:
Tart cranberries and buttery-sweet crumble—the flavor in these soft oat bars pair perfectly together. This recipe calls for a homemade cranberry filling using fresh cranberries, but you could use store-bought jam, too.
Many of our favorite recipes actually call for dried berries, so consider making your own dried cranberries at home. Follow this step-by-step recipe to dehydrate sweet cranberries for use in many of the dishes here.
Cranberries generally need sweet flavors to cut some of their tartness, which is why many dishes call for fragrant citrus and sugar. But instead of classic cranberry sauce, try this thick relish sweetened with oranges and orange liqueur to top your turkey this year.
Soft, mild ricotta helps to cut the sometimes overpowering sour flavor of fresh cranberries. Top both on crunchy bread for an appetizer that's the perfect starter for any winter party.
The crumble is a must-make dessert that combines sweet fruit and a crumbly oat topping. Swap in apples if you have more of them than pears this week, or do a combo of both for a warm, gooey dessert that'll have everyone demanding seconds.
It's a fact that cheese makes everything better and this sandwich calls for lots of it. Tart cranberries pair beautifully with salty cheddar cheese and spicy Dijon for a twist on the classic grilled cheese sandwich.
Add tart dried cranberries (see recipe above for dehydrating) to nutty cannelloni beans and tahini for a dip that can be enjoyed in minutes. Enjoy this snack with crisp crackers and crunchy veggies like carrot sticks, radishes, and jicama.
Like apple butter, cranberry butter doesn't actually have any butter in it, but is cooked low and slow to make a creamy spread for toast and baked goods. The best part of this dish? Set it and forget it by simply adding the ingredients in a crockpot and removing the cinnamon sticks right before serving.
Nothing beats a crumbly cookie full of butter, butter, and more butter. However, this shortbread is made that much better with fresh cranberries. After you're done enjoying them, bookmark this recipe to use all year long and swap in seasonal fruits and herbs depending on the time of year.
Cranberry's sour flavor pairs well with tart balsamic and savory pan-roasted chicken. Add them all together in this one-pot dish that'll become a go-to winter dinner.
Homemade dried cranberries add a surprisingly sweet bite in both texture and flavor when added to salads.
Still stumped? Simply freeze fresh cranberries until inspiration strikes. Store them in an airtight container or a freezer-proof zip top bag to preserve their freshness for up to a year. Even more good news? You can easily use them without thawing first. They're better off frozen in muffins and other baked goods (they'll get enough heat in the oven), or as a festive cocktail garnish (they'll keep drinks cold, too).