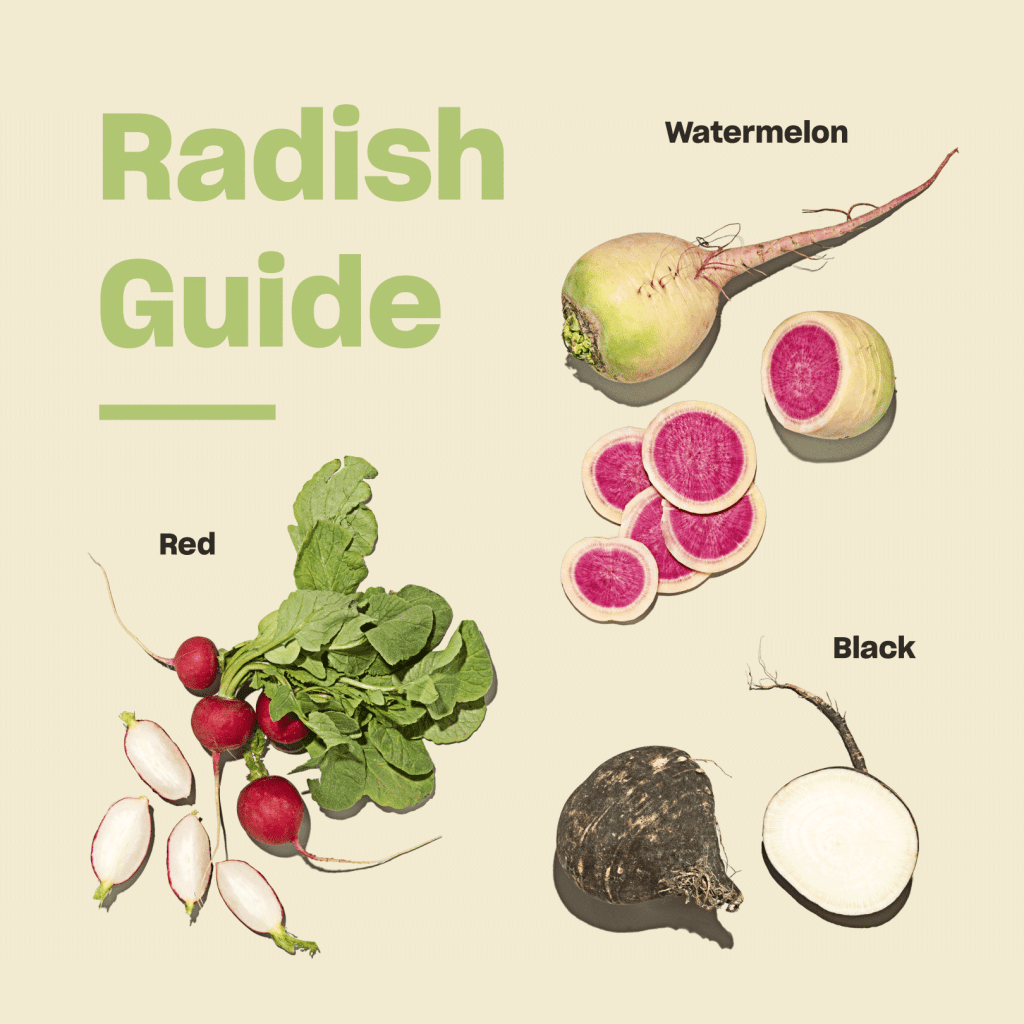 If you've only been slicing fresh radishes into salads and nothing else, then you're seriously missing out. This under-appreciated root veggie is much more versatile and delicious than you might think. (And spoiler: there are way more varieties to experiment with than just the classic petite red radish.)
Here's our handy guide and start making the most out of all of the deliciously crunchy radishes we rescue.
Black Radishes
Though it might not look like your traditional red radish, the charcoal-colored black radish has a white interior, crunchy texture, and peppery flavor similar to the common spring radish. Its texture and flavor are perfect for roasting whole with other root veggies, or slicing thin and baking into radish "chips."
Red Radishes
Petite red radishes—also called spring radishes—are one of the more common varieties you'll find in the produce aisle, but they also have the "spiciest," peppery bite. (The reason why radishes are often described as spicy or peppery? It's an enzyme that's also present in wasabi, mustard, and horseradish.) Generally ruby red, but sometimes pink and almost white, radishes are delicious when used raw in salads or dipped in a whipped, salted butter. They're also delicious when roasted or braised since their spiciness mellows and they become slightly sweet.
Watermelon Radishes
This watermelon-colored heirloom radish isn't just all for show—it's incredibly versatile, too. You can use the watermelon radish just like the common red radish, or try quick pickling them for snacking, salads, and sandwiches.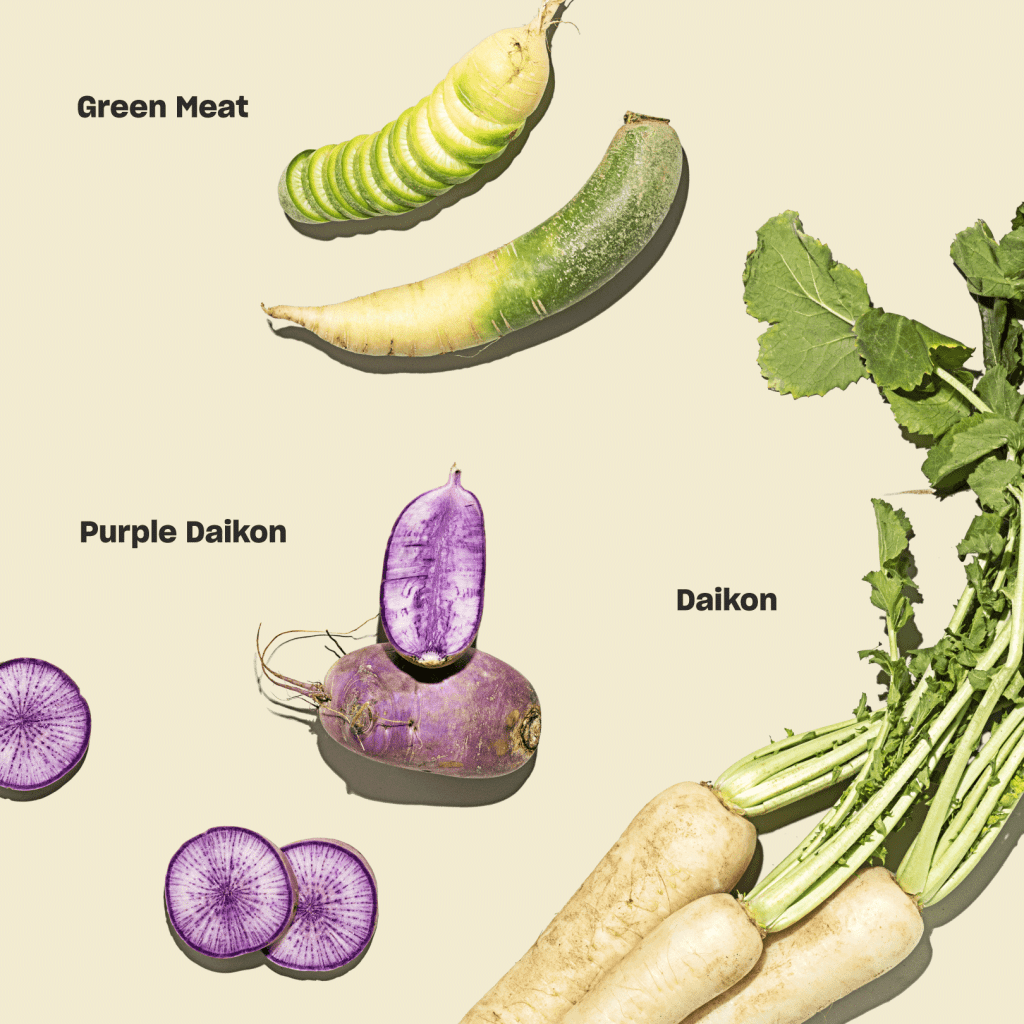 Green Meat Radishes
This long, tubular-shaped radish is easy to spot with its green-and-white flesh. It's slightly mild and sweeter in taste compared to other peppery varieties, making it ideal for adding flavor and texture to salads and grain bowls without any of the spicy bite that radishes are known to have.
Daikon Radishes
White daikons are one the the largest radish varieties and can grow up to 15 inches long. They have crisp flesh and a mildly sweet taste with a slightly peppery bite. Try them braised with meat and other veggies, or fermented with cabbage in a homemade kimchi.
Purple Daikon Radishes
If you're looking to add a pop of color to your dishes, the kaleidoscope-colored purple daikon is the way to go. Its purple- and magenta-hued flesh is even milder than the white daikon making it perfect for eating raw. Try them shaved with other root veggies for a colorful, crunchy slaw.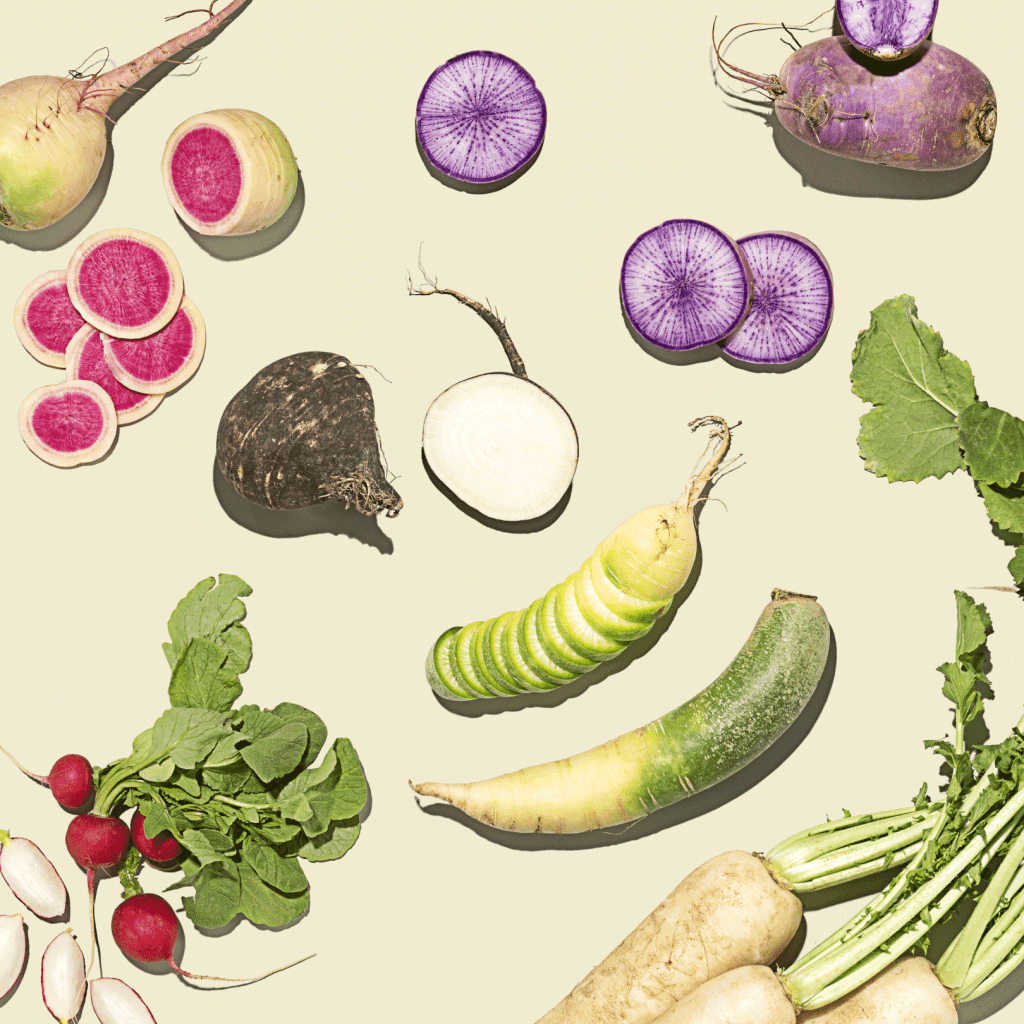 Don't forget the greens!
One of the best parts about the radish is that the entire plant is edible, greens included. Use them like any other hardy green (mustard greens, kale, or Swiss chard): sautéed with garlic and olive oil for a simple side or blended into pesto for a subtle peppery kick.
Related:
What The Heck Do I Do With Radishes?
Shaved Radish and Cucumber Salad with Walnut Gremolata
Watermelon, Radish, and Wheat Berry Salad with Pickled Onions