Plus, three ways to incorporate it into your favorite dishes at home.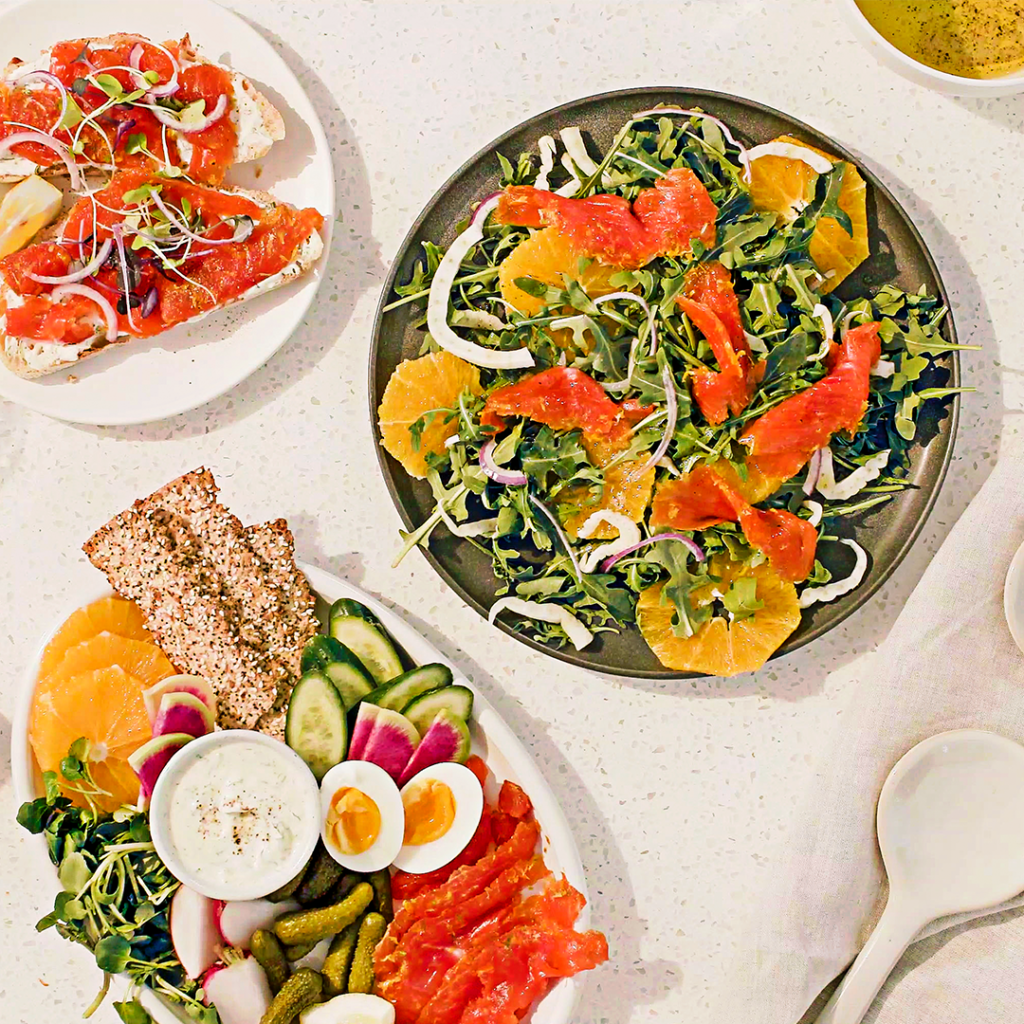 We're getting fancy over here and making gravlax (aka cured salmon)! If curing salmon at home sounds too tricky, you'll be surprised that all it takes are a few simple ingredients and a little patience to enjoy this delightful delicacy alongside the fruits and veggies from your Misfits Market box.
We've teamed up with our friends at FultonFishMarket.com to show you how to cure their wild Alaska sockeye salmon. After trying it once, you'll be hooked. Watch the video to learn some tips and tricks for curing salmon at home, plus three ways to enjoy gravlax for breakfast, brunch, lunch, or dinner. Top on toast. Add to a salad. Or create a beautiful brunch spread with crackers, fresh veggies, and soft-boiled eggs.
And get 15% off your order at fultonfishmarket.com with code MISFITSMARKET throughout March 2021.
Print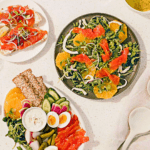 ---
For the gravlax:
3/4 cup

crystal salt (we used Diamond)

1/3 cup

granulated sugar

1/4 cup

light brown sugar, packed

1 1/2 teaspoons

coriander or fennel seeds

1 1/2 teaspoons

black peppercorn

1 tablespoon

lemon zest

1 tablespoon

 orange zest

1 tablespoon

 lime zest 
Two

6

-ounce salmon fillets, bones removed, pat dry
For the spread: 
1/4 cup

crème fraîche 

2 tablespoons

dill

1 tablespoon

 lemon juice
Assorted vegetables: radish, cucumber, watercress
Cut citrus: oranges, lemons
Cornichon
Soft boiled eggs
Crackers 
---
Instructions
In a small bowl combine salt, sugar, fennel seeds, and black peppercorns. In another small bowl, combine the lemon, orange, and lime zest. 
On a work surface, place a double layer of aluminum foil, large enough to extend beyond the length of the fillets. Spread half of the salt mixture in the center of the foil. Lay the fillets, skin-side down over the salt. Evenly sprinkle the zest mixture over the fillets, and gently press into the salmon. Top fillets with remaining salt mixture (make sure salmon is completely covered).
Fold up the foil to snuggly hold the salmon. Transfer foil pack to a lined baking sheet or large dish. Place another baking sheet or dish over the foil pack and weigh down with cans or more dishes. Place in the refrigerator for 24 hours. 
Rinse fish and pat dry. Using a sharp knife cut salmon skin-side down, at a diagonal, creating very thin pieces of gravlax (leave skin behind).
In a small bowl, mix crème fraîche, dill, lemon juice, and a pinch of salt. Arrange spread onto a board or large serving dish with the gravlax. Serve with an assortment of vegetables, pickles, and crackers.
---