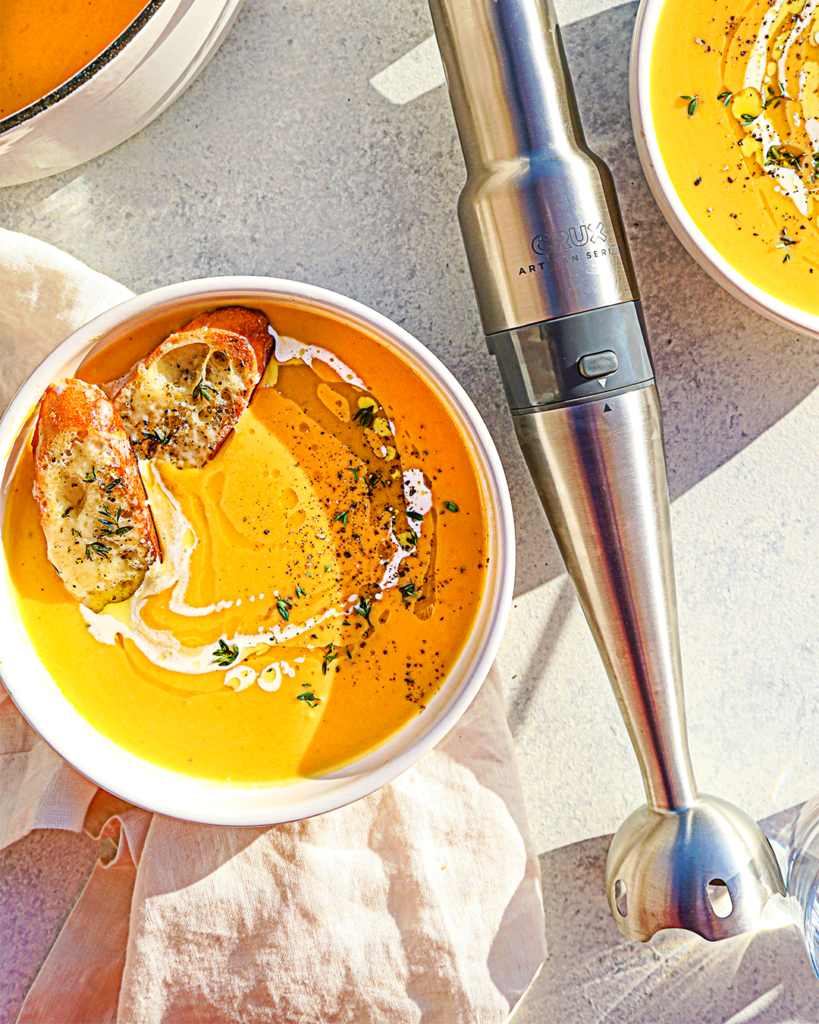 Whether you're putting the finishing touches on your Thanksgiving menu or simply need a new hardy squash recipe to add to the rotation, you can't go wrong with a homemade soup. Creamy. Fragrant. A little bit sweet and a little bit nutty. Customizable based on whatever you have in your kitchen—kabocha, koginut, acorn, and pumpkin are all worthy squashes. We opted for butternut squash as the perfect Big Meal appetizer and cold weather main dish. Just add a leafy green salad greens and crusty bread.
The best part? You can make this filling soup in a single pot thanks in part to the Crux® Artisan Series 7.5″ Cordless Immersion Blender. If there's one thing about becoming permanent residents of our kitchens this year, it's that any multi-purpose gadget that makes cooking easier and more exciting is worth the splurge. Crux's immersion blender is just that tool. It's BPA-free and dishwasher safe, plus it has 15 continuous minutes of blending power—plenty of time to take roasted squash to the next silky level. Plus, there's a handy whisk attachment, too, which means homemade whipped creams, meringues, and even homemade mayonnaise, are just the press of a button away.
Whip up a dip, blend your favorite smoothie in the bonus 24-ounce BPA-free and dishwasher safe beaker, make a sauce, and whisk egg yolks in a matter of minutes for all of your winter baking projects.
Get cooking!
Print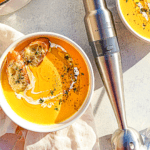 Misfits Market x Crux Creamy Butternut Squash Soup
---
1/4 cup

unsalted butter

1

large white onion, finely chopped

6

cloves garlic, minced

48 ounces

low-sodium chicken broth

3

pounds butternut squash, peeled and cut into

1

-inch pieces

2 teaspoons

fresh thyme, plus more for garnish

1/3 cup

whipping cream*, plus more for serving
Kosher salt
Freshly ground black pepper
Olive oil 
---
Instructions
In a large pot, melt butter over medium high heat. Add onions and garlic and cook until soft, about 8 minutes.
Add broth, squash, and thyme to the pot and bring to a boil. Reduce heat to a simmer, cover, and cook until squash is fork tender, about 20-25 minutes.
Using the Crux® Artisan Series 7.5″ Cordless Immersion Blender, puree soup until smooth. Stir in cream and season generously with salt and pepper.
Divide soup among bowls and top each bowl with a drizzle of olive oil, cream, pepper, and thyme leaves. Serve with crusty bread and enjoy! 
---
Notes
The Crux® Artisan Series 7.5″ Cordless Immersion Blender comes with an additional whisk attachment, which is perfect for turning the rest of your unused whipping cream into homemade whipped cream. Just switch to the whisk attachment. Then, in a chilled bowl, add leftover heavy whipping cream (about 1 cup) with 2 tablespoons sugar. Whisk for 10-15 minutes until thick and fluffy. Serve over pumpkin pie and other desserts.