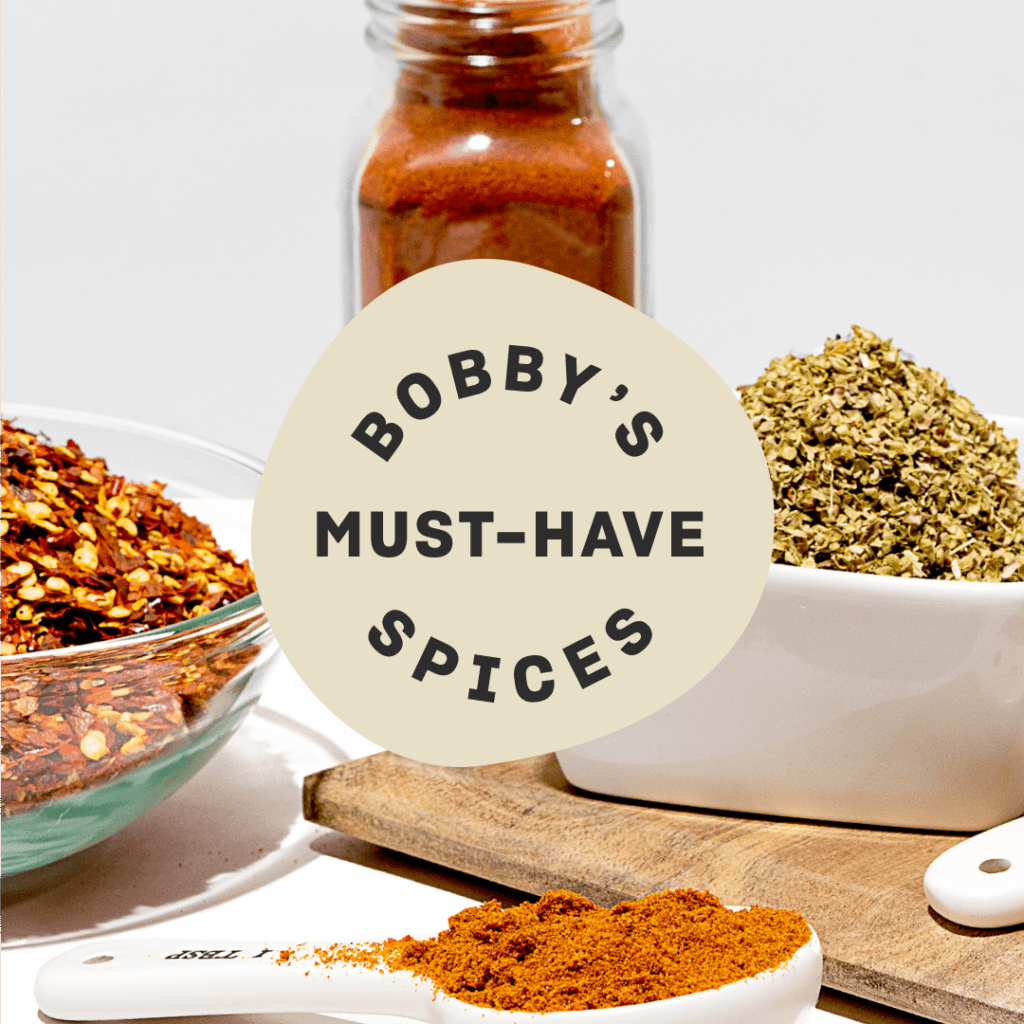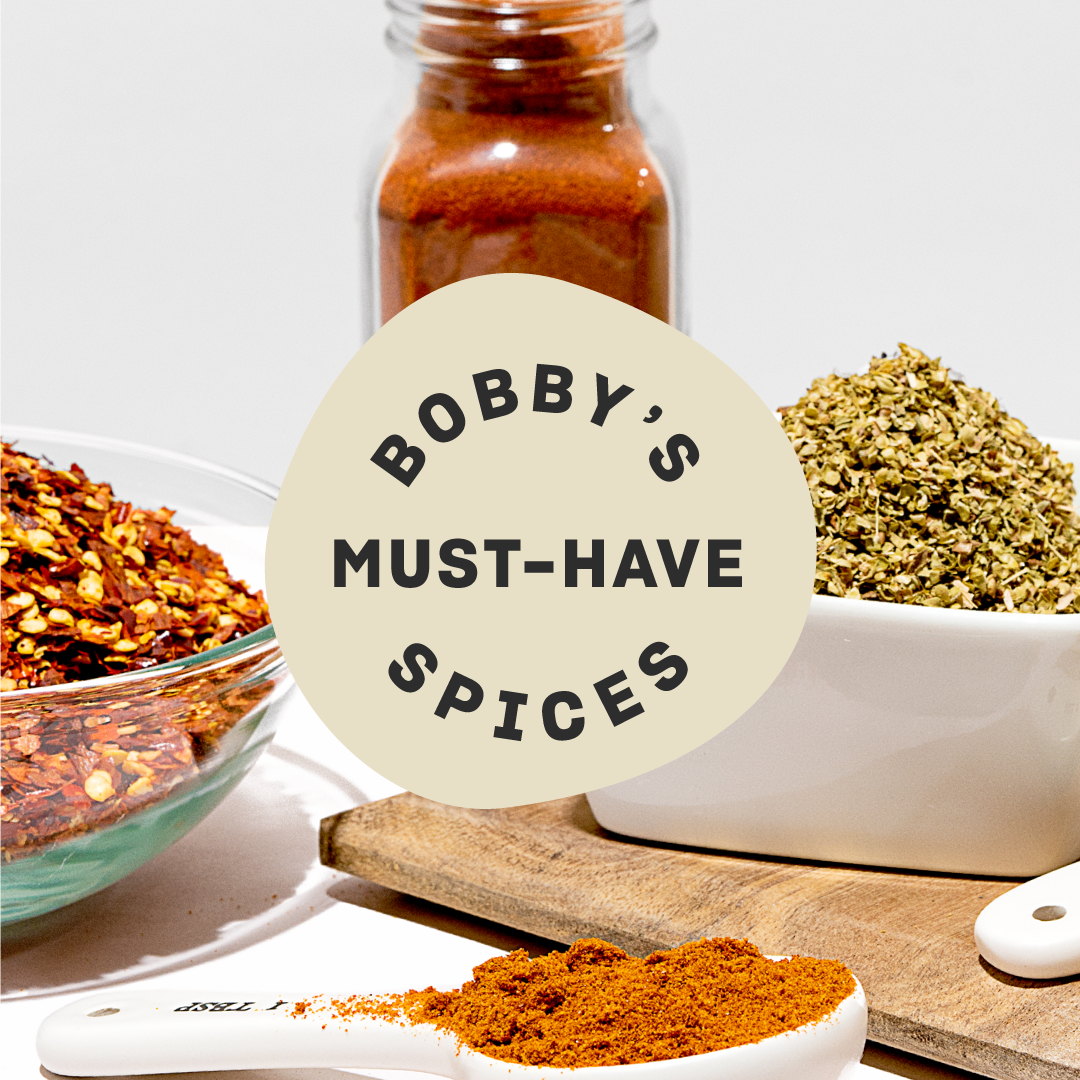 If you're upping your cooking game this year, there are a few things you should always have on hand. Garlic and onions. Fresh citrus and herbs. Plus, a well-stocked rotation of dried herbs and spices. But don't just take our word for it. Hear it from chef-in-residence Bobby Flay himself.
Watch as Bobby shows us his must-have spices—and why!—to spark your own pantry reinvention. They're the base of almost all of his (and our) recipes, so while we might not all have next-level pantries like Bobby, we can certainly be inspired by him.
Then, read on to learn more about his must-have spices and herbs:
Cayenne
Cayenne peppers are thought to be at least 10 times hotter than jalapenos, so use sparingly in garlicky sauces, braised meat, or even sprinkled over fresh ginger juice with lemon.
Turmeric
Turmeric is an aromatic and earthy spice closely related to ginger. You don't need much to go a long way, as it can transform your dish's flavors and colors with just a pinch. It's commonly used in soups, stews, and curries, but can provide a lovely golden contrast in baked goods and milky tea lattes.
Paprika
Paprika is a versatile spice made of dried and ground chili peppers. Typically mild, it can range in flavor from sweet to smoky and sometimes have a light kick.
Smoked paprika
For that iconic barbecue flavor, smoked paprika is a must.
Crushed red pepper
Crushed red pepper flakes are a combination of ground red chilies and their seeds. Sprinkle for added heat and depth of flavor on everything from Italian classics like pizza and pasta to everyday soups and salads.
Black peppercorns
Though ground black pepper works just fine, Bobby prefers whole black peppercorns that he can grind fresh with a pepper or coffee grinder. With its sharp taste and woody flavor, pepper often plays second fiddle to salt in every dish. However, pepper is a star in its own right with just enough bite .
Cumin
This pungent spice, ground from cumin seeds, is most commonly called for in Mexican and Indian foods. It's a very light orange color with a smoky, earthy flavor profile.
Cinnamon
The warm, earthy, and sweet flavor of cinnamon is surprisingly versatile, even beyond the world of baking. Use it to flavor coffee, steak rubs, chilis, and curries.
Ginger
Ground ginger is more potent in its dried form than fresh. (As Bobby said, it's not necessarily a 1:1 comparison here since ground ginger and fresh ginger have very distinct flavors.) Just a tiny bit will add a sweet, peppery warmth to baked goods like molasses cookies or savory dishes like chicken curry. Use one eighth of a teaspoon ground ginger for every one tablespoon of fresh ginger in your recipes.
Cloves
Cloves are often paired with a group of spices—cinnamon, nutmeg, ginger, allspice—which Bobby calls pumpkin spices. Cloves are a versatile spice found in both whole and ground versions, with a fragrant aroma and a small bite to it. It can be used to flavor sweet and savory dishes alike.
Nutmeg
Nutmeg is pungent with a warming flavor, which is why it's often paired with other spices like cloves and allspice. As Bobby mentions, he likes to add nutmeg to savory dishes like cooked spinach or mac and cheese. The layer of sweet, warming flavor complements savory and sweet flavors perfectly.
Allspice
Despite its name, allspice isn't a combination of many spices. It is its own unique spice that resembles a combination of cinnamon, nutmeg, and clove. Again, this is why these spices are commonly used together for pies or mulled drinks.
The Ratio Rule
We're huge fans of using fresh herbs whenever we can. But if you don't have fresh, you can always substitute the dried version. With one big caveat: Dried spices are more pungent than their fresh counterparts so a little goes a long way. We recommend the tablespoon to teaspoon ratio. Any time a recipe calls for 1 tablespoon of fresh herbs, use just 1 teaspoon of the dried version. It's not the case for all spices, but pretty standard when using dried versions of fresh.
How to Store Dried Spices
Spices deteriorate when exposed to sunlight, heat, and moisture. Keep them in a cool, dry, and dark place. Preferably a cabinet, pantry, or drawer away from a window or the oven.
Whole spices and herbs, like bay leaves and seeds, can last 1 to 2 years under proper conditions. Ground spices and herbs will generally last 1 year. How to tell if your spices are going bad? If they look faded and have lost its distinct aroma.
Though this batch of organic spices from Vive Organics will arrive in plastic containers, that might not be the case for all of our herbs forever. If you do receive or purchase a pouch of spices, after you open them, immediately transfer them to an airtight and resealable glass or plastic jar. A dark glass jar, like amber, is ideal, but as long as spices are stored in an airtight container away from heat and moisture, spices should last up to 12 months.
Tell us! What spices are a must in your pantry?