Welcome to our series, What The Heck Do I Do With This? We know that mystery—and even customized!—Misfits Market boxes can be overwhelming, so we want to help you put a single ingredient from your Misfits Market box to delicious use. Next up: delicata squash!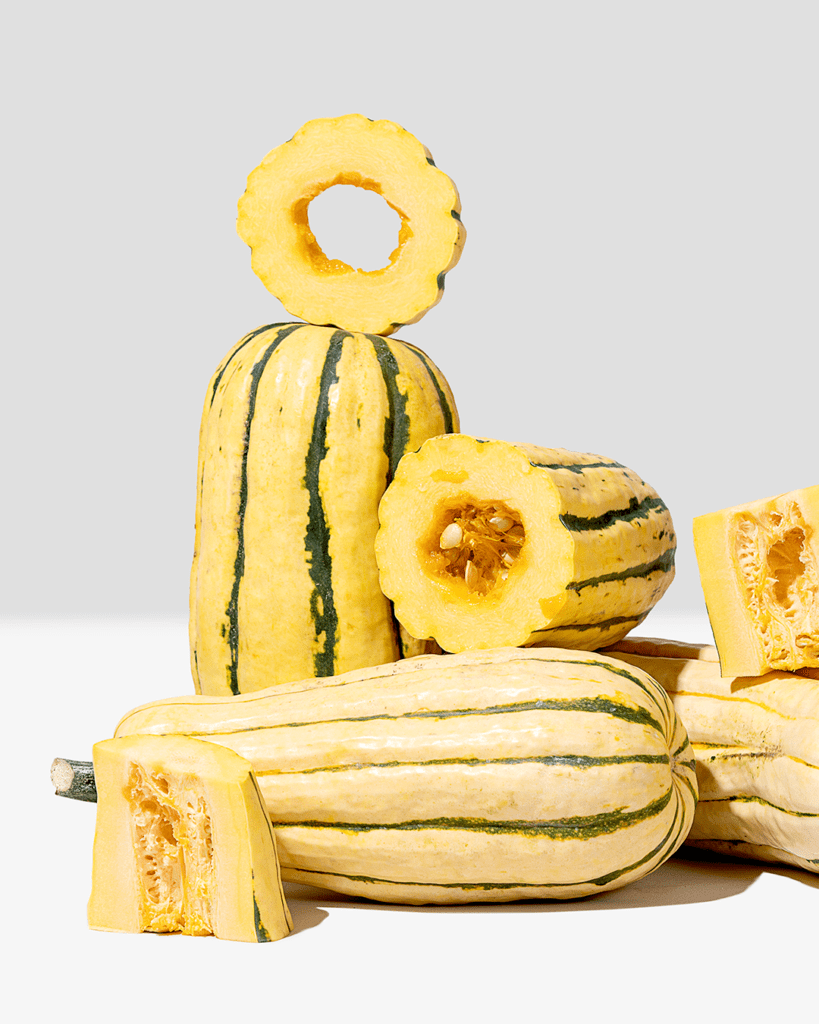 Delicata is a long, tubular-shaped squash with yellow and green stripes and an edible skin. It's often referred to as a "sweet potato squash" due to its sweet flavor and smooth flesh. To get a sense of its flavor, others have described it as a cross between butternut squash and a sweet potato, which means it can take on both sweet and savory flavors alike. We just describe it as deliciously versatile.
The easiest way to enjoy delicata is to slice it into half moons and roast it with olive oil, salt, and pepper—we like this simple method from Rachel Cooks—but where's the fun in that? Continue reading for our 10 favorite delicata squash recipes and comment below with your favorite ways to cook this sweet squash!
There's something so satisfying about a big salad. We can't get enough of them in the fall. Hearty, filling, and chock-full of winter squash. This one calls for delicata, tart apples, crunchy nuts, and a creamy Caesar dressing.
Stuffed squash is a classic for a reason. Despite the delicata's smaller size, it's still the perfect vessel for delicious stuff like wild rice, dried fruit, and sausage. We feel confident that this lentil-stuffed version will soon make its way into your kitchen's rotation.
What more is there to say other than: pizza? Top your favorite crust with creamy ricotta, roasted delicata, and lots of fresh herbs for a warming dinner that just tastes like fall. In pizza form. Nothing better.
The sweet, yet somewhat mild flavor of delicata squash means it can take on stronger flavors. Like in this dish with sweet maple syrup, toasty sesame, and a hint of spice from adobo sauce. It's basically an explosion of sweet and smokey flavors in a single dish with delicata as the perfect vessel.
We're huge fans of adding hardy squash to salads in the fall and winter. (See: Caesar salad above.) It makes an otherwise simple dish into something special—and into something way more filling, too. This recipe calls for roasted delicata squash, juicy pomegranate arils, crunchy nuts, and a sweet-yet-spicy homemade dressing. The best part? Each component of this salad works well together or on its own.
Make delicata the main event by adding it to this vegan-friendly curry. Serve over rice or lentils for a filling dinner full of flavor.
You can't really go wrong by adding fragrant garlic and nutty cheese to mild squash. Top with your favorite fresh herb, like parsley, for a deliciously simple side dish that tastes anything but simple.
The mildly sweet flavor of delicata can take on even stronger sweet flavors, which is why it's perfect when roasted with brown sugar. Save this recipe for an updated dish for your Thanksgiving table, or try it during the week for a sweet side to your favorite main dishes.
Our recipe calls for any kind of root veggie or squash, like acorn, butternut, and, of course, delicata! You can use whatever cheese you have in place of feta, like fontina, gruyère, cheddar, or mozzarella. We like the feta and ricotta combo because feta's salty-punch really offsets the vegetables and the creaminess of the ricotta is just luscious, but use whatever you have to eat down the fridge.
While this recipe technically calls for butternut squash, it could easily be made with delicata instead. You might need to save up a few pounds of delicata to create enough layers, but thankfully delicata can hang out on your countertop for up to 4 weeks before you need to use it. Or, experiment with a combo of butternut, delicata, acorn, and hardy kabocha squash. Just make sure you let us know in the comments how you customize these dishes!