Meet the celery root. Also called celeriac, it's the bulb root of celery though it's cultivated in earlier stages for its root versus its stalk. Don't be deterred by its gnarled appearance! This root veggie has a firm, crisp texture with a mild celery flavor that sweetens when cooked. This may be the first time you've ever encountered celery root. Never fear! In this week's edition of "Prep School," we'll explain how to cut, how to store, and how to cook the gnarly celery root.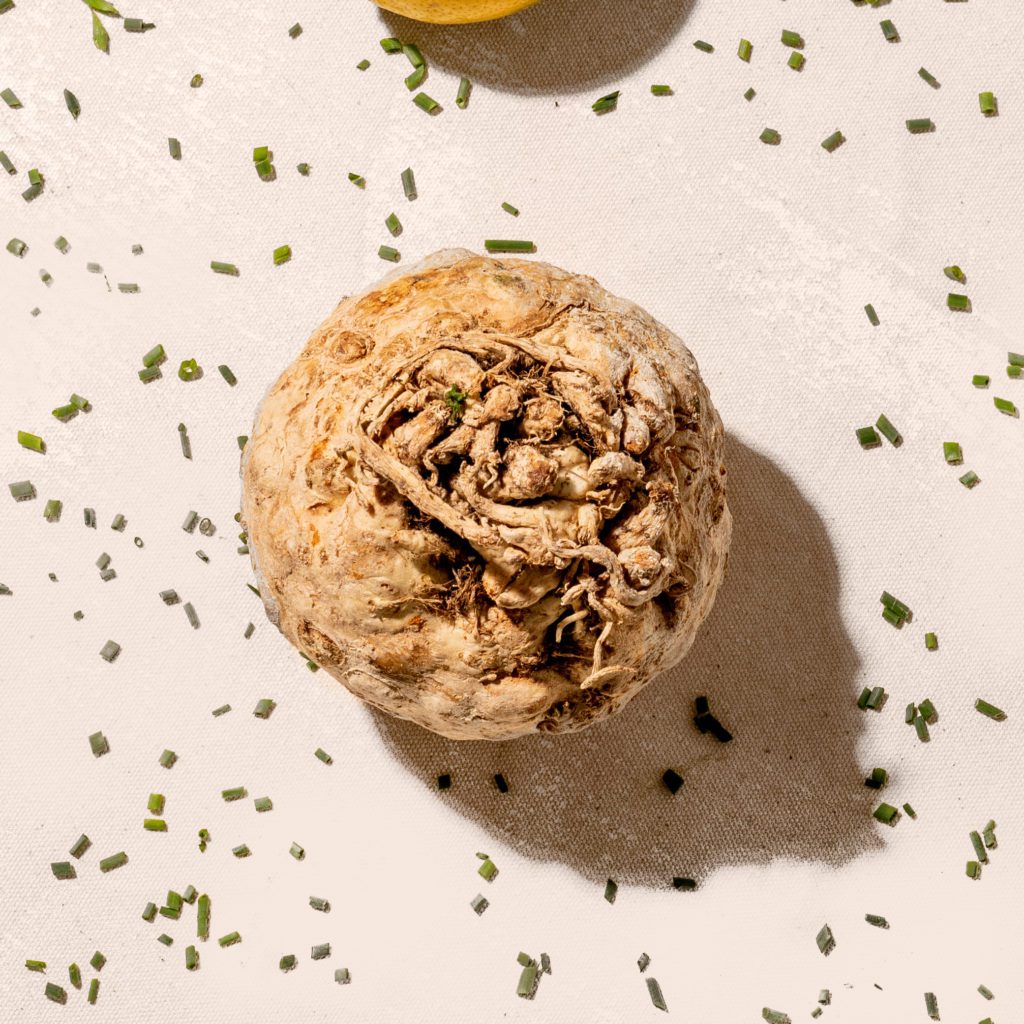 Watch now to learn how to cut, store, and cook celery root:
Because it's similar to a potato in texture and relatively mild in flavor, it can be mashed, baked in a gratin, thinly-sliced raw in a slaw, or even cut and baked into fries! Continue reading for our 10 favorite celery root recipes and happy cooking!
Because it's mild in flavor and has a similar texture to the potato, celery root is often cooked and mashed like the more common mashed potatoes.
As evidenced by our video, celery root is commonly roasted with lots of herbs and spices. This recipe from Bon Appétit calls for the addition of roasted walnuts and fresh thyme.
Make a french fry-like dish with thinly-sliced celery root instead of spuds. Celery root cooks slightly softer than the potato, but you'll still be rewarded with a low-carb version of this classic dish. Just don't forget the ketchup!
Pair mild celery root and creamy potatoes with sweet apples for a crunchy, sweet, and filling breakfast or brunch.
If it works for a potato, it'll probably work for celery root, too. That's why we're big fans of cheesy gratin dishes with layers of gouda, potato, and celery root.
One of the easiest ways to use a lot of celery root at once is to puree it into a creamy soup. Serve warm with a dollop of crème fraîche for an herbaceous appetizer.
Apples and celery root have a similarly crunchy texture, meaning they're delicious when paired together in a tart and fragrant raw slaw.
Earthy beets tend to overpower any dish they're added to, which is why we like this simple salad with added celery root. Its mild flavor offsets the powerhouse beet for a filling salad.
Our new rule is: If you're down a few potatoes but have celery root, combine them! That's exactly what we'll try when making our next batch of latkes (potato pancakes).
If you're looking for a low-carb way to still eat tacos or burritos, use celery root to make homemade tortillas. (They're also Whole30 friendly!) Simply slice celery root into extra thin rounds and grill them until they're soft and malleable for tacos.