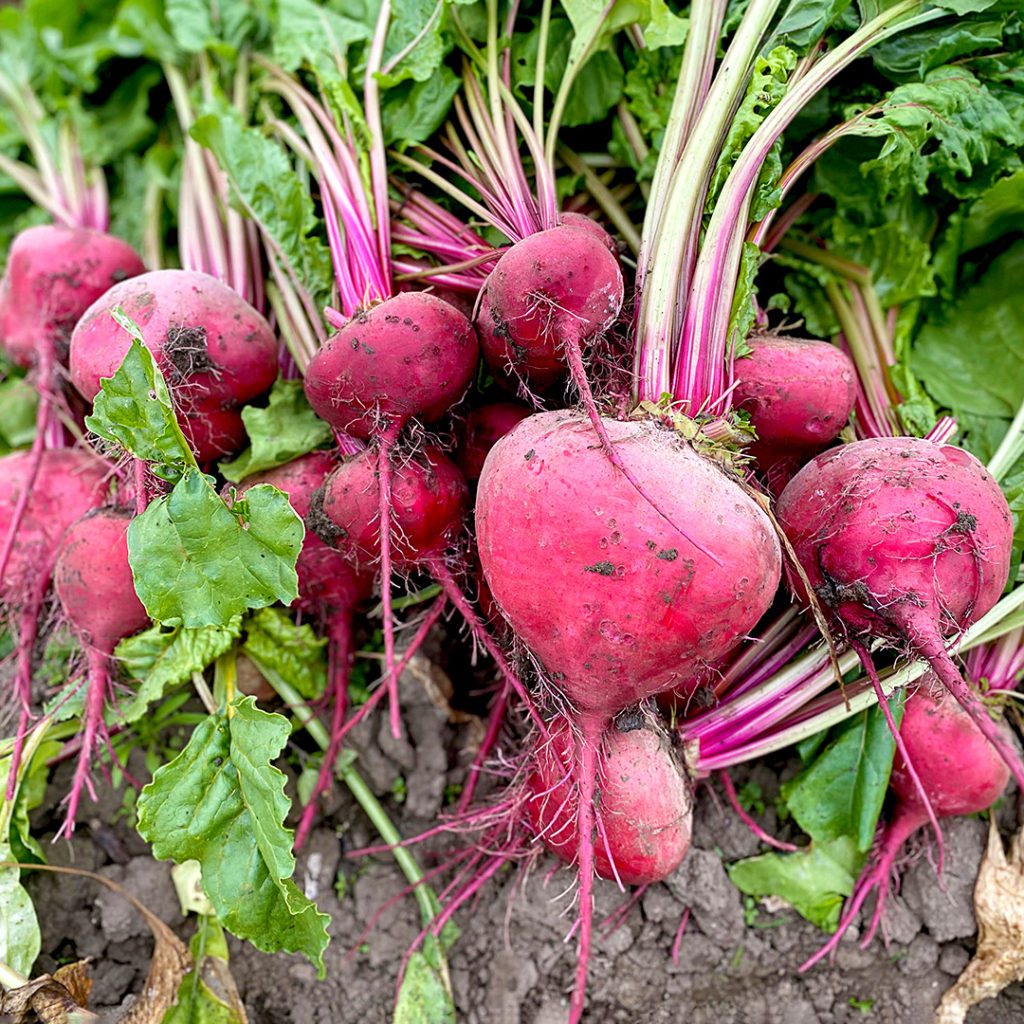 Meet the beet. Beets, also known as beetroots, are found year-round and transition beautifully in dishes between the seasons. It's surprisingly versatile and can be eaten raw, pickled, boiled, baked, steamed, and puréed. Their earthy flavor also plays nicely with sweet ones, which is why you can get away with sneaking beets in things like chocolate pudding and brownies.
Watch now to learn how to prep beets—don't toss those beet tops!
While this vibrant veggie has a natural love-it or hate-it taste, we found 10 recipes that can satisfy even the pickiest of eaters.
You can't go wrong with roasted beets. Bobby shows us how to roast them to near perfection to use them to transform any dish we are working with.
This vegan take on a poke bowl uses beets to give it the same texture and similar tastes to the real deal while providing a pop of color. The best part is it will be ready to eat in under an hour.
It may take a bit on the long side to make but it is definitely worth it! The beets in this recipe with its deep color only match its deep flavor to transform the dip into a definite fan favorite.
If you're itching for some latkes but are dreading the calories, we have a healthy alternative for you. The starchiness in beets makes it a great candidate to substitute for potatoes. So we swapped the potatoes for beets and carrots in our recipe to put our cravings to rest.
This recipe brings the savory taste of blue cheese, the earthiness of beets, bitter greens, and sweetness from candied pecans into a fresh and exciting salad. However, if you don't like the taste of blue cheese, you can always substitute it with gorgonzola, aged gouda, or any parmesan-style cheeses.
These brownies are a dessert with a side of veggies that we find our little ones can't get enough of. The taste of beets practically fades into the chocolatey background so we can keep the fact they're eating veggies as our little secret.
Pink cinnamon rolls? Sign us up! The taste of beets in this recipe is very subtle but give the cinnamon rolls a pretty pink color that makes it all more delicious.
Sometimes comfort foods are a must, but they don't have to be terrible for you. This gluten-free and vegan donut recipe will not only sneak in some more veggies into your diet but is a guilt-free way to indulge when you need a pick-me-up.
Who knew the earthy taste of beets went so well with the sweet tartness of blueberries? The best part about these muffins, besides them being super tasty, is the fact they're gluten-free!
If you have been following our blog, you already know we are a fan of one-pan dinners. They always make it a more effortless cooking experience and fast clean-up on any of our busy workday nights. This recipe brilliantly combines roasted beets to this already cozy meal to take it to new heights.
Read more: