Foodie gifts, coffee lover must-haves, Misfits Market merch bags, and kitchen staples you can purchase from Misfits Market to give as gifts this 2021 holiday season.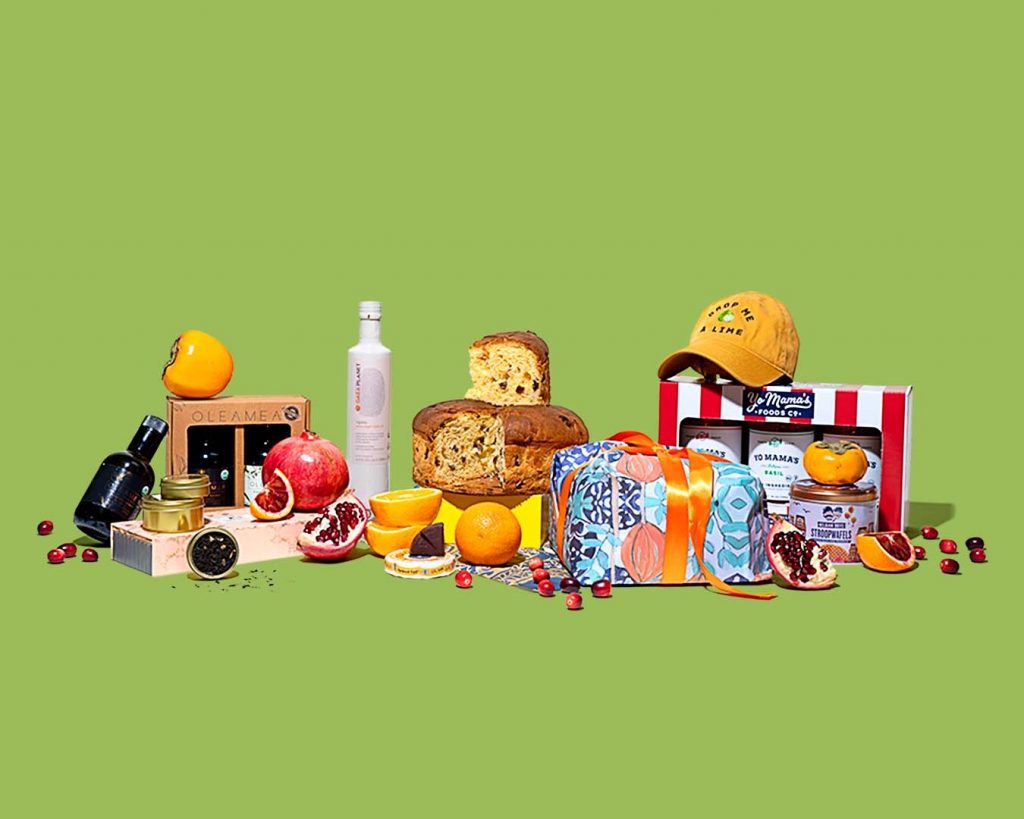 Gifting season is officially upon us! And our shop is packed with cool stuff for giving (or keeping), like bags of premium coffee, decadent chocolate treats, and brand new Misfits Market merch, plus giftable olive oil, tea, sauce sets, and more.

Misfits Market Merch
Update your style with our Misfits Market-branded tote bag and dad hats. The hats are fully adjustable (one size fits all) and made from pigment-dyed cotton and feature an embroidered carrot surrounded by the phrase "I don't carrot all" or a lime with the phrase "drop me a lime." Includes embroidered Misfits Market logo. Plus, our Misfits Market canvas tote bag is perfect for storing all your essentials—like a bag full of holiday gifts perhaps?
Premium Olive Oil Sets
Give the gift of taking your cooking to the next level with premium olive oil sets. Our first duo comes from OLEAMEA: one special everyday organic EVOO and their private select EVOO, both high quality and perfect for any dish. A gift made special for the passionate cooks in your life. Plus, keep an eye out for our incoming Brightland mini essentials set with blackberry balsamic vinegar, champagne vinegar, and two types of olive oils.
Chocolates and Sweet Treats
You can't go wrong with chocolates, and we've got them all: bars, barks, and truffles. Plus, our shop is full of packaged sweets, like sweetened and spiced nuts, plus stocking stuffers like tins of Stroopwafel and jars of decadent hot chocolate.
Specialty Coffee and Teas
We have a large variety of premium rescued coffee (whole beans and ground) that even the pickiest coffee lover will… love! With the deep discounts on every rescued bag, your giftee can have a different-tasting cup of coffee every day of the week. Dark and molasses-y. Light and buttery. Smooth and infused with nitrogen. The list goes on. Plus, two almost-too-pretty-to-gift assorted tea sets from Vahdam India. Their teas are handpicked in India and packaged at the source to preserve freshness and flavor. Their sampler sets include loose-leaf teas in an assortment of flavors.
Panettone
The perfect gift for the host: a ready-to-slice-and-eat panettone. This dome-shaped Italian sweet bread that's traditionally eaten during the holiday season, tucks away sweet morsels (from chewy raisins and candied orange to dark chocolate chunks or lemon cream) inside a signature buttery, fluffy dough. And we've got four flavors to choose from: butter with raisins and orange, butter with dark chocolate and orange, lemon cream, and classic orange and dark chocolate panettone.
Gift Cards
When all else fails, give the gift of Misfits Market. Gift any dollar amount up to $250 to your friends in family in Misfits Market delivery areas for the gift of affordable groceries all season long.