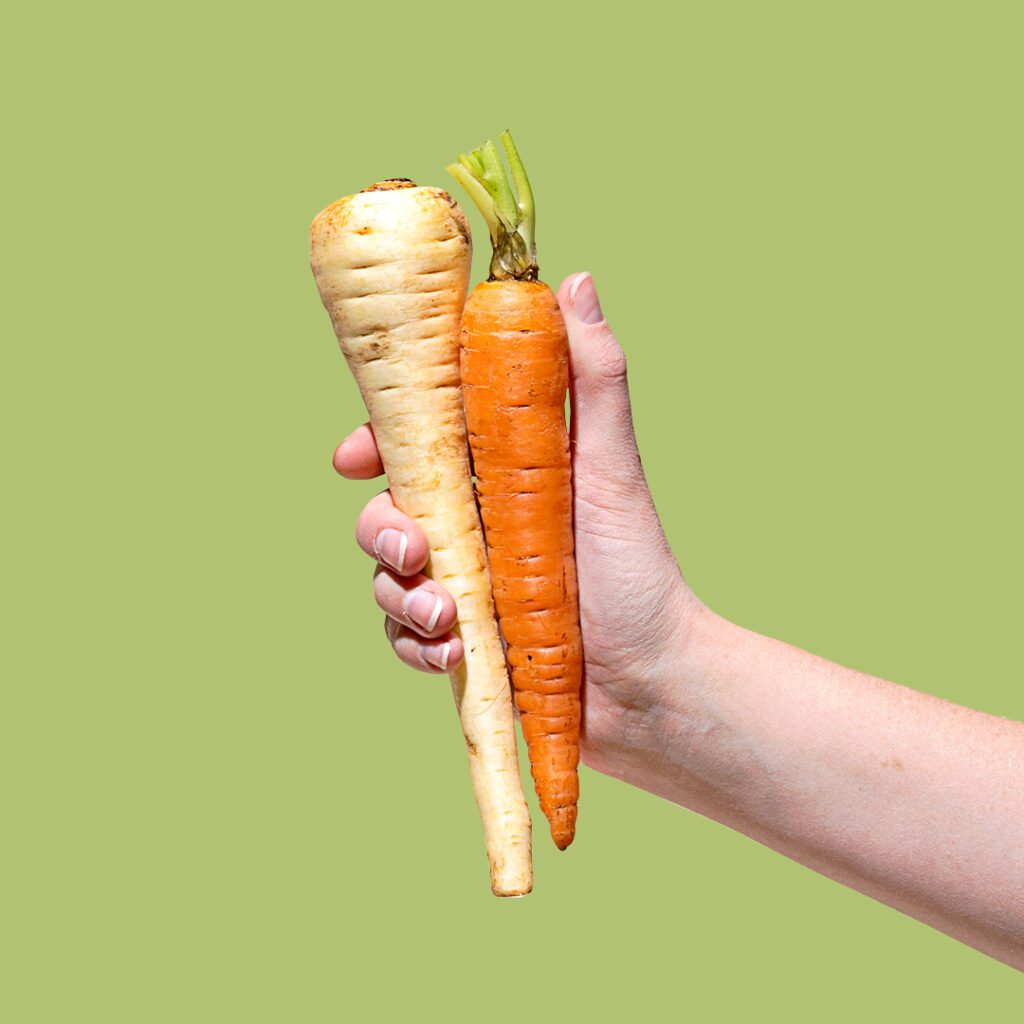 Have a recipe that calls for parsnips but you only have carrots? You're in luck. A lot of fruits and veggies can be used interchangeably in a pinch, like broccoli for cauliflower, nectarines for peaches, and basically any root veggie if you don't have potatoes on hand. Keep reading to learn what other fresh fruits and vegetables make for good swaps in recipes.
Carrots and Parsnips
Carrots and parsnips share the same notched, stick-like shape and snappy texture when raw, giving this pair a high ranking on the swapability scale. Just bear in mind their differences in color—parsnips are a creamy, pale yellow while carrots can come in orange, purple, and bright yellow hues—and flavor when cooked. The slightly spiced, nutmeg-y notes in parsnips deepen in intensity and carrots become sweeter.
Try this: Spiced Parsnip Cake with Cream Cheese Frosting
Onions and Other Alliums
In a pinch, the onion can be swapped for another of its kind: white, yellow, red, pearl, or cipollini, and shallots, green onions, leeks, chives, and scallions can be used interchangeably to add a certain depth of flavor to the dish at hand.
Onion powder or dehydrated shallots work well here, too, if your recipe features alliums in smaller amounts (as supporting characters, rather than leads). While garlic also falls under the allium family, it stands separately from the others due to its uniquely pungent, pronounced flavor.
Try this: Bobby Flay's Potato and Leek Pancakes
Turnips, Rutabaga, and Celery Root
When cooked, any one of these root veggies (or better yet, a combo of the three!) can be mashed, fried, or roasted just as you would with potatoes. Flavorwise, all have a subtle sweetness—rutabagas the most so—that is brought out by heat, but celery root and turnips have a slight bitterness as well.
Try this: Crispy Celery Root and Leek Latkes or Honey-Roasted Turnips
Hardy Winter Squash
The key to switching up winter squashes? Keeping with similar levels of hardiness and sweetness. Kabocha and acorn squashes both have mild, earthy flavors and edible rinds. Butternut and honeynut have more in common than just looks: although different sizes, these share an intensely sweet flavor and should be peeled prior to cooking.
And when it comes to softer squashes? Yellow summer squash and zucchini are essentially interchangeable, too.
Try this: Maple Dijon Acorn Squash and Kale Salad or Butternut Squash Shakshuka
Brassicas
Brassicas (think broccoli, cauliflower, Brussels sprouts, or cabbage) are great at playing musical chairs whether a dish calls for them hot or cold. Our tip: To make a swap that's most similar in texture, density, and moisture content, swap broccoli with cauliflower and cabbage with sprouts.
Try this: Broccoli and Cauliflower Gratin or Crunchy Fall Slaw with Honey Mustard Dressing
Leafy Greens
Some greens withstand wilting better than others. While butterhead lettuce isn't the best stand-in for something like spinach leaves, hardier greens—kale, collards, Swiss chard, and the like—sub into a recipe just fine.
Try this: Creamy Spinach Pesto with White Beans or Bobby Flay's Kale Stem Pesto
Fresh Herbs
Bright, tender herbs like dill, parsley, cilantro, basil, and mint can often be swapped for one another in a pinch, just know that the flavor profile won't be a 100% match. Your best bet is to go with the dried counterparts when available (though dried herbs are more potent than their fresh counterparts, so follow 1 teaspoon dried for 1 tablespoon of fresh).
However, vibrant tender herbs and hardier herbs should not be substituted for one another. Instead, woody herbs like rosemary, thyme, sage, bay leaves, and marjoram (oregano) can be good subs for each other in stews, soups, browned butters, and more.
Try this: Cannellini Bean and Tuna Toast or Sourdough and Herb Stuffing
Stone Fruit
Summer's best fruits are stone fruits—the hard pitted cherry, plum, nectarine, and peach. All are soft and sweet, but peaches and nectarines are the most alike with a key difference: nectarines are even sweeter than the sometimes fuzzy peach. Use them interchangeably in baked goods.
Try this: Stone Fruit Grilled Cheese or Stone Fruit Cobbler
Read More: What's the Difference Between These Similar Fruits and Veggies?