How Misfits Market plans to create a new food supply chain and eliminate food deserts in America by 2025
By Abhi Ramesh, Founder & CEO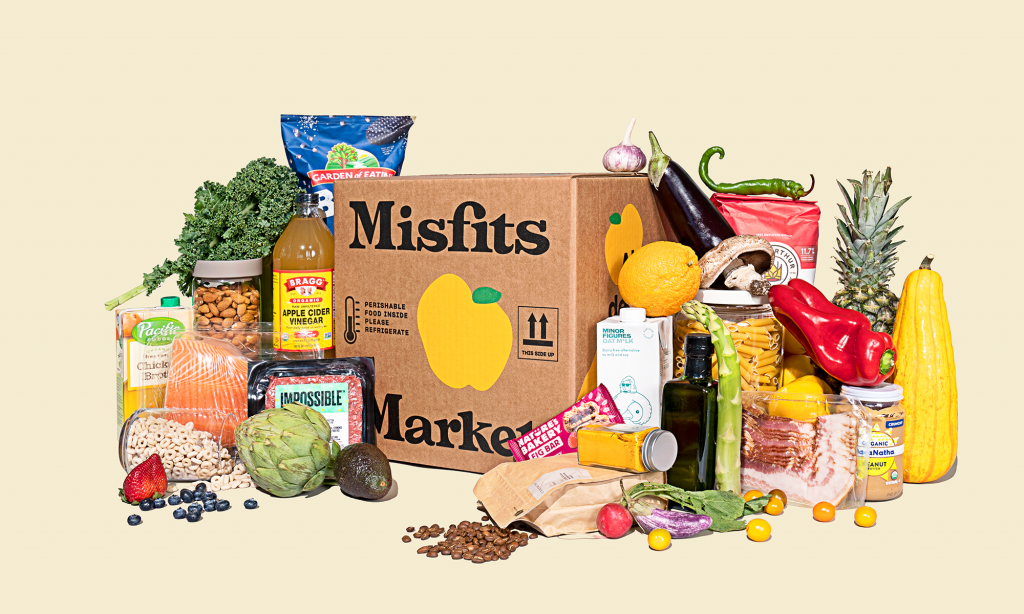 Think back to the last time you visited the produce aisle of a grocery store. Did you notice how every apple seemed eerily identical? Farmers and gardeners will be the first to tell you that food rarely comes off orchards and fields looking so perfect or shelf-ready. In fact, it's not really supposed to. So what happens to the rest of the apples from the same crop that aren't uniformly pretty?
Here's the distressing truth: Almost a third of what's grown in the U.S. never even gets harvested because it doesn't meet the superficial standards of traditional grocery stores. I saw this firsthand on a trip to a Pennsylvania orchard a few years ago when I was apple picking with friends. I noticed the fruit that looked a little different—too big or small, or just a little misshapen—was being collected and placed into storage bins. So I asked why. The reason? It didn't meet the aesthetic standards that traditional grocers have had in place for decades. Standards that are all about keeping up appearances, not a reflection of nutrition or taste. Donating this supply was rarely an option for this particular grower (nor is it for many small farms). As a result, they scrapped almost 20,000 apples in any given season by their estimation.

Now imagine this happening at every farm across the country, across every variety of fruit and vegetable. That adds up to millions of pounds of delicious food that goes to waste every year when it could be going to a good home. Leaves a bad taste in your mouth, doesn't it? Mine too. That's why I founded Misfits Market two and a half years ago. To do something about it.
How it started, and how it's going
A few weeks after that apple picking trip in August of 2018, I built the first Misfits Market site with my self-taught coding skills. Like the produce I was selling, the site wasn't pretty, but people saw value in it. I also deliberately named us Misfits Market with something much bigger than ugly food in mind: A mission to create food access from the inefficiencies of the food system. I'd make that happen by building the first online grocery store in America to deliver real value by combining affordability, sustainability, and accessibility.
Within a month, I launched Misfits Market's delivery business in Philadelphia. I'd go to regional farms on the weekends with a rented pickup truck, fill it with fresh, organic produce that was "misfit" for one reason or another, box it up in my home, and deliver it myself via Uber. Saving up to 40% on organic produce proved popular, as did the ads featuring funny-looking veggies that stopped people in their tracks as they scrolled through Facebook and Instagram.
My goal wasn't just to stick to concentrated urban areas. Within a few months, we had expanded to five states and were serving tens of thousands of customers, cutting out the middleman and passing on savings to customers. Many of our initial customers lived in zip codes where no one else delivered fresh produce, especially at the savings we were offering. Even if only 100 people in an underserved location wanted access, we firmly believed—and still believe—that they deserved it, and we built out fulfillment and shipping processes to meet them where they were.
At first, customers had no choice within their subscription produce box, just a "mystery" assortment of fresh, organic fruits and veggies. But we soon built up a large network of direct relationships with farmers who needed ways to be paid for the excess or misfit food they worked to grow. (Farms don't always have the infrastructure to send excess items to production facilities or donate to food banks.) Today, customers can have their pick of seasonal produce from dozens of partners committed to fighting waste at scale, like California's Lakeside Organic Gardens, as well as smaller outfits that don't always have resources to aggregate supply for quick sale. One of our original suppliers, Lancaster Farm Fresh Cooperative in Pennsylvania, not only remains a vendor partner to this day but their free box program for people facing hunger has also been a beneficiary of customers' donations when they want to skip their Misfits Market box.
Next, we set our sights beyond farm-level waste and onto packaged goods, offering items that were surplus or may have had packaging changes that made them unsuitable for grocery stores. When you shop Misfits Market today, you'll find a curated selection of more than 250 varieties of organic produce and sustainably sourced groceries—including our newest addition of meats, seafood, and plant-based proteins. And it's only growing from there.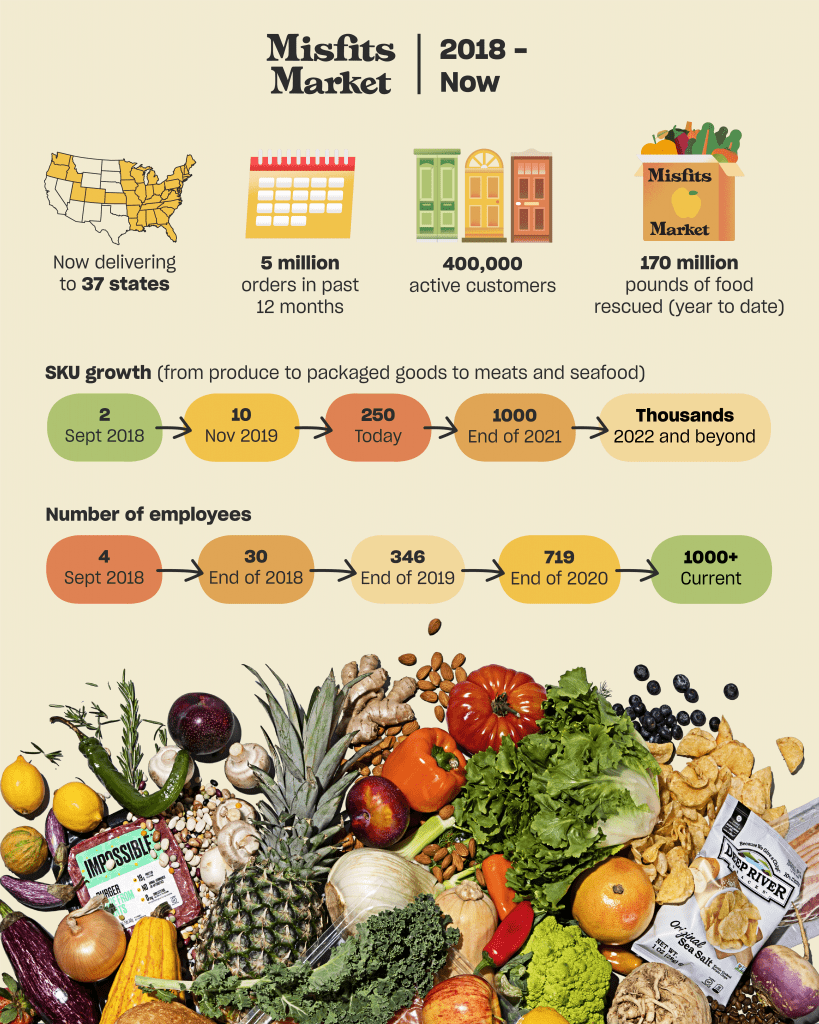 An opportunity to serve
As our grocery assortment has expanded, we've also devised creative ways to support producers who struggled in the middle of the pandemic. From rescuing premium popcorn destined for movie theaters to pioneering an entire waste recovery program with a bean-to-bar organic chocolate maker, we're always seeking new opportunities to create a value exchange for both suppliers and consumers. We're also creating a new upcycled product stream, working with seed-based food company 88 Acres to rescue edge pieces of their tray-baked Seed+Oat Bars, which are served on JetBlue flights, and repacking them for convenient snacking
Even as we're making strides with our own supply chain, the food system at large is not getting better or more efficient. Uncertainty around supply and demand means that growers and producers are forced to take on more risk and potentially get stuck with excess product that threatens to go to waste. That's because grocery stores are now requiring farmers to commit to growing much more than normally planned so they're insulated from the supply shocks that led to empty shelves during the pandemic. Similarly, meat producers are asked to double down on the supply of the most popular cuts, leaving less popular cuts with no easy outlet or consumer base.
And yet, with the glut of food on the market, food prices have continued to rise 2-3 percent a year on average for the past 20 years. In 2020, they went up a whopping 3.9 percent, according to the U.S. Bureau of Labor Statistics, with more people eating at home last year. Consumers bear the brunt of this inflation. People in food deserts suffer. And lessons continue to go unlearned.
My vision is for another path, one that can solve for rising costs and the limited reach of food in the current system, and that can drive value directly to suppliers and consumers.
What powers us and where we're going next
It's simple: We are obsessed with creating the new food value supply chain. We lead with technology, put our producers front and center, and focus on our reach into communities where consumers have traditionally faced limited choices. This obsession with creating a new, improved food supply chain is what helps us stay committed to our mission of delivering high-quality products at a good value.
Because of our focus on sustainability, accessibility, and affordability, growth oozes out of every part of the business. We're hitting some big milestones this week alone. Our first group of customers received quality meats, seafood, and plant-based proteins in their boxes on Monday, and today we're expanding into Washington and Oregon, making our delivery map truly bicoastal. Just two more steps toward our goal of expanding into every major grocery category and distributing across every underserved area nationwide.
To continue to make an impact, we'll be doubling our team (currently more than 1,000 employees) by the end of the year to fortify our product and operations teams and ensure the best possible experience for customers. We'll also be making some big investments in tech that continue to optimize our logistics and drive the growth of our business. It's not enough to be able to move fast. Our machine has to be powered by some pretty impressive logistics and fulfillment tech under the hood to operate at scale with a growing assortment. If you had any doubt about our ability to scale, consider that in the first four months of 2021 alone, Misfits Market has rescued the same amount of food as we saved in all of 2020.

Giving back will also remain core to our mission. Last year, we donated more than 120,000 pounds of fresh food to communities in need. Misfits Market partnered with Philly-based Sharing Excess on a food scholarship program to reach under-resourced students in the Greater Philadelphia area. Our team has also worked with Wellness in The Schools to get food-insecure families in Camden, NJ set up with fresh food delivery on a weekly basis. Finally, in 2020 and into this year, we've sponsored community fridges throughout the Northeast in communities that face food insecurity to keep them supplied and well-stocked with fresh produce. We care so much about access because we know that it's the key to healthier communities. "Prescriptions" for healthy foods might save more than $100 billion in healthcare costs, according to one new study, but it's also about a more equitable distribution of resources to all. That keeps us laser-focused on our goal of eliminating food deserts in America by 2025.
I remain just as committed to providing affordable access to quality foods today as I was when I hand-delivered our first boxes back in 2018. As we evolve, it's the same mission: give everyone access to quality food, delivered in an affordable and sustainable way. It's just a little bigger than it was before.

If you haven't yet joined us, I invite you to come along for the ride. It's a pretty gratifying and delicious one. I'll even give you an incentive: 30% off your first order through April 30, 2021 with code GROW30.