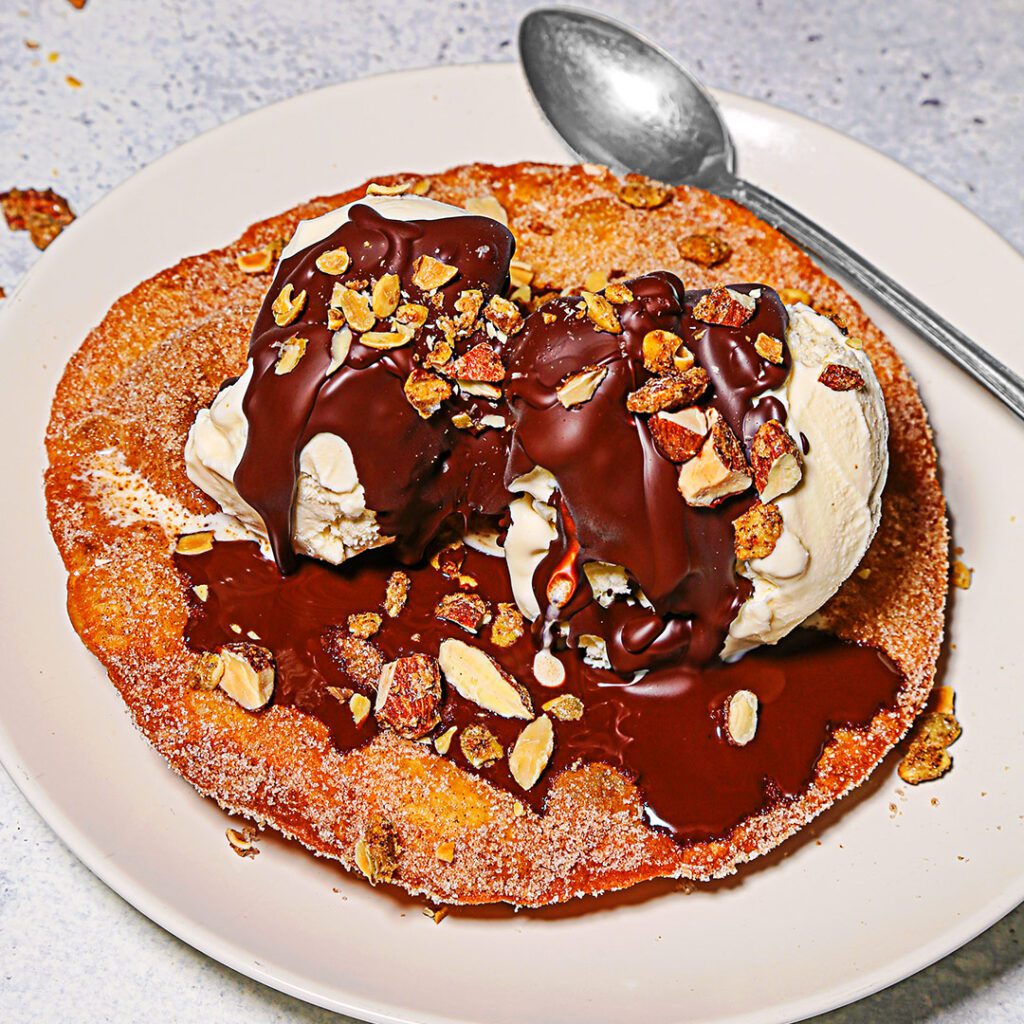 Is there any dessert more fun and indulgent than an over-the-top ice cream sundae? These ones have twice the crunch factor thanks to a sweet tostada base (that tastes remarkably similar to a certain breakfast cereal) and a nutty topping.
Get the recipe for Cinnamon Sugar Tostada Sundaes with Chili Nut Crunch:
Print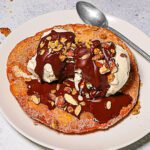 Cinnamon Sugar Tostada Sundaes with Chili Nut Crunch
---
Description
For the chili-nut crunch topping:
½ cup granulated sugar
½ teaspoon kosher salt
1 teaspoon chile powder
½ teaspoon cayenne pepper
½ teaspoon cinnamon
1 egg white
1 cup raw almonds
1 cup raw pepitas (pumpkin seeds)
For the tostada:
5 tablespoons granulated sugar
2 teaspoon cinnamon
Vegetable oil, for frying
4 flour or corn tortillas (we used Mi Rancho)
For the sundaes:
Vanilla ice cream
Dulce de leche or chocolate fudge
Whipped cream
Maraschino cherries
---
For the chili nut crunch: Preheat the oven to 300 degrees F.
In a small bowl, combine the sugar, salt, and spices. In a medium bowl, whisk the egg white until frothy, then toss in the nuts to gently coat. Sprinkle spice mixture over top and toss well.
Transfer nuts to a parchment-lined baking sheet and spread into a single layer. Bake nuts until browned, tossing halfway through, 40 to 50 minutes. Let nuts cool completely, then roughly chop ⅓ cup of nuts and set aside. There will be extra spiced nuts, so store them in an airtight container as a snack for later!
For the tostadas: Combine sugar and cinnamon in a wide, shallow bowl. Add oil to a heavy-bottomed skillet (like a cast-iron) and fill with enough oil to go a third of the way up the sides of the skillet. Heat oil on medium heat until it shimmers and begins to bubble.
Carefully place

one

tortilla at a time into the oil and fry each side for

50

to

70

seconds until golden brown and crispy on both sides. Transfer tostada into the cinnamon sugar mixture and fully coat. Place cinnamon sugar tostada on a serving plate and then repeat with the remaining tortillas.
To assemble the sundaes: Top a cinnamon sugar tostada with a scoop of vanilla ice cream. Drizzle on dulce de leche or chocolate fudge, then finish with a handful of the chopped chili nut crunch and any other toppings you desire.
---
Hungry for more? Try this: