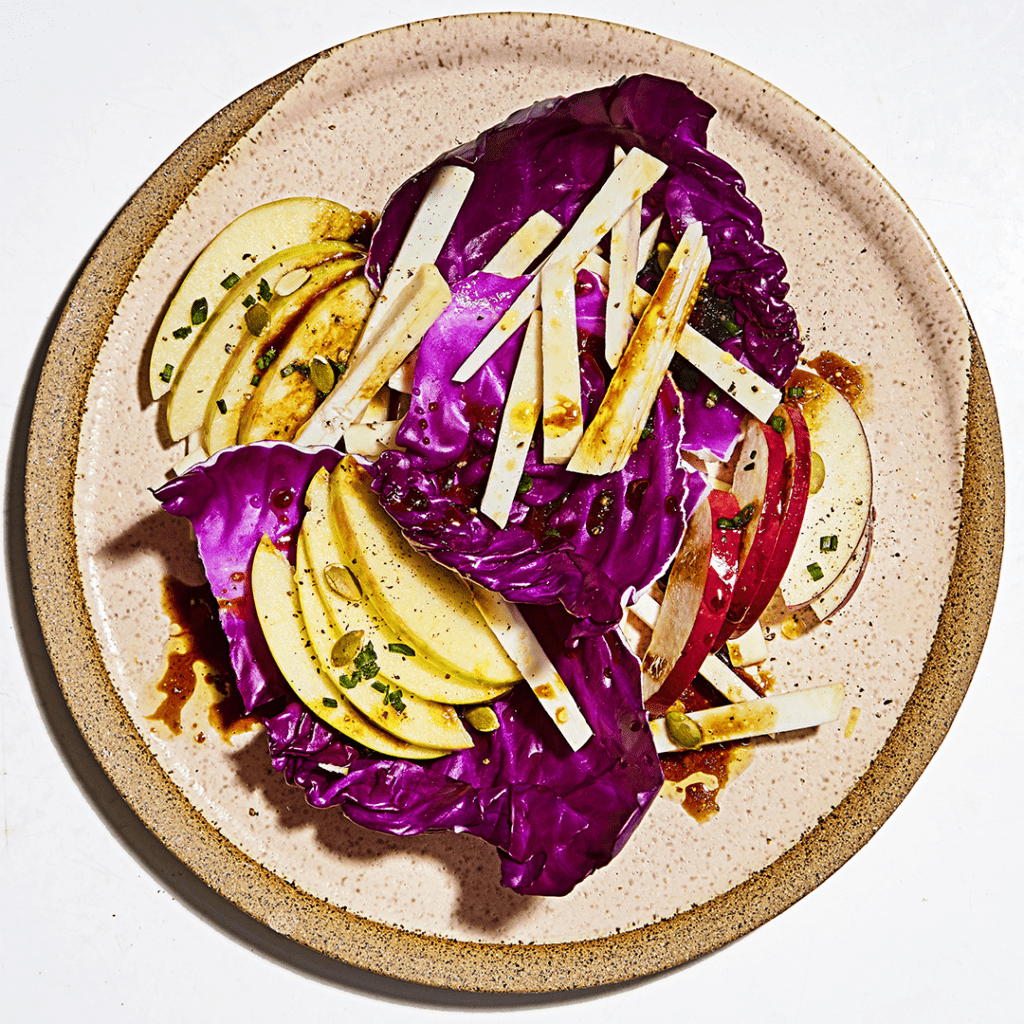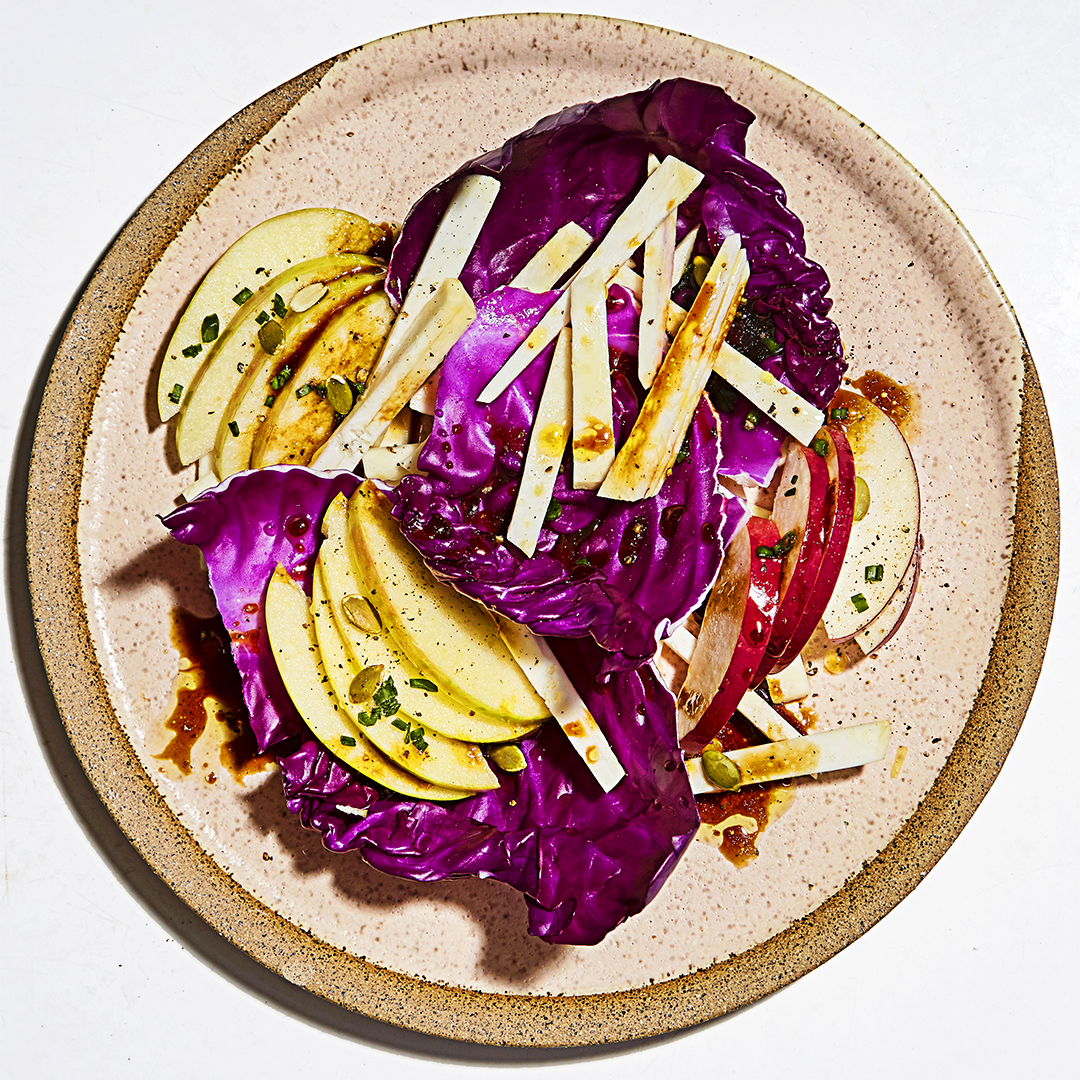 Celery root and red cabbage are two veggies that often go untouched. Knowing this, we threw together this crunchy slaw to get the most out of these two tricky ingredients. In fact, red cabbage is one of those veggies we get a lot of questions about. It can be a little bitter and a little tough—plus tough to incorporate into everyday recipes. This refreshing slaw (or salad!) also includes sweet apples and a simple dressing that really lets the produce be the star.
Print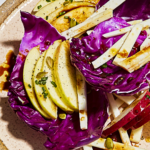 Celery Root, Apple, and Cabbage Salad with Pomegranate Molasses Dressing
---
2 cups

red cabbage, shredded, or finely sliced, with some leaves left whole

2

small apples, cored and finely sliced

1 cup

celery root, finely sliced 

3 tablespoons

olive oil 

2 tablespoons

pomegranate molasses

1 tablespoon

balsamic vinegar

2 teaspoons

ginger, grated

1 tablespoon

soy sauce

1 teaspoon

honey
Salt and freshly ground pepper
---
Instructions
For the salad, toss to combine cabbage, apples, and celery root. 
For the dressing, whisk together oil, molasses, vinegar, ginger, soy, and honey. Season with salt and pepper to taste.
Pour dressing over the salad and mix thoroughly. Serve immediately. 
---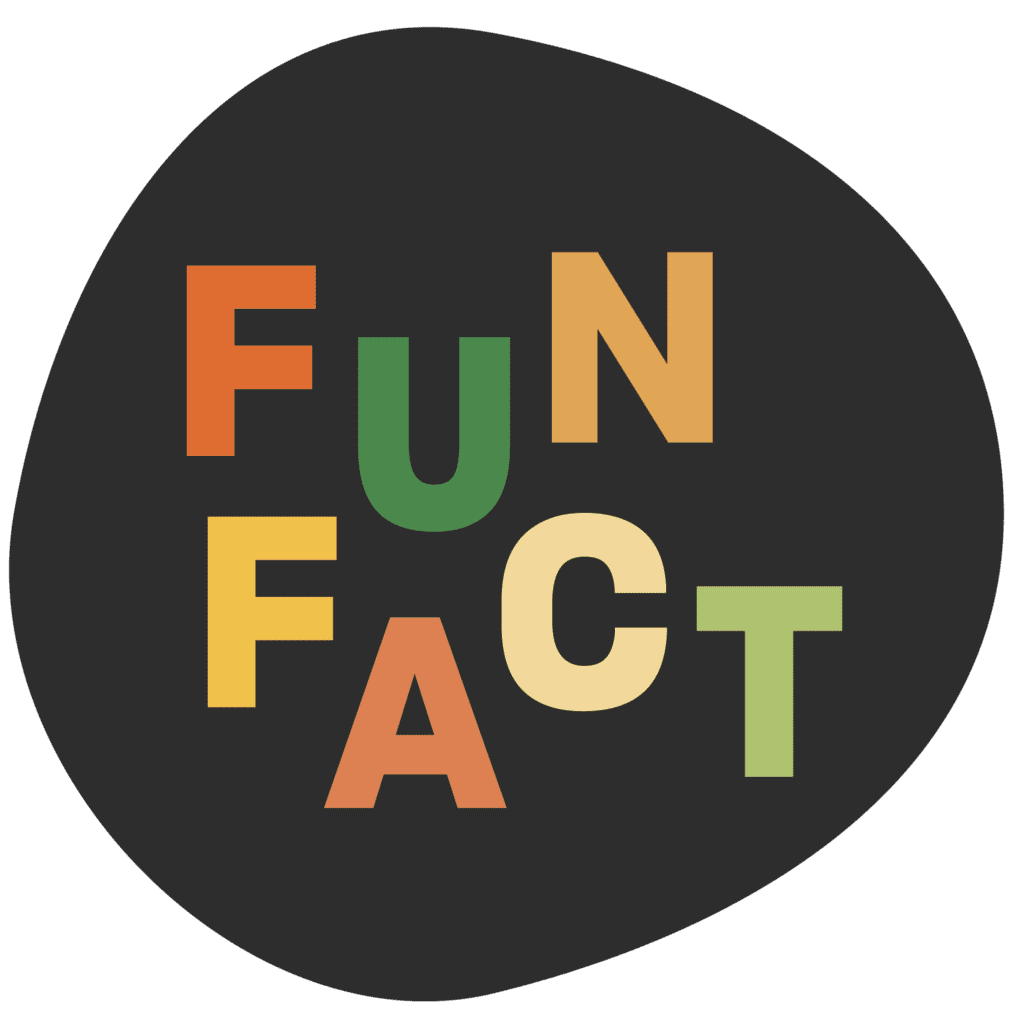 Are celery and celery root the same thing?
Celery and celery root are part of the same family of vegetables, but you may be surprised to learn that they don't come from the same plant. Celery root is a round bulb that is approximately the size of a grapefruit, with a mild taste that is slightly sweeter than celery stalks. Where celery stalks tend to have a bright, refreshing taste, celery root is typically more earthy and intense in flavor. Also known as celeriac, celery root is a root vegetable that can be used in recipes like stews, soups, and salads, or even as a potato substitute.