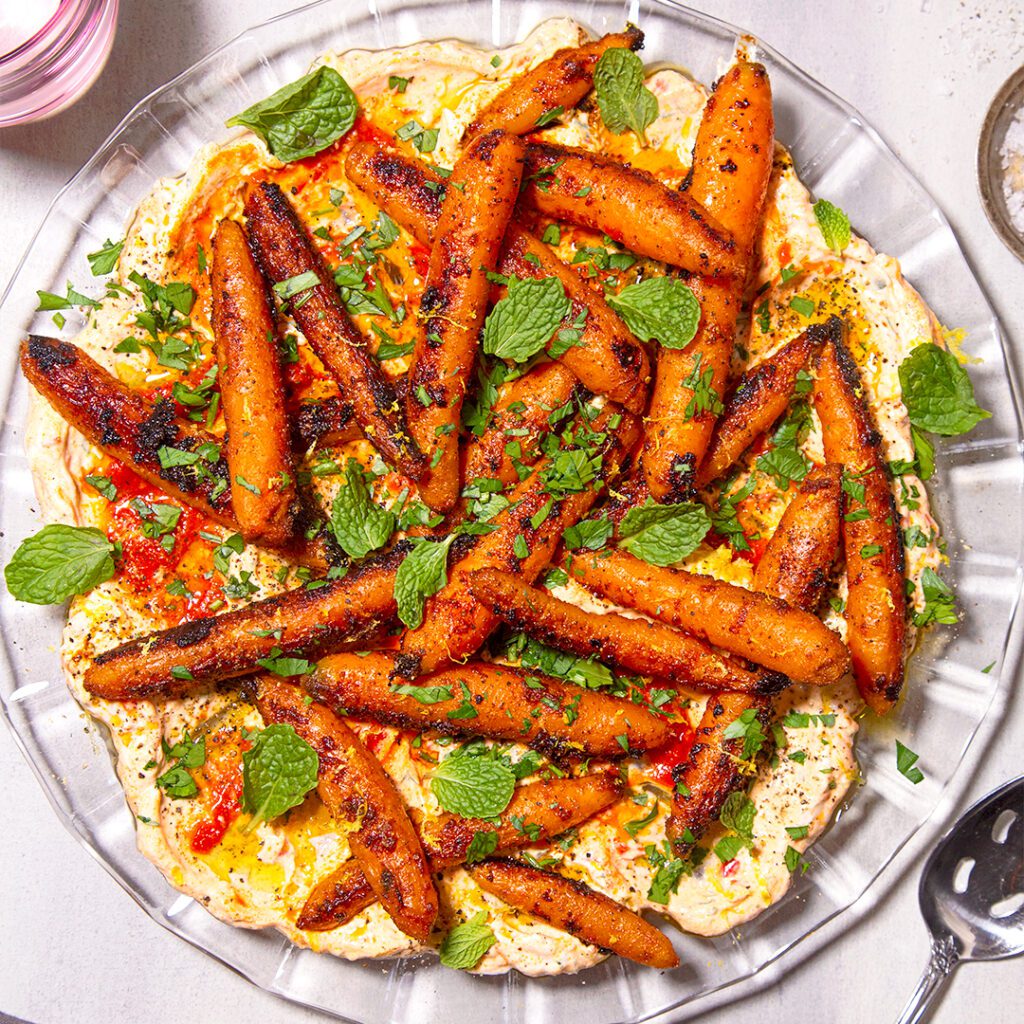 We're big fans of carrots—one of the iconic misfit veggies if you will—and so is chef-in-residence Bobby Flay! They can go sweet or savory. And when we're in need of a new way to enjoy them, we turn to him for a little inspiration. Serve his spiced carrots and harissa yogurt alongside your favorite protein—some grilled 'chops or spice-rubbed-chicken would be pretty tasty—and get ready to add this to your weekly recipe rotation.
Get the full recipe:
Print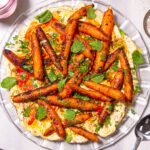 Bobby Flay's Spiced Carrots with a Harissa Yogurt Sauce
---
Spice Rub
2 teaspoons

paprika

1 teaspoon

ground mustard

1/2 teaspoon

ground cumin

1/2 teaspoon

ground fennel

2 teaspoons

light brown sugar
Kosher salt and freshly ground black pepper
Carrots
1

pound baby carrots, tops removed but with a little green left attached, and peeled

1/4 cup

olive oil

1/2 cup

Greek yogurt

1

–

2

tablespoons harissa

2 tablespoons

fresh flat leaf parsley, chopped and divided

1 teaspoon

fresh thyme leaves, finely chopped

1/2 teaspoon

lemon zest, finely grated
Kosher salt and freshly ground black pepper
Optional garnish: Mint leaves, hand torn
---
Instructions
For the spice rub, whisk together the paprika, mustard, cumin, fennel, brown sugar, salt, and pepper in a small bowl until combined. Set aside.
For the carrots, start by blanching: Bring a large pot of heavily salted water to a boil. Set up a bowl of heavily salted ice water. Blanch the carrots in the boiling water until slightly al dente (still have crunch, about 3 minutes depending upon their size), then plunge them immediately into the ice water for 2 minutes. Drain well and pat dry.
Place carrots in a large bowl. Drizzle with olive oil, season with salt and pepper, and toss to coat. Add 2 teaspoons of spice rub and toss to coat. For a more robust spice, add another teaspoon of spice rub and toss to coat again
Heat a few tablespoons of oil in a cast iron skillet over medium heat until the oil shimmers.  Add the carrots and cook until lightly charred on all sides, about 3 minutes per side.
While carrots are cooking, add the yogurt, harissa, half of the parsley, thyme, and lemon zest in a small bowl and season with salt and pepper, lightly marbling them to combine.
To serve, place the harissa yogurt down on the platter. Transfer the carrots to the platter and top with a drizzle of olive oil, the rest of the parsley, and mint if so desired.
---