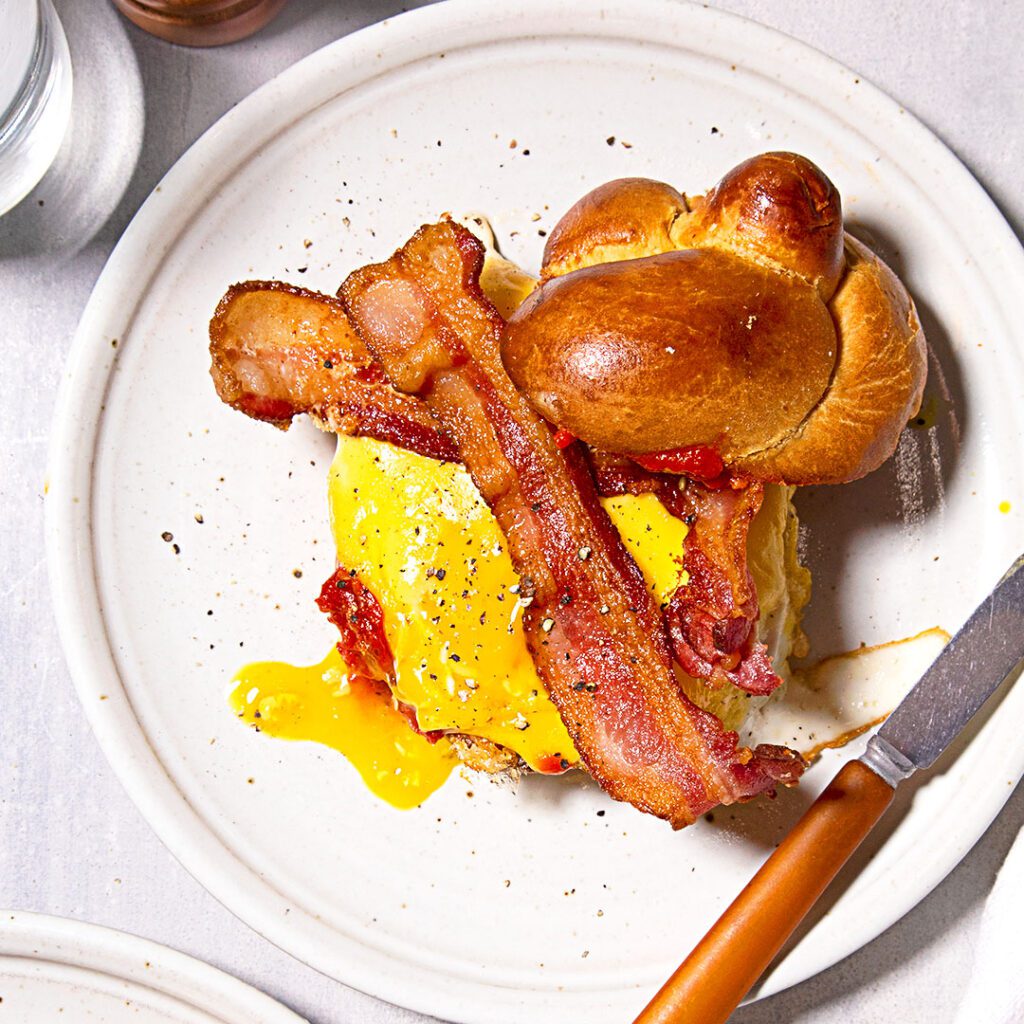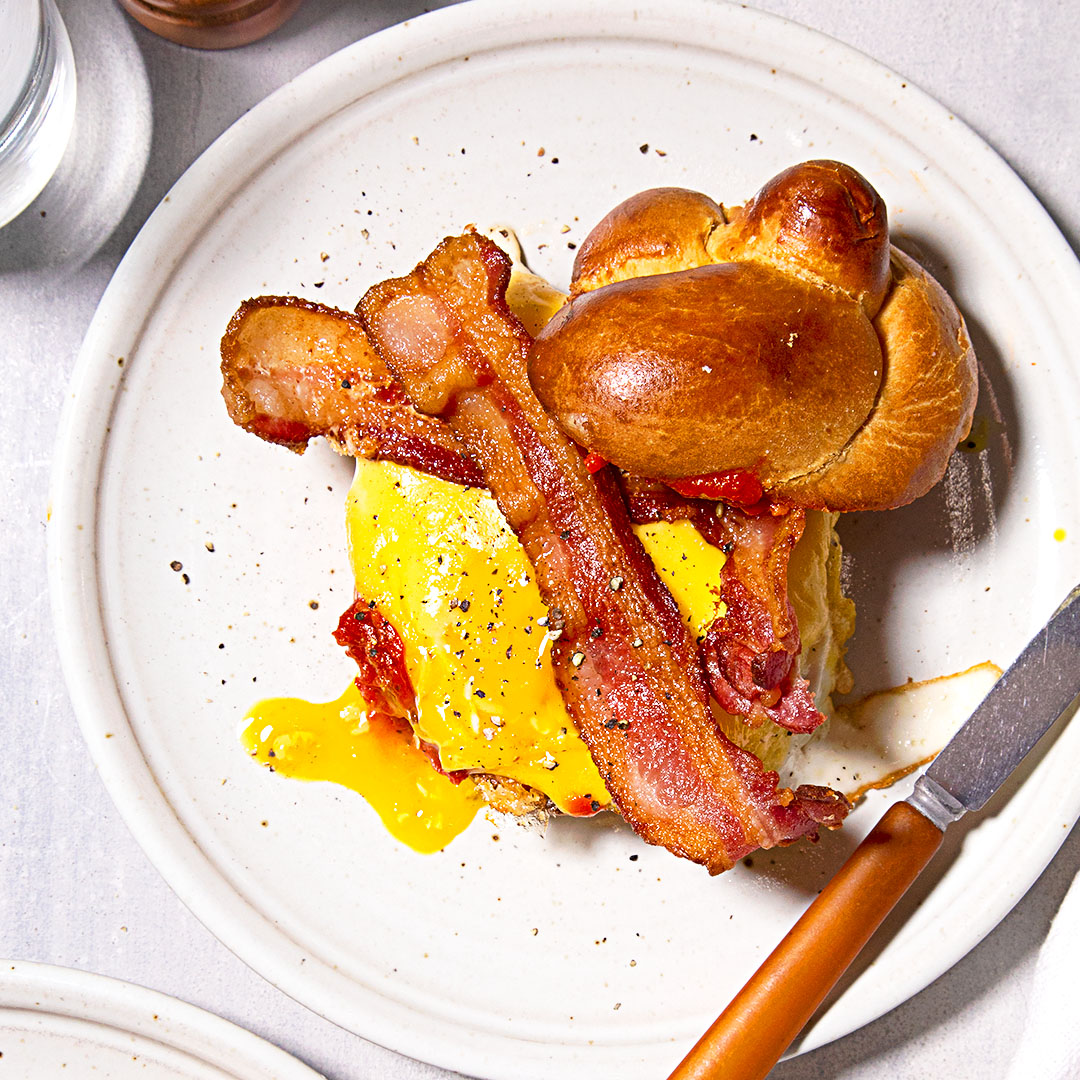 You know that feeling when your bread's toasted, your bacon's crispy, you've cooked your eggs just right, but you just can't get your cheese to melt fast enough? Our chef-in-residence, Bobby Flay, has just the hack for you. Sneaking a tablespoon of water into the pan and throwing a lid on means perfectly melted cheese in seconds. Now all that's left is to decide which hot sauce to throw on top!
Watch Bobby make his go-to bacon, egg, and cheese sando in real time:
And get the full recipe now!
Print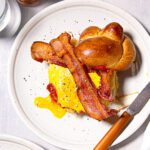 Bobby Flay's Favorite Bacon, Egg, and Cheese
---
2

slices of bacon

2

medium eggs
Kosher salt and freshly ground black pepper

1

slice American cheese

1 tablespoon

of water
1-2 tablespoons harisssa

1

brioche roll, sliced, scooped and toasted
---
Instructions
Place bacon slices in a non-stick sauté pan over medium heat and slowly cook the bacon until crisp, approximately 15 minutes. Transfer the bacon to a paper towel lined plate and set aside. Discard all but 1 tablespoon of bacon fat from the pan.
Crack eggs into the pan, season with salt and pepper and let cook until the whites are firmly set and yolks are not overly runny, about 3 to 4 minutes. Add the cheese on top of the eggs, and add 1 tablespoon of water to the pan. Immediately cover the pan with a tight fitting lid for 15 to 20 seconds to allow the cheese to melt.
To assemble, spread harissa on top of each half of the toasted buns. Add the egg with the melted cheese, the bacon and top with the bun. Dig in!
---
Wait! There's more:
Bobby Flay's Best Sausage Patties
Savory Cilantro Steel Cut Oats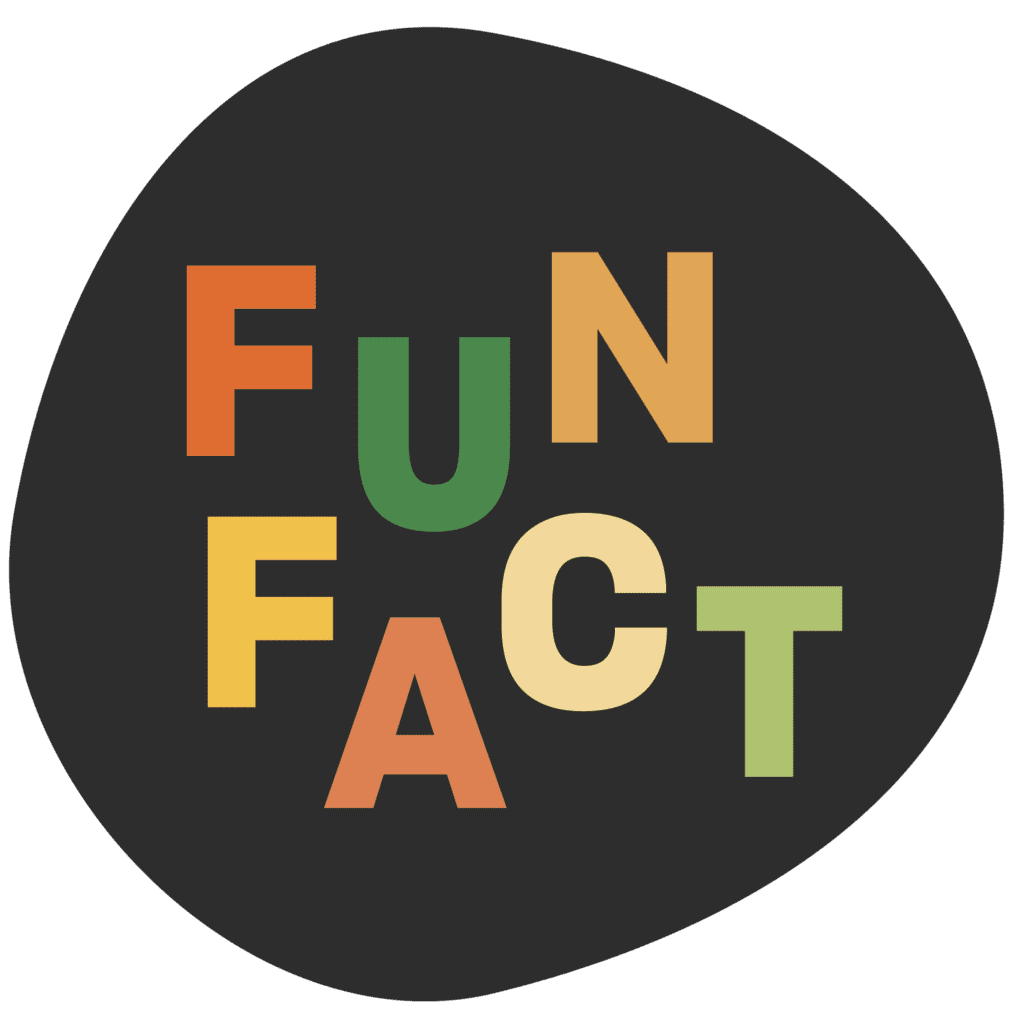 Where did the bacon and egg breakfast combo originate?
Crisp bacon and scrambled eggs are a quintessential breakfast combo. How did this pair become the dynamic duo it is today? It all started in the 1920s when the Beech-Nut Packing Company hired Edward Bernays to help them sell more bacon. He convinced doctors to give their stamp of approval on starting the day with a heavy breakfast. Eventually Bernays published this "study," which just so happened to mention that bacon and eggs were the ideal breakfast. While the beginnings of this breakfast combo seem a little underhanded, we aren't mad that it's become a classic.