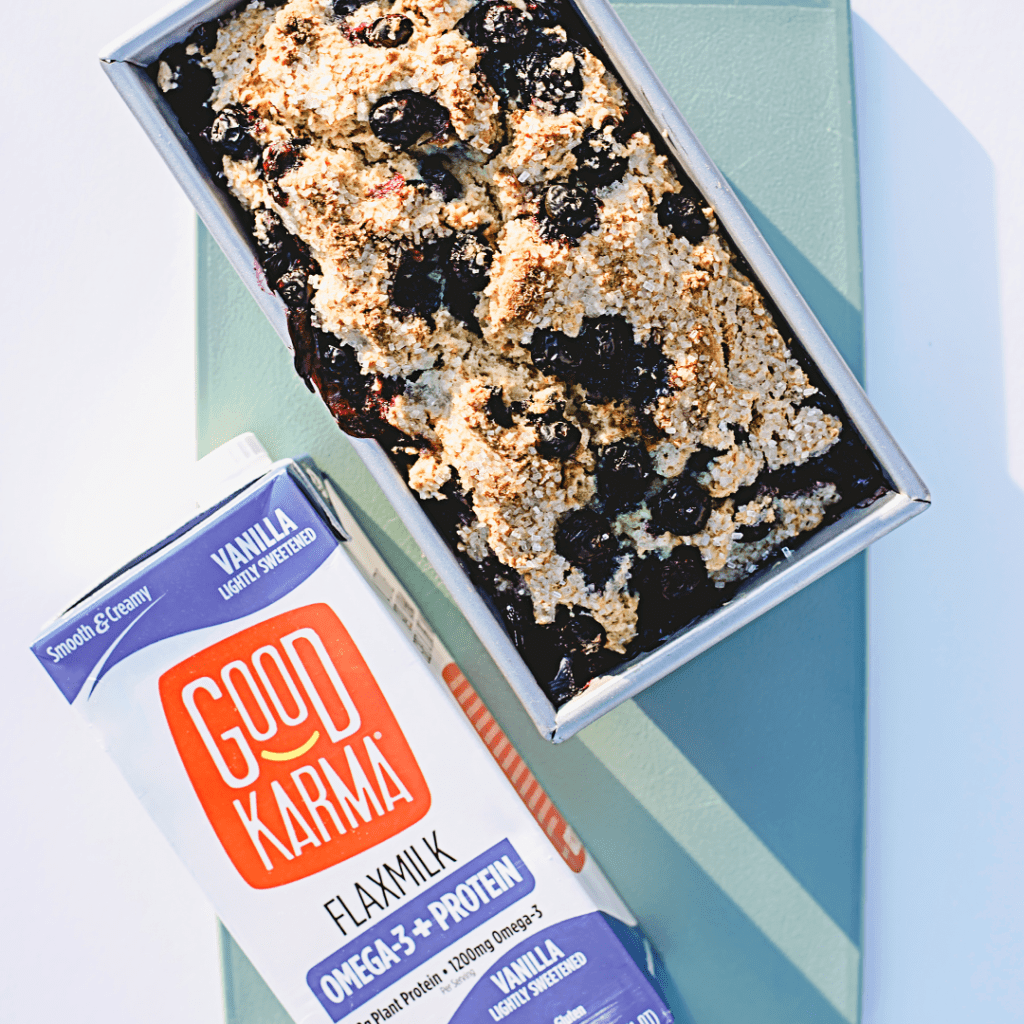 We're always on the hunt for new ways to make classic recipes more delicious. Enter: a homemade blueberry lemon loaf with a twist. Good Karma Vanilla Flaxmilk. It's used to moisten, sweeten, and add flavor here, with some extra benefits along the way. Flaxmilk is a dairy alternative made from flax seeds and is full of omega-3s and plant-based proteins. It's free of soy, nuts, and gluten while also being sustainable—producing flaxmilk uses less water than other dairy alternatives.  Find it in our Marketplace when your window opens this week.
Good Karma Flaxmilk also adds a hint of vanilla to complement the sweet berries and tart lemon. The rest of the recipe is vegan, too, calling for vegan butter (also in our Marketplace) and no eggs. Each slice will taste excellent on its own, after dinner with a cup of tea, or even for breakfast with your morning coffee.
Print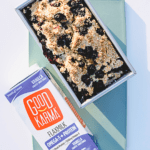 Blueberry Lemon Loaf featuring Good Karma Flax Milk
---
1 cup

Good Karma Vanilla Flaxmilk
Zest from

3

lemons
Juice from

1

lemon

2 cups

Bob's Red Mill gluten-free flour

1 teaspoon

baking powder

2 teaspoons

baking soda

2/3 cup

granulated sugar

1 teaspoon

fine sea salt

1/2 cup

vegan butter, melted

1 teaspoon

apple cider vinegar

2 cups

blueberries
---
Instructions
Preheat oven to 350 degrees.
In a large mixing bowl, combine lemon zest with flour, baking powder, baking soda, sugar, and salt.
In a separate mixing bowl, add lemon juice, Good Karma Vanilla Flaxmilk, melted butter, and apple cider vinegar.
Gradually mix dry ingredients into the wet mixture. Stir until consistent and smooth, and then fold in the blueberries.
Transfer batter to a loaf pan, then transfer to the oven.
Bake for 45-60 minutes or until a toothpick comes out clean. Enjoy!
---