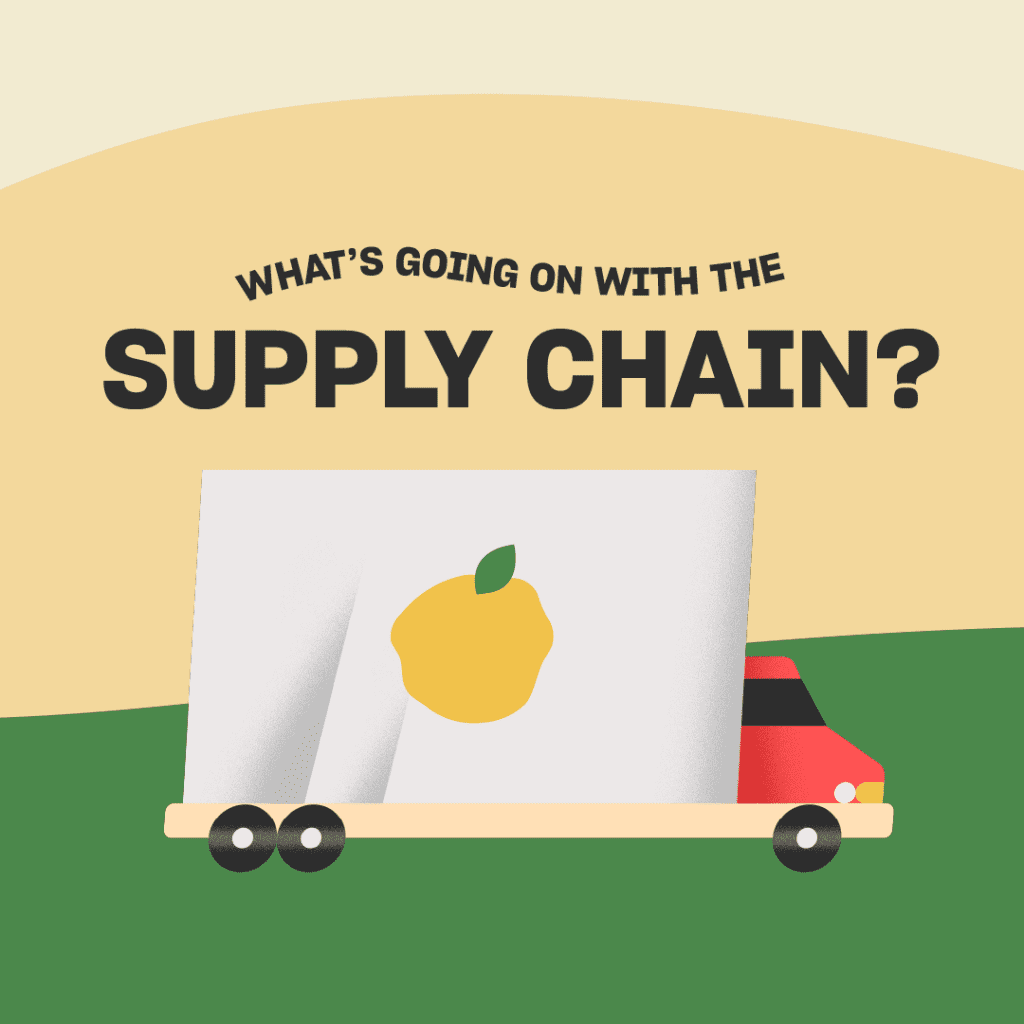 So, you've heard about these ongoing "supply chain issues." From clogged shipping ports to labor shortages to the cost of cardboard and paper, every industry has been affected by delays and a damaged system. The truth is, we live in an increasingly connected world where all of us—from organic farmers in California to truck drivers delivering Misfits Market boxes to your doorsteps—are impacted in one way or another by the global supply chain squeeze. Misfits Market is feeling this in a big way, too.
What exactly is the supply chain?
Like its name suggests, the supply chain is a linked system that brings all goods, from raw materials to finished products, to our doorsteps. (Although the supply chain is more like a supply web or network than a straight line, with interconnected pieces that include manufacturing, shipping, economic policy, and more.) Every step of this process—sourcing, manufacturing, distribution, packaging, and transportation—represents one of the links in this chain. When one link is affected, it can mess with the entire system. A shortage of food, labor, warehouse space, or even the ability to ship goods, almost always leads to delays, even more shortages, and rising prices in another part of the supply chain.
So what's happening with food right now?
During the pandemic, there were big shifts in the ways that we shopped for and ate our food. Many of us started cooking at home more than ever before, a trend that's continued today. That means demand for things like fresh mushrooms, like the ones we sell at Misfits Market, has skyrocketed. Higher demand for food, paired with simultaneous labor shortages and increased prices for things like packaging and transportation, has contributed to less availability—and higher costs.
Let's consider the mushroom—one piece of produce that's been harder to come by over these past few months. The two biggies affecting our mushroom growers are labor shortages and higher prices for inputs.
Labor shortages: Prompted by the COVID-19 pandemic, labor shortages have been impacting business across the country. For mushroom growers, a reduced labor force has made growing, picking, packing, and shipping mushrooms slower and more expensive. In some cases, it's even forced growers to shut their operations down completely.
Higher prices for other materials: Some of the ways our mushroom growers are feeling the heat from supply chain issues are in higher costs of the materials required to produce mushrooms in the first place. Canadian peat moss, shiitake logs, and special bags that are used to grow some mushrooms have been harder to come by. As shipping ports around the world have been backed up, the cost of importing these necessary items has increased, which means shipping the finished product has become more expensive, too.
Misfits Market is affected by supply chain issues, too.
Because of our direct relationships with our farmers and other partners, we've been hearing about some of the challenges for quite some time. But maintaining close relationships doesn't mean we're immune to these global issues.
Our suppliers want to be doing what they do best: growing and producing quality foods to meet the demands of their enthusiastic customers. But in difficult times, some of our suppliers have had to increase their prices, prepare us at Misfits Market to expect shortages, or cap the amount of food they can provide us in order to prevent running through all of their available inventory.
It's important to note that not all players are impacted equitably in this crisis. Small businesses face many more obstacles than larger corporations when it comes to solving or averting these supply chain issues. Often due to less leverage over their supply chains, smaller businesses are more vulnerable to the effects of the shortages, delays, and increased costs, and may have less capital to tide them over during these difficult times. At Misfits Market, we are committed to supporting these small businesses.
But we're in this together.
We certainly aren't the only ones that will be experiencing the ups and downs of these events— the current supply chain issues have caused a ripple effect that's being felt throughout the entire food industry and beyond. And though a lot of this is out of our control, we want to be transparent with you throughout it all.
Our supply chain at Misfits Market is a complicated, living, breathing network of people working together day in and day out to provide high quality food at unbeatable prices, all while working to provide greater access to underserved markets and tackle waste in our food system. If you see our prices increase temporarily, or if your favorite products are a little more limited, rest assured that we're working closely with our suppliers to ensure the best deals on rescued food. In fact, the problems with our supply chain have only made us more aware of the ways in which we are all connected. Weathering this storm together—in our case, doing our best to support our suppliers while continuing to provide high quality, affordable food to our customers—remains our key focus.
Sources: