We have a new approach to when we bill customers, as well as when you can customize your box (now available for all customers) and shop The Marketplace. But no need to worry—this is a good thing.
Effective this week (week of September 14th, 2020), you'll be billed 2-3 days before your box arrives. Your new window to customize your produce preferences and shop The Marketplace will also be much closer to your box actually arriving. Your account page has been updated to reflect your exact charge date and window time.

Why is this a good thing? You'll be shopping The Marketplace and adding items to your box with a smaller group of people, which means a fuller assortment and fewer sold out items. Of course, we still recommend getting in right when your window begins. Early birds always get first dibs.

Here's a sample shot of how these important dates are bookmarked in the new account calendar. (Be sure to upgrade to our latest website to view your account calendar.)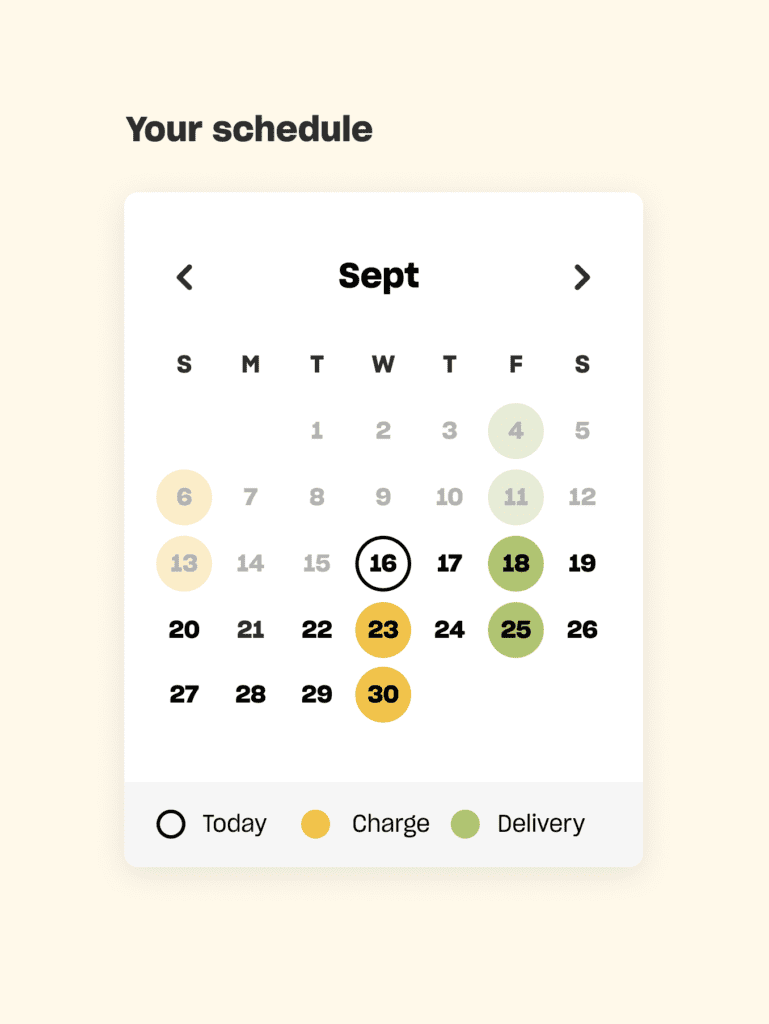 Still have questions? We've got the answers.
When exactly will I be charged for my boxes?
Your billing date will be the day before your box ships. Your next billing date can be found on your account page, which has been updated with the latest information. (Some of you will notice you still remain on a Thursday Marketplace open window and Sunday billing date.)
How do I know when I can shop The Marketplace?
Check your account page for your (possibly new) date. That's where you'll find all the details regarding when your three-day customization window begins. You'll also receive a weekly email reminding you when it's time to do your shopping. We still recommend getting in there early to nab all of the best deals before they're gone.
What's the latest date I can make changes to my subscription before my next order?
You'll need to make them by 8 p.m. ET the day prior to your next billing date. Don't know when that is? Check your account page for more details! Any changes made to your subscription will take effect on your next billing date. (Reminder: Once your order has been billed, it can't be canceled or changed.)
What if I change my preferred delivery day?
It's easy to change your day in your account, though please note that your shopping window and billing date will change accordingly. Your account will be updated to reflect these changes. You can switch back to your previous day if needed, but if you like the charge day you're assigned effective today (September 16th), we don't recommend changing your delivery day.

Will this new change automatically skip my next box or otherwise affect what's in my boxes?
Nope. You'll get your next box on your preferred delivery day as scheduled; it's just that your shopping window may now be a day other than Thursday this week, and your billing date may be different.

Still have questions? Submit a request to our Customer Success team and they'll be happy to assist!