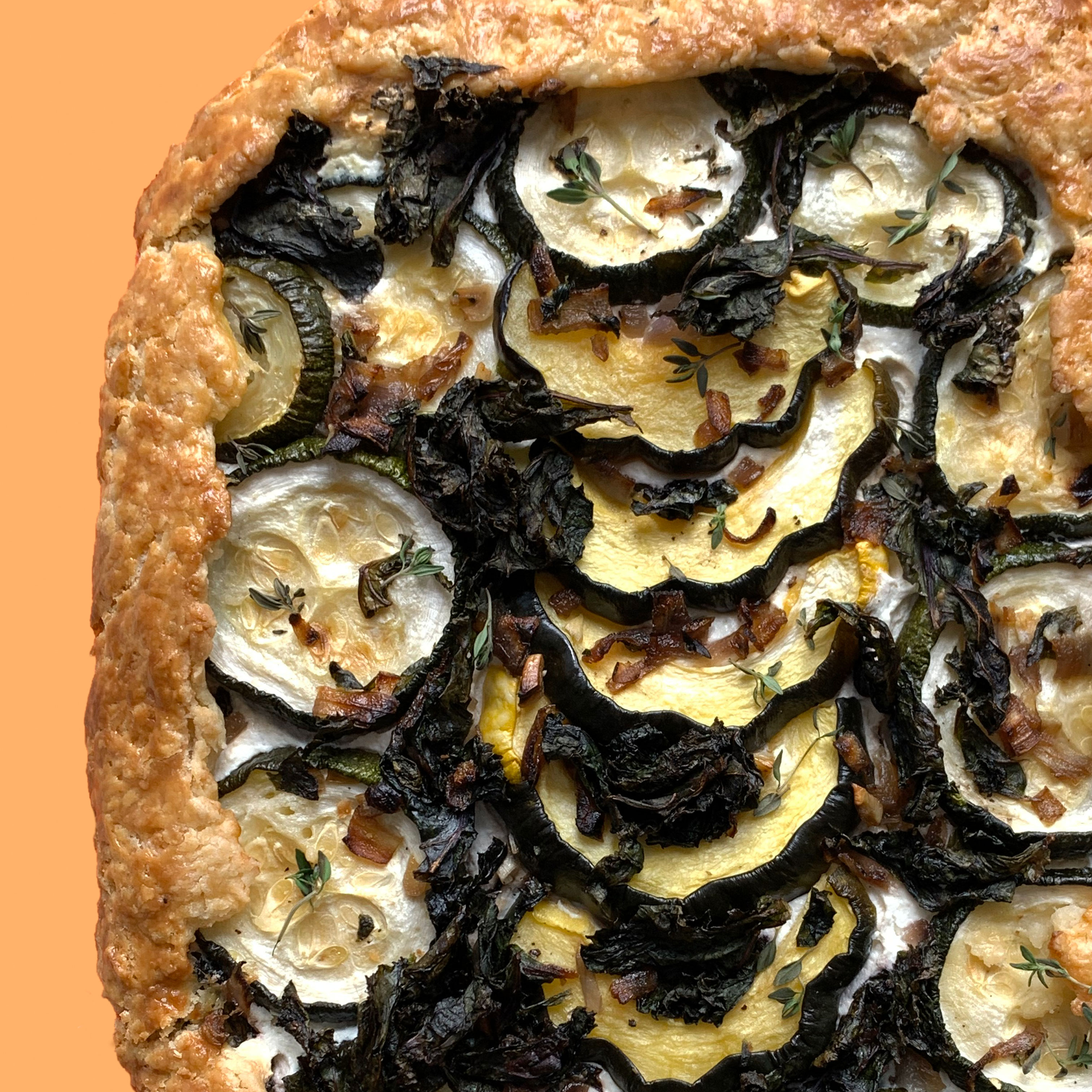 Ah, the galette. You've likely seen one with a fruit filling, right? It's sort of like a pie, but more rustically wrapped together. Much less precise. Much more our style. In fact, we think this wonderfully misshapen pastry is ideal for all sorts of wonderfully misshapen veggies. While a galette is certainly a sight to behold come dinnertime, it's surprisingly unfussy to throw together—especially if you go with a store-bought crust. Then, you can focus on what really matters: the seasonal veggies. Here's a recipe we put together using summer squash. We have a feeling we'll be turning to this technique all season, but make swaps for the filling with whatever looks best week to week.
Print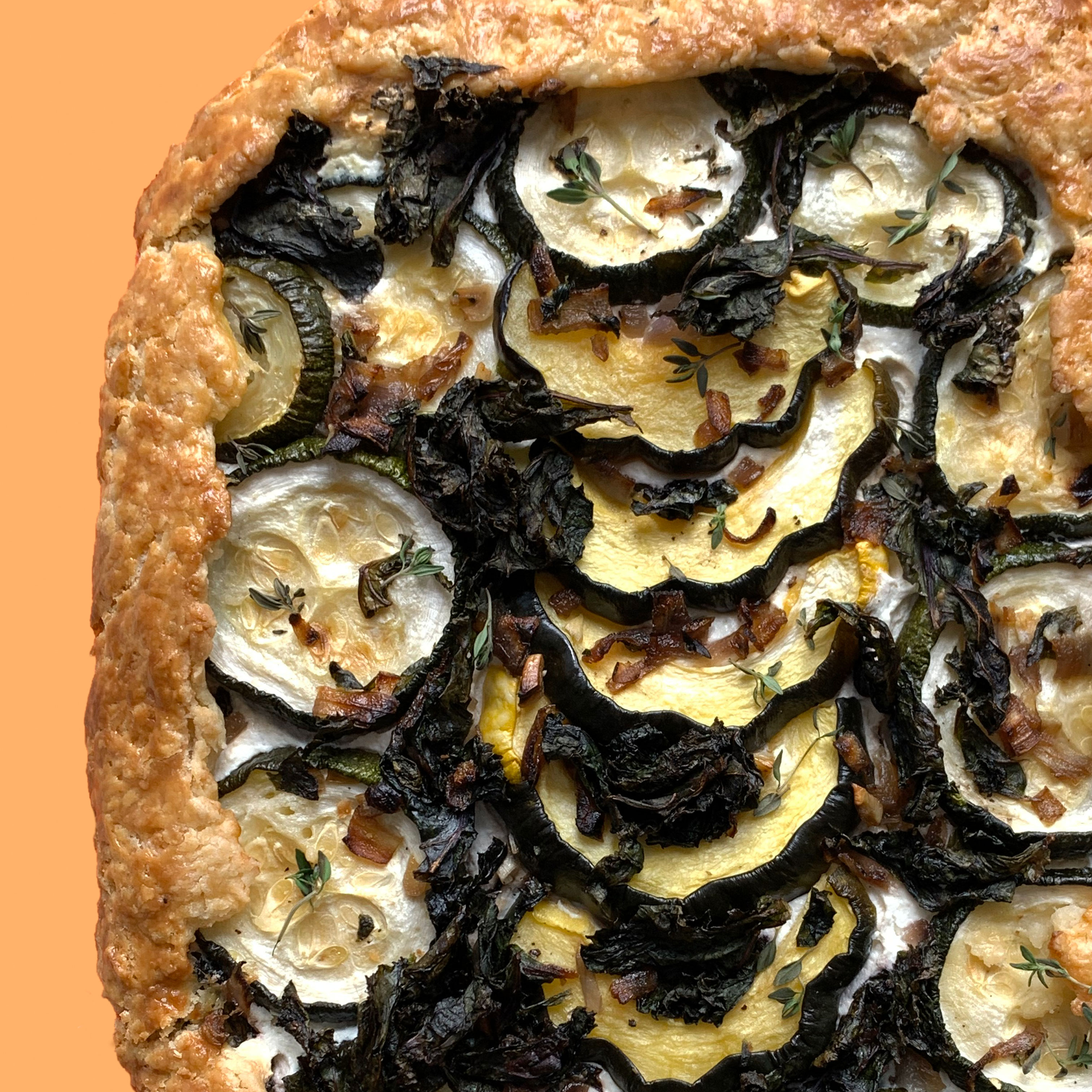 ---
Description
The best part about this recipe? It's totally customizable! You can use whatever cheese you have in place of feta, like fontina, gruyère, jack, cheddar, or mozzarella. We like the feta and ricotta combo because feta's salty-punch really offsets the vegetables and the creaminess of the ricotta is just luscious, but use whatever you have to eat down the fridge.
---
All-Butter Pastry
2 1/2 cups

of all-purpose flour

2 teaspoons

sugar

1 teaspoon

salt

2 1/2

sticks of unsalted butter, frozen and grated

1 tablespoon

apple cider vinegar or distilled white vinegar

1/4 cup

cup of ice water, plus more as needed
Cheese Mixture
1 cup

of ricotta

1/2 cup

of fresh feta cheese
Zest of

1

lemon (optional)

1/2 teaspoon

chili flakes (optional)
Vegetable Topping
4

–

5

cups root veggies (rutabaga, potatoes, or turnips), squash (acorn, butternut, or summer squash) and greens (kale, red kale, or spinach)

1/2

large onion or 1 whole medium red, white, or yellow onion, diced (about

2 cups

)
Fresh thyme
Olive oil
Egg Wash
1

egg, beaten

1 tablespoon

milk or heavy cream
---
Instructions
Make your dough: Mix flour, sugar, and salt in a medium bowl. Using a box grater, grate frozen butter sticks into the same bowl. Put the bowl in the fridge to rest—you'll need to create space in your fridge to rest the bowl at various intervals and also enough room for a baking sheet with the dough.
Place a half cup of water with 1 tablespoon apple cider vinegar in the fridge to cool. After about 10 minutes, bring the dough back out and slowly add the water/vinegar mix. Add a quarter cup first, then slowly more as you need. Pull the dough together as a ball, pressing it lightly. Do not knead. Place back in the fridge to rest.
Then, roast your root vegetables and squashes: Preheat oven to 425 degrees.
Toss vegetables in oil, salt, and pepper, and lay everything on a parchment-lined baking sheet.
Roast for 20-30 minutes until tender and slightly browned.
While the squash is roasting, prepare your greens: Add olive oil and diced onion to a skillet over medium-low heat. Add salt and pepper and stir to mix. When onions are soft a fragrant, after 6-8 minutes, add greens. Sauté until cooked through slightly and wilted. (Kale will take longer to cook than spinach.) Take off the heat and set aside.
Lightly flour a surface and roll out the dough until about 1/2-inch thick while trying to keep a rough rectangle. Put on a baking sheet on parchment and place back in the fridge to rest.
Make your cheese spread: Mix ricotta and feta together in a small bowl. You can add optional lemon zest and chili flakes.
Pull your baking tray of dough out of the fridge and liberally coat the surface with the cheese spread, leaving about 2 inches around the outside. Layer on the vegetables. Greens are nice right on top of the ricotta, but you can do any pattern that you wish. Work quickly, as you want the dough to stay relatively chilled. (Don't worry if you have leftover vegetables, they can be refrigerated and put in an omelette later, or tossed into fried rice, or folded into pasta.)
Once squash are cooked, reduce heat to 400 degrees.
Combine egg and milk for an egg wash. Brush onto the pastry sides and place entire galette into the oven. Bake for 40-50 minutes until the crust is golden brown.
Serve warm, sprinkled with fresh thyme leaves and a side of crisp lettuce salad tossed with a sharp vinaigrette.
---