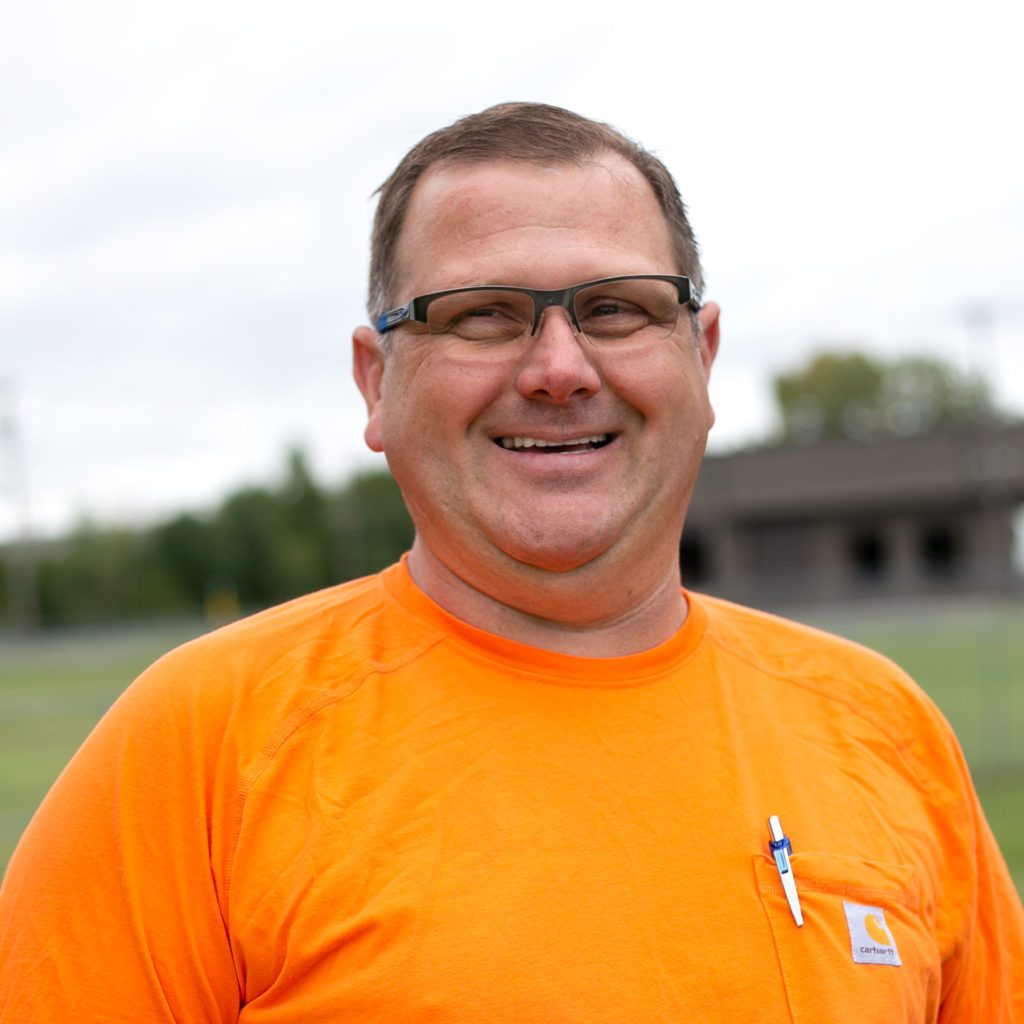 Meet the Misfits is a Q&A series that introduces you to the people who make our team so incredible. For the holidays, we're making a donation to our spotlighted employees' charity of choice each week.
Meet Joe Foster. After staying home with his young son and daughter for the past five years, Joe recently came back to "work" at Misfits Market. (Because as hard of a worker he is at our Philly-based warehouse, Joe claims being an at-home dad is still harder!) As the son of a butcher, Joe was born into the food industry, and has spent the majority of his career working in produce warehouses and managing large operations teams. Read on to learn more about Joe, why he's big on interpersonal working relationships, and which misfit produce he still needs to try. (Hint: All of them!)
Who are you and what do you do?
I'm Joe Foster and I am the Shipping, Receiving, Maintenance, and Facilities Director. Inbound, I make sure that every product is received properly and then on the outbound side, I make sure the finished boxes are going out on the right line haul so they get to the correct customers.
When you say it like that it sounds easy! But I know it's much more complicated. Can you explain what exactly goes into all of that?
Inbound produce usually arrives from external carriers on 50-foot trailers. Sometimes, it'll be a mixed trailer with apples and oranges, so we need to sort through everything. Then, we need to send all of the produce through quality checks to do things like validate that the counts are correct. Then, we put pallet tags on the crates so production knows the use-by date and all of the important information they need to know.
What were you doing before you joined Misfits Market?
I was actually a stay-at-home dad for five years, which was a great experience, but I was glad to come back to work. Before that, I worked in produce for about 20 years with Ready Pac and Taylor Farms. That was a 24/7, 365-day-a-year role that entailed the same thing as Misfits: shipping, receiving, inventory. I was also in charge of transportation and donations—same as I am here—to make sure our excess produce was donated. And then I did anything to help the company's to go green like setting up programs to recycle excess plastic.
I know that your father was a butcher and you've clearly worked in the food industry for quite a long time. What was it like growing up with food and do you think that inspired you to join the industry today?
From age 6 to 12, my dad woke me up on Saturdays and took me to work. A lot of times I just sat in the chair and watched him as he would carry a hind beef quarter* on his shoulder and hang it up to carve it. He had this huge diagram that told him which parts were steaks and what should be cut where… all of that had a huge impact on me.
My dad came from the era that if there was food on the table, you ate it. He was raised right out of The Depression, and he had 13 siblings, so there were times that there was no food on the table. But sometimes a neighbor would knock on the door and bring them food.
I have four brothers and five sisters, so for all of us, that had an impact on us and we were raised to always share. And now with my kids, if we have an abundance like we do now, at Christmastime we buy for those who are less fortunate. So how my dad raised me had a big impact.
I took some time off from food and I worked in carpentry for about 13 years, but since then it's been all food.
*The average weight of a hind quarter is 130 pounds!
Why fresh produce versus getting into the meat business?
The butcher business died off. For my dad, when he was growing it up, butcheries were all corner stores. Over in Philly on Summerdale Avenue, you would find all of the corner stores but they have since gone away into big supermarkets.
When I was working for my dad, you knew everyone in the surrounding 10 miles. I would take orders to our neighbors, my dad would cut bones for their dogs… that all went away, that face-to-face customer relationship.
It's quite ironic that now we're in an industry where we deliver food to people with limited face-to-face interaction. How you feel about that and how the food industry is changing in terms of interpersonal relationships?
That's just how the world is going with our phones and electronics, but watching my dad interact with people was fantastic. And the lessons it taught me! I would wear a baseball cap and he would say, "when you're talking to someone, take the baseball cap off." He came from that era, which helped me to learn the value of respect. He knew the families that we delivered to, my sisters worked and cleaned their homes. That was just the era he was raised in and he taught me those same lessons.
What was your favorite thing to cook with your dad?
It was always meat. Burgers and steaks. We were a meat and potatoes all-the-time family. I can't say I ate a salad my whole life.
Are you eating salad now?
I do not. [Laughs] And that's followed me at all of my jobs from Ready Pac to Taylor Farms. Everybody would say, "Joe won't ever take our food because he doesn't eat it!" I don't eat salad.
What about Misfits Market produce?
I don't eat it. [Laughs] The kids will eat carrots and fruit, apples and oranges, but not really veggies.
What's harder, staying with the kids or working at Misfits?
Staying home with the kids. Now, they're 9 and 11 but I was with them during their early years and it was hard. I give credit to anyone, man or woman, who stays home with the kids. My kids are great but it can be challenging. So is work! At Ready Pac I had over 250 people under me.
You see people at work more than you do at home. So really, your work family does become your family. That's why it's great working at Misfits because these guys are great. Everyone here is so passionate about saving produce.
Let's talk about that. In terms of your perspective on food waste, growing up in the industry, how do you think cultural perceptions are changing or how do you think the food industry is changing in terms of food waste?
I think it's changing but I just don't think it's there yet. Same with recycling plastic. Even at home, half the stuff you put in the recycling bin shouldn't be recycled.
At Misfits, we have a 40-foot open top that we put all of our waste in. It's not going to the landfill, it's going to compost or to feed farm animals. Even though it's going back to farmers or the earth, there's so much more we can do. The most important thing is when we're putting food into the bin is to make sure there's no plastic in there. If there is, you have to call it out, and if that means someone has to go in there and get it out, then they do.
Have you jumped in?
Absolutely! You have to jump in with both feet. But it's so important because right now China isn't taking our plastic or our cardboard and it's critical that the wrong things don't end up in our landfills. There's a spot for it, we just have to find it.
Going back to what you said about family; you spend more time with your work family than your regular family. Do you think Misfits has created a good culture in terms of fostering relationships?
Absolutely. I really do. Even with the distance between the New York office and our guys here, we definitely spend a lot of time together. Everyone's doing a fantastic job to make sure the culture here is the right culture. For a company that's only been around a year—and I was with Ready Pac for 14 years—it feels like it's been 14 as a culture. It's great, we all work really well together.
You said at Ready Pac you had a team of 250 working below you. It's much smaller here, so do you find that you prefer larger or smaller teams?
It doesn't make a difference to me. It's warehousing, which I've learned to love, and it's not the number of people but the type of people.
When it comes to managing, you have to talk to people about their home life because our home life affects how we act here. If someone has a problem, you need to be open and you say "it's okay, you'll get through it, take some time off." It becomes more personal, which helps at the time when you do have to say hey, I need you to work a few extra hours.
Whether it's big or small, you have to be a people person to love what you do. In warehouse and shipping, it can be tough! It's cold out there, it's wet, it's damp. You come to work when it's rainy and wet outside and sometimes the night shift has to work longer… and it can all be tough, so it's hard to ask for extra hours but helps when you have those relationships.
What do you look for in candidates who might potentially work on your team?
A lot of it is experience and asking during the interview process, "why are they interested in Misfits Market?" They may not give it, but I try to get more personal during the interviews. I like to take my candidates around the warehouse and explain what their role will be so when they leave here they know exactly what their job will entail. It's important to do that to get to know the person better and how they react to the working environment.
What do you like to do outside of work?
Hang with my kids. I taught my son how to play video games but now he's better than me. My daughter loves to see plays, she loves the arts! So just spending time with my kids.
What do they think about your job and what you do?
Oh, they love it! They love to come up and see the trucks and of course my son always wants to drive the forklift and I have to say, "not today, son! You're only 9." I think they appreciate that they see me get up and get out every morning, it's a good lesson for them to learn.
It's the holidays! Do you have a favorite food tradition? Can you talk about what it is and why it's special?
Coffee cake. It's a recipe from my mother-in-law and we've been making it for years and years and the entire family loves it. You just missed it; I brought some here last week.
Bummer! I grew up on like, Sara Lee coffee cake that you just pop in the microwave.
The recipe is fantastic. It's a heavy cake; it has applesauce in it.
Growing up, did you have a lot of holiday traditions? I know you have a big family…
Just getting together. My dad had 17 in his family with nine brothers, and eight of those brothers had more than 10 kids each. We lived within three or five miles of each other, so when we were younger we would get together. As we got older, we had to rent out a big hall.
For the last 13 years, we go down to the shore and get two houses so we can all cook together, put all of the tables and chairs together. It's just fantastic.
Last question! This holiday season, we're choosing to donate to a charity of your choice. What charity did you pick and why?
Toys for Tots. I've been giving to them every Christmas and giving back to others is something I've taught my kids from an early age. And my dad did it with meat so that's where I learned it. We always give back.