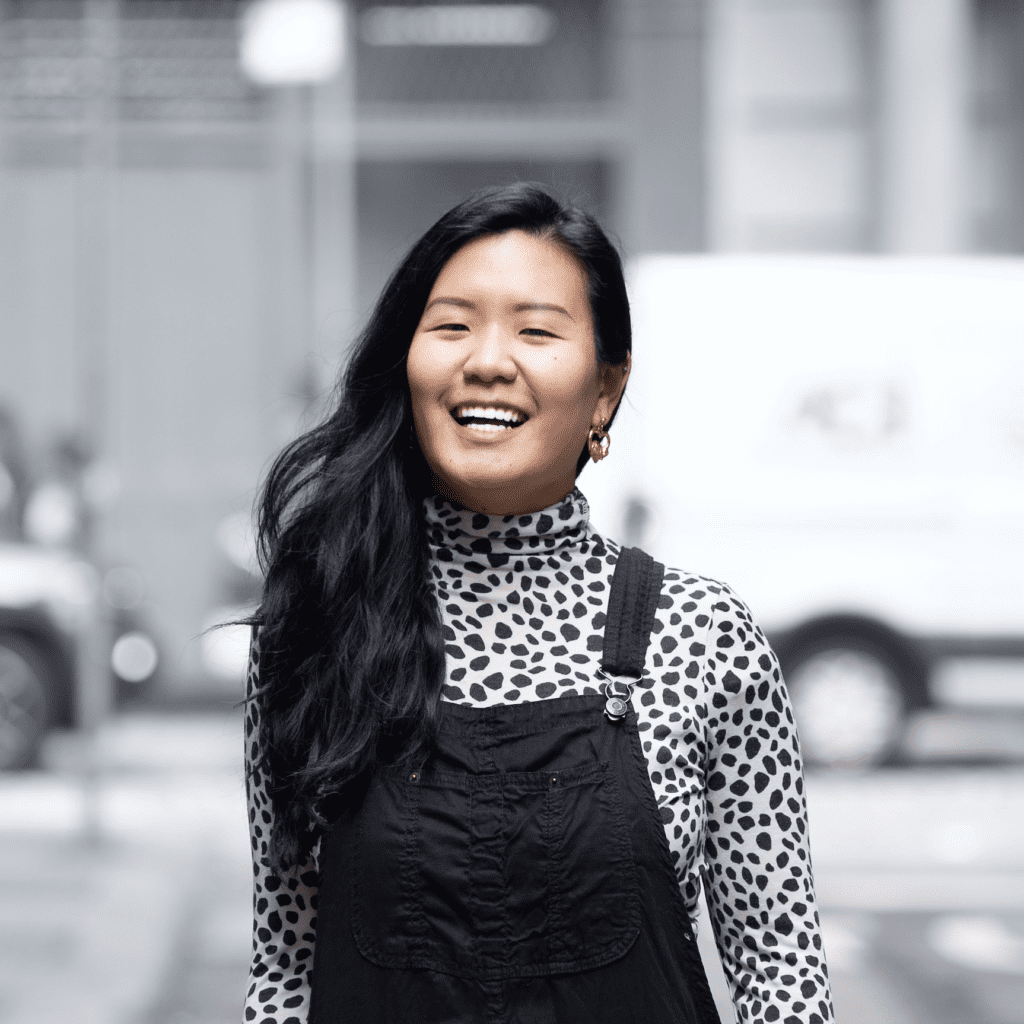 Meet the Misfits is a Q&A series that introduces you to the people who make our team so incredible. For the holidays, we're making a donation to our spotlighted employees' charity of choice each week.
Say hello to Janet Kim, our lead product manager and the first Misfit to be spotlighted in our Tribeca-based NYC office! Janet is charged with all things customer experience, which means reading every last word of those customer surveys (we promise, she does indeed). Read on to learn about her favorite holiday food tradition, why she thinks the Misfits Market experience is so unique, and what exciting new products you can soon expect. (Yes, customization is coming!)
Who are you and what do you do?
I'm Janet, I'm the lead Product Manager here at Misfits, and I'm focused on everything customer experience related, from the first time customers subscribe to every touch point after that. I'm always learning more about the customer and our box experience, which means asking questions like "How do we keep customers happy?" and "How do we launch new features and services that are exciting for existing customers?"
We have a small but mighty team that works closely with the engineering, marketing, and operations teams. We work closely with the customer success team, too, so we can incorporate customer feedback into our products to improve our service. I spend a lot of my time looking at data and research to help decide what's important to build for current and future Misfits customers. We read every line of our surveys, so thank you to anyone who has answered them. We hear you!
What were you doing before you joined Misfits Market?
I was at another ecommerce company where I was a product manager focused on customer experience across web and mobile. Before that, I was kind of all over. I have a background in augmented reality and virtual reality, so right after college I was teaching workshops with LEGO robotics at science museums to middle schoolers. I've always been interested in opportunities with a lot of play and creating delightful experiences for people. And now I'm rescuing ugly vegetables for people!
Yeah, Misfits feels like quite the departure from playing with LEGOs! What inspired you to join the Misfits Market team?
I love food and the grocery space, which is what I liked about my previous role. What I found so interesting about Misfits, though, is that it kind of flips everything on top of its head. I love that I can work in the tech and operations side of the business to bring tangible things to people's doorsteps and help busy households live a little easier. When I was learning about Misfits, I was struck by how much of a game changer the model was. It's a triple win: reduce food waste, help growers, and help households save money.
Has there been anything really surprising you've learned since joining the team? Either about Misfits Market or the food supply chain?
Because I sit right next to our procurement team, I overhear Daniel [Litwin, Misfits' Head of Procurement], so I'm naturally learning a lot more about the grower side of the industry. What's really important to us is that we're grower first. We go to the farmers and we ask them "what can we do for you?" We're trying to bridge a connection between our customers and growers.
I've learned to love the relationship that we have with our customers and that we are so mission-driven toward reducing food waste. We're all about providing products that are affordable for our customers but we're more focused on shipping out really quality products. It's not just about the lowest deals, it's about finding and selling products that we feel good about, working with like-minded suppliers, and making everything more accessible.
What does your day-to-day look like?
It can be a mixture of things from customer research to reading surveys and looking at data analysis, but also working with product designers about the features we should roll out next. I talk a lot with engineering and operations to figure out the best thing to do next and how we make it happen.
Speaking of the new features you want to roll out next, what can we expect to see in the next year?
Customization is definitely top of mind for us. We've rolled it out to a small subset of our customers for testing, but our goal is to roll it out to everyone soon. We know it's super important for our customers to not only pick what to put in their box but also decide what not to include. There's a lot of complexity in getting that done from an operations standpoint, though. It's much more efficient for us to do a mystery box of sorts, which is why we are more efficient than your traditional grocery store or even other food service companies. We don't hold produce as long and we ship it out as soon as we can so it stays fresh for as long as possible. Customization is key, though, because we want to make sure the food is going to a good home and that it's only the food that our customers want and will want to eat.
Are you saying that customization could potentially go against what we're trying to do in regards to eliminating food waste because certain foods may not be picked as much as others?
Not exactly because it won't be 100% customization. You'll have an assortment of items that you can choose from but it's not like a free-for-all to pick whatever you want or get unlimited amounts of one thing.
Everything we get is still misfit or excess produce. With customization, we're just trying to better map that produce to homes that want exactly that food. We will continue to have mystery boxes to make sure that all of the food we get is still distributed.
Why is it important that we test with a small group of customers first before we can roll it out to larger groups?
It helps us to get warehouse operations up to speed, and for us, it helps to give us time to build out the right tools and systems and processes to make sure we ensure a great experience for our customers. Though we just launched The Marketplace, those add-ons started with small test group, too.
So ultimately, when it does roll out to all of our customers, the customization process should be as seamless as possible because we did all of this testing and we should have *knocks on wood* minimal issues?

Yeah! Exactly. You took the words right out of my mouth.
Speaking of our customers, earlier you said you really enjoy how passionate they are. What are your other favorite things about working at Misfits Market?
It's true! Maybe I'm biased as a product manager but I love the relationship we have with our customers. I love how engaged people are and the kind of feedback that we receive. I love seeing customers talk about how they used to eat more meat-centric dishes and now they're eating more veggie-centric dishes. I see a lot of people say that their partners and children are eating healthier—they feel good about what's going into their family's mouths because it's organic. I just love seeing that trajectory for our customers and seeing them get so much value to the point of lifestyle and behavior changes. I love that we can make an impact there, plus help people save time and mental energy.
Do you find that we have a unique relationship with our customers when compared to other food delivery services?
For sure. Especially when you think about groceries and fresh produce, people really care about where their food comes from. The fact that we're mission-driven and the fact that we're helping organic farmers resonates with a certain type of customer. It's awesome that we can help provide a service for people that saves them time and money while also contributing to others. It's a feel good, multi-prong value proposition.
In an ideal world, what other products would you have us release some day?
In terms of a larger vision, I see us building out an "autonomous grocery service." We'll know your preferences like what you don't ever want to get, what you don't want for a while because you need a break, and what you really, really want next week. You can engage with us as much or as little as you want, but you'll still get a box of groceries for you and your family. And we'll still be doing it in an efficient way where we're connecting growers and brands directly with customers.
I'd love to launch a mobile app that's not only really easy to use but helps us to function more like a food aid to complement people's lives. Like, not only identify what veggie a customer just received but also how to cook it, what's the best recipe for it, and how to use it again and again. I want there to be a space to get input from the community. For example, yesterday I was roasting carrots and I was wondering what to do with carrot tops…
Mmm, pesto!
Yes! Pesto. And there are just so many good ideas from our community, too, so having some kind of hub where we can have resources, like what temperature do you need to cook certain foods, but also a place to house creative ideas, too. There's so much community around food and I want to help bring it together.
What do you think makes the Misfits Market experience different than your traditional grocery store experience?
Even fundamentally, the way that these experiences are set up are so different. Yes, we're being opportunistic, but mostly we are trying to close this gap of food waste that is caused by traditional retailers: They're rejecting things at their own discretion and we are working hard to solve this immediate, widespread national problem.
Instead of making demands, we're grower-first and asking farmers how we can help. As an aside, I want to give a huge shout out to Daniel and his team who are doing such a great job at building these relationships.
A lot of online grocery experiences are digital translations of the analog experience and are built off of the existing physical store networks. I think I read that the average supermarket has 40,000 SKUs. Meanwhile, we only have a limited number of items per week that we're rescuing from the select suppliers that we work with.
From the customer perspective, having your groceries come to your door is a huge time-saver. Lord knows every household could use more time! And getting a box of fresh, organic produce checks off a weekly box for a lot of our customers. These also may be products customers may not have access to in their local grocers.
Can you expand a bit more how you think we've set ourselves apart from other grocery delivery services?
When we were doing initial research, a lot of the consumers we spoke to told us that when they shop for groceries online they feel like they have to be "on top" of their stuff and that they feel like they have to plan too much advance. That's a lot of time lost! We're eliminating that with a service you don't have to think about all the time.
Which is a good thing! But that means that sometimes our customers are not always aware of everything going on behind the scenes. Like, they just get a box, but there's a lot that has to be done with our warehouse operations to pick the right mix, efficiently ship to the right destination, and so on…
Totally. And that's our focus right now, too, building out new systems for the next year. There's even more interesting opportunities towards personalizing to your household, personalizing to the different diets in your household, and knowing whether you have children. Even something like, we know that you got oats four weeks ago so we can alert you that it's time to replenish! There's a great opportunity for us to build out those tools and technologies.
What is your favorite misfit food to take home to cook, or anything new or interesting foods that you've tried since joining the time?
Because I sit next to procurement, I love our commitment to really interesting and specialty produce like Romanesco cauliflower or the watermelon radish. Also things I've grown up eating, like Asian pears and bok choy and persimmons. Those are things that I used to only see in Asian supermarkets and I think it's special that we're bringing it to the masses and households who have never tried that before. We're bridging cultures through fruits and vegetables!
A lot of what I've been learning culinarily are the subtle differences between things like curly, Tuscan, and lacinato kale, or eating fennel and turnips for the first time! These are things I've seen at the supermarket but I've never bought them, so I'm excited to have a chance to try them.
You're being forced to discover something new and then try something new, and that's what gets some people interested is this discovery aspect of Misfits Market. You try fennel for the first time without really planning to, and now fennel is your favorite food!
Exactly! There are a lot of these… let's call them secondary benefits of Misfits Market. Not only are you helping to reduce food waste but you're learning about new fruits and veggies. And that's important to our customers! They're trying new things and making positive behavior changes by eating more fruits and vegetables.
So, we're coming up on the holidays. Do you have a favorite food tradition around this time of year?
This is a little further out, but Korean people have this thing where on New Year's you eat teokmandugook, which is like a rice and dumpling soup. To backtrack a little, Koreans believe that you age on New Year's and not on your birthday, so there's something called "Korean Age" where you're a year older technically. Anyway, they believe that you only age when you have this soup.
So if you don't eat it then you're young forever?
Haha, yeah. But it's super warm and comforting and a really nourishing soup. I try to have that every year with my family. I've tried to make it before but it's never as good as my mom's.
We asked you to choose a charity that's important you. What charity have you chosen and why?
I picked a charity called Rescuing Leftover Cuisine. It was actually started by a classmate of mine from high school, Robert. He started his career in finance but decided to quit because he wanted to focus on giving back to his community and he started this volunteer-driven nonprofit. They drive around to restaurants and other organizations and take their leftover food and redistribute it to food pantries and shelters.