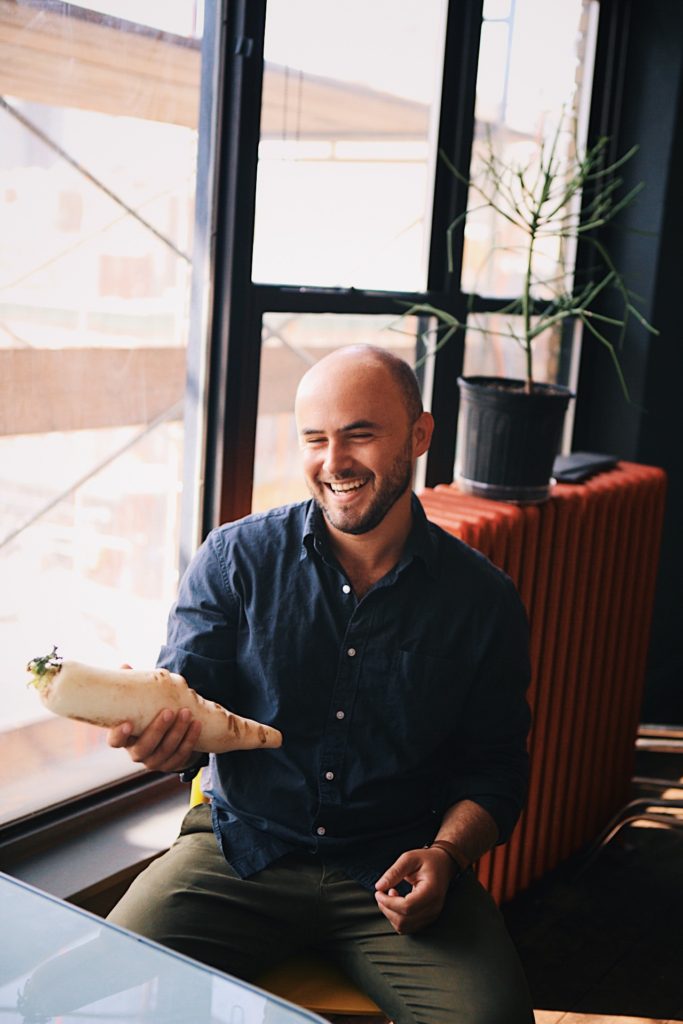 Ever wondered who's responsible for sourcing the incredible—and sometimes incredibly unusual—veggies in your box? Our Head of Farm Partnerships, Daniel Litwin, leads the procurement team at Misfits Market.
A native New Yorker, Daniel is forthright and as passionate about food as he is about supporting the small- and medium-sized growers he handpicks from around the country. Here, he reveals secrets about supermarket produce, what most people don't know about ugly food, and what makes Misfits' approach to sourcing so groundbreaking.
Q: How did you get started in the food world?
A: My very first job in food was working for a traditional supermarket in Brooklyn as the assistant manager of the produce department. It was my first exposure to the world of produce in New York City and it was extremely enlightening. I was able to go the Hunts Point Terminal Market, which is the largest wholesale produce market in the country. That's where I started to get a sense of how our produce world works, where it comes from, how it gets here. It was extremely eye-opening to see how impersonal it can be. That was the driving force for me to find a way to work with a stronger focus on the growers themselves, and less so on the wheeling and dealing of the produce world.
Q: What surprised you the most about the way groceries approach misfit produce?
A: The single most important thing to know about managing a supermarket produce department is that, under no circumstances, can the shelves ever be empty. To make sure this never happens, you end up over-ordering by a significant amount. On top of that, the particular store I worked at had a particularly strong focus on everything looking perfect and shiny at all times. The manager of the department would regularly instruct the people in the department to cull the shelves. If anything didn't look perfect, they'd take it off the shelves, and it would disappear.
Q: Did you know where it went?
A: A portion of it was donated, but a lot of the times it went to the trash.
Q: Where did you work next?
A: My next job was as the purchaser for three major restaurants in New York City under the Jean-Georges Group. They are farm to table restaurants so it was an opportunity to work with small-scale farmers in the NY region, which was really rewarding because I think it's so important to support our local farms.
At the restaurant level there's a lot more flexibility to work with food that doesn't ok that great. The hard part is finding it. A lot of times the same wholesalers you're working with for food service are also serving retailers. The demand at the retail level is for beautiful looking product. Even though chefs have a strong understanding of the fact that it doesn't need to look pretty, it doesn't represent a strong enough portion of the demand to create significant supply at the wholesale level.
My most recent job before Misfits was with Local Bushel, a local food distributor that sourced for fine dining restaurants in Manhattan and Brooklyn. It was all local, source-transparent produce harvested to order, even chickens processed to order.
Q: Describe the rescue process and how you work with farmers to source food.
A: Depending on the item and the grower, we might hear about a potential item anywhere from a week and a half away to the day before. The cost of the harvest itself accounts for a large portion of the farmers' total cost, so most growers will typically only harvest something if they know ahead of time that it has a home. Occasionally they'll know if some weather event impacted a crop early on, but usually it's much closer to when it might actually be bought.
We have gotten calls as last minute as the same day of delivery, In one particular instance, a grower of ours in Canada sent cucumbers to a customer of theirs not too far from us. That customer rejected the item, saying the product was bad, when in reality there was nothing at all wrong with them. Rather than argue with their customer, our grower was able to call up Misfits and redirect the product to us to avoid a loss. The cucumbers looked beautiful and we were all able to avoid having to send the product to landfill.
Q: How do you determine what types of items to rescue? And how do you get your hands on some of the more unusual items?
A: One of our guiding principles is that we always want to be able to go to growers and say "What do you have for us?" not "This is what we need." That's what distinguishes us from some other ugly produce companies that may demand specific items each week from growers.
We don't dictate the market, we follow the growers.
When some of our local farmers want to try new items, it's tough for them to predict the demand. By offering to take any excess, we give them the flexibility to grower with a safety net and without worry. When we work with CSAs, for instance, we give them a lot of flexibility to try new things. They have a set number of customers they have to serve but they have to over-order, regardless of whether customers can take everything. It gives them an opportunity to experiment with more obscure varieties that we'd be open to accepting.
Q: What's the biggest misconception people have about misfit foods?
A: That all excess or ugly food has a potential home at a processor. Yes, some ugly apples from larger commercial orchards end up in applesauce and some tomatoes in pasta sauce or salsa. But for the vast majority of the foods we source, there is no secondary market. For example, there is not a demand for green lettuce juice. Especially with the smaller farms we work with, they don't have the infrastructure, time or resources to get these items to customers or processors.
Q: Tell us about the landscape of excess food beyond produce.
A: One of the largest issues food producers outside of produce face is short-dated product. Due to the nature of our supply chain, most foods pass through a number of hands before making it to the customer's home. In order to make that work, food producers need their product to have multiple months of life on it before it leaves their warehouse.
What that means is that the producers of the food often run into short-dated produce that still has a couple of months on it or more, but for their purposes, it's still considered short dated. Because our model allows us to work directly with the grower or the producer and get it to our customers in an extremely short period of time, we have the unique opportunity to work with producers on short-dated shelf-stable products.
Q: What excites you the most about this job?
A: The single thing that excites me the most is being able to work directly with growers in a unique way that is so beneficial to their operations and gets us all excited about new opportunities.
Q: If you were a misfit fruit or veggie, what would you be?
A: I know this might not be the most exciting answer but I love a good onion. There is nothing more delicious than a slow-cooked, caramelized onion or a big batch of onion beer jam. Slow cook your onions on low heat, add some dark beer, and watch the magic happen.
What else would you like to know about Misfits or our sourcing? Share it in a comment below and your question could be featured in a future blog post!