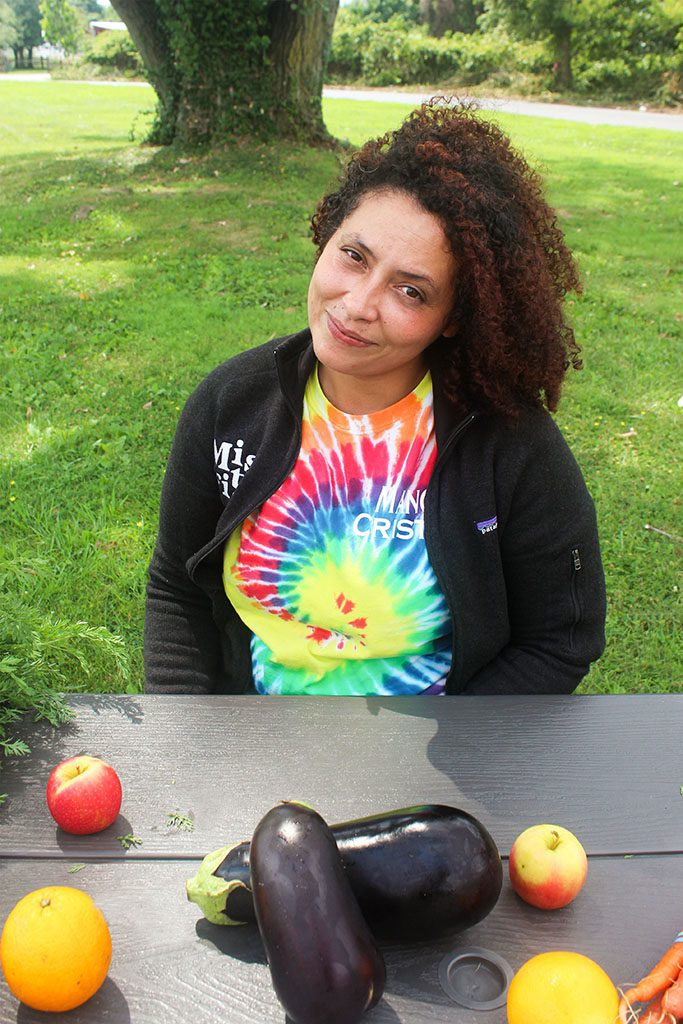 When your entire business centers on preventing food waste, it's critical you have pros on board who carefully track every last piece of produce. Luckily, we have inventory manager Cristina Sanchez on the case. She keeps tabs on exactly which delicious veggies are coming and going from our HQ outside of Philly and has decades of experience in the food world. Though she's been a "misfit" for less than four months, she already has big expectations for her team. She sat down to tell us about her passion for food, the importance of learning from mistakes, and which misfit veggie she can't wait to cook for the first time.
Q: What were you doing before you came to Misfits?
A: Before Misfits Market, I worked at a meal kit company for about two and a half years. I've always been in love with food—I've been working in the food industry since I was 16 years old and I love it. The meal kit company gave me all of the tools and information that I needed to move forward in my career.
While I was there, I started following the "2-1-30" rule, which is something I call my "survival law." It means learning two new skills and one new habit every 30 days. Because of that, I learned about a lot of different departments, not just inventory. I wanted to know more about the entire company so I could start thinking "company" and not just thinking "inventory."
This led me to Misfits Market and once I arrived here, I was fully equipped to do my role. I'm so happy to be here and working for a company that's looking out for local farmers. That's the best part about this company.
Q: What does your day-to-day look like?
A: It starts early! As soon as the product comes through the door, inventory takes that in. We are responsible for checking accounts, making sure the product has the right tags on it—we have to make sure all the numbers match. Once we do our preliminary checks, we're responsible for storing the products in the correct sections. To me, inventory is the heartbeat of the entire operation. We keep everything moving.
Q: You said that you love food. Tell us what you mean by that.
A: I could literally talk about food all day. When I think of food, I think of the smiles on customers' faces and of them saying, "Wow, this is so delicious!" I feel a sense of fulfillment thinking about how our customers feel. Food is good for the heart! It's part of life! I'm always talking about food, I'm always offering food. It's the love of food itself that makes me love working in the food industry. I like to use all of my knowledge to be someone's mentor.
Q: So, you like the community aspect, you like the education part, you like it all.
A: Yes! Especially the smiles on people's faces when they eat food.
Q: What has surprised you the most about working at Misfits Market?
A: I never knew there was such a thing as ugly fruits and vegetables. I'd never seen them! Because we're so used to the supermarket and seeing all of the beautiful fruits, you never actually get to see what's not there.
I also never realized how much local vendors and farmers will lose in profits just because the produce is "ugly." I love the fact that our company is here to actually save them instead of having all of the produce go to waste. I know it doesn't always go to waste, for example, apples are sometimes made into feed for pigs.
Q: Pigs don't have money to pay farmers, though.
A: Exactly! I was just about to say that. That's what I love the most about Misfits Market. We're thinking about things that other people don't think about. It saves farmers money; it saves our customers money. I always tell people that we're pretty much the best produce partner and partners for the farmers, too. We deliver to your home, and we're even doing a farmer's market-type program where we give back to employees.
Q: Do you take the food home to your family and cook with it?
A: Yes, absolutely. I like to cook everything! Mainly Spanish food, and I love my soul food. Now I get to see produce that I've never cooked before! And I take it home with me and challenge myself and try something new. Like, I'm dying to try spaghetti squash. I'm trying to open myself up to new foods I never thought I would eat. That's a new skill! Cooking new foods that I never knew how to cook before.
A: You talked a little bit about mentoring people. What advice would you give to someone who might be thinking of joining the team or starting in the food industry?
A: Best advice? Don't be afraid to learn. Being a mentor, I'm able to show you and guide the way until you succeed, but you have to be open to learning first. Be able to embrace change because change happens a lot in inventory. Embrace change and be ready to learn.
I believe in giving people chances. A person may not have strong skills in one area, but they may be great at numbers! And how will we know if we don't bring them to the team and teach them? Plus, it's not how you start, it's how you finish. There have plenty of times when mistakes happen. No one is perfect; we all make mistakes. I make mistakes! But it's learning from the mistakes and making the fixes accordingly. It's not about speed, it's about quality. I actually love mistakes because if we don't see the mistakes, how will you know what to do better?
Q: What's your favorite thing about working at Misfits Market?
A: The people. The different cultures… you can learn so much from each other. Since day one, I've loved the people.