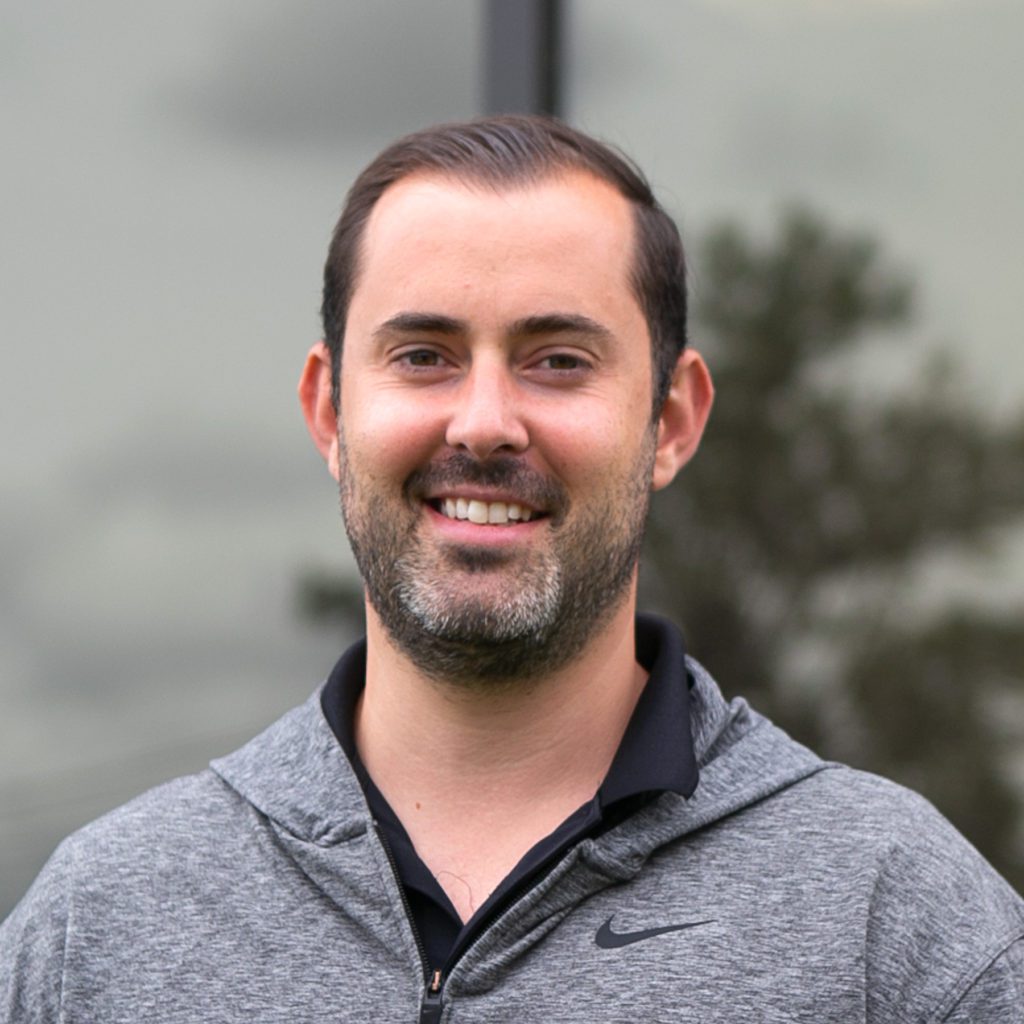 Meet the Misfits is a Q&A series that introduces you to the people who make our team so incredible. For the holidays, we're making a donation to our spotlighted employees' charity of choice each week.
Director of Finance by day, part time packaging connoisseur by night, Anthony Antonello has one of the most important roles in the company: He makes sure everyone gets paid! Of course, there's much more that goes into his dual role of accounting and finance, including his responsibility for finding the most eco-friendly materials for shipping our precious produce.
Read more about why Anthony recently went back to grad school, why he chose the Vetri Community Project as a beneficiary of a donation from Misfits, and which misfit produce he identifies with most. (He put a *lot* of thought into which veggie he's most like—and we wouldn't expect anything less from the guy who deals with numbers all day long.)
Who are you and what do you do?
I'm Anthony Antonello and my role is director of finance, which encompasses all of finance and accounting, and my job is split between the two. As you know, in start up companies everyone wears multiple hats, so I'm also buying the packaging as well.
You used to work at Campbell's. Can you talk about why you left such a huge legacy brand to come to a smaller start up?
What drew me in was the value proposition of Misfits Market. There are so many great things about it: the ability to reduce food waste, to provide the cheapest organic produce to all customers and make it more accessible to more people, and also to provide another revenue stream [to farmers]. I just thought it was a great business model. Once I came and met with [founder and CEO] Abhi and saw production, I couldn't help but fall in love with it.

What have you liked about working at a smaller company and what have been some of the challenges?
It's very different but I love being able to make decisions and see the result immediately. When you work at a big company, you can feel very much like a cog in a big wheel. Coming here, there's always stuff to do, new projects to work on, you're always staying busy but it's a good busy.
What were you doing before this and what was your journey in the finance world?
I started out working for a few years in an investment company and it was mostly account training. Then, I joined Campbell's and stayed for six years in various finance roles. It was a very good experience for me because I got to see the sales side, the brand side, and I also did a stint in corporate audit—you get to see the full breadth of what finance and accounting offers. It really opened my eyes to what I wanted to do and I only have good things to say about working at Campbell's.
Before you learned more about the mission, what made you want to make that jump from big to small?
I think selfishly I looked at it as an opportunity to expand my résumé. You have all of the big firm experience but going to a place like a startup, you're going to learn a lot and quickly. A lot of people did say, "A startup? But that's so risky!" For me, at this point in my life, I don't have kids, I don't have big financial responsibilities, so it's not too risky there. I just thought, this is the time I want to make a big change and it's been really great.
You said you wear a lot of different hats since you're one of the few members of the finance team. What does your day-to-day look like?
That's the nice thing about the startup life, too! No day is ever the same. The first thing I want to do is pay the bills. Then, I look at our financial statements and profit-loss statements, which bleeds into is the biggest questions you have to answer: How much cash does the company have? What is the outlook for the next six months, year, etc.? Then, I get into the finance stuff. So all of this information I get from accounting creates the analysis that happens in finance. That's the fun part—being able to say "We anticipate our profit and loss statement will say this, and with those funds we can spend more on marketing or we could…"
Yeah, give our team [marketing] more money! [Laughs]
[Laughs] Right! Or, it enables us to do really great things. As a socially responsible company, the better we do as a business, the more good we can do for others. This will enable us to give more donations and be more philanthropic.
You're essentially saying the more customers we get, the more we can actually give back?
Exactly. And the better we do with controlling our own costs, the more savings we can pass along to our customers.
You just finished business school—congratulations! What made you decide to go back and get your MBA?
Again, it was kind of this selfish approach of it's a résumé builder and it's become more of a common thing to have in business. I don't have children so now is the time to do this. I can't even imagine someone going through graduate school with small children and also working full or part time. Time is the biggest thing you have to trade off with grad school.
I also looked at it like, if I'm thinking about five or 10 years down the road, having an MBA is something a CFO would want to have.
You obviously think pretty far ahead. Where do you foresee Misfits in the next five, 10, 15 years? What does the ideal world look for us?
We always want to buy rescued food so that mission will always stay. It's what separates us from everyone else. I just see that growing—the portfolio of products we sell will expand. I see us really breaking out our footprint all over the United States. And then it's more about fine tuning The Marketplace. The sky's the limit in terms of what we can do. I see us being the leader in rescued food, almost like the Amazon of rescued items. It's crazy what we've accomplished in such a short amount of time so to think about where we could be in 10 years is almost mind-boggling. I've always thought the brand can be so many things. Not only rescued food and beverages, but it can also be home goods. It could be a ton of different things, and I wouldn't ever be surprised at the idea of building a brick and mortar location.
You joined Misfits in…?
April.
So one of the first of corporate team members, which means you've seen our growth firsthand. Has this rapid growth made things easier or harder to get your job done from a financial perspective?
Probably more difficult. Time is the resource you just don't have enough of, so there's always a trade off. Packaging or whatever it may be takes up a chunk of your time because that's where the fire drill is. Since we're so new, we don't have policies in place for things like travel expenses, for example. We want to give employees direction to what they should do but making those policies takes time. We're adding an accountant shortly, who will manage accounts payable, which will give me more time to create policies like that.
Let's talk about packaging, which is another one of your responsibilities. How did that land in your lap?
I truly got involved due to lack of resources. Abhi pushed me a little bit in that direction and I embraced it because the mentality here is very much "Next person up!" If something needs to get done, you step in. I wanted to help where I could but it turns out that I actually really enjoy it! And for a few reasons: At the end of the day, it's almost like a math equation. You've got to keep the boxes at a certain temperature but you also need to do it economically. And, you have to do it in an eco-friendly manner, right? There are all these different variables that you play with to basically find the best solution. When you come up with the best solution with a lower price, you can see those savings, and you're going to be giving something to the customer that's more eco-friendly. You can't help but get excited about it. I really liked that exploratory phase of the project but it just takes a lot of time. Hopefully I can always play a part in it but probably need to hand it off at some point.
How did you end up sourcing our newest paper liner, POPBOX with Paperlite?
It's been pretty seamless because it's the same manufacturer that we currently work with for insulation. The nice thing about this is it's 100% curbside recyclable. If you subscribe to Misfits, you know the whole unboxing experience. You have to take the tape off the bottom of the box, then, with our warm-weather insulation, you have to take the plastic off the insulation, you recycle the inside portion and then you deal with the plastic how you want. This new insulation basically makes the entire box curbside recycle. You can literally throw the whole thing on the curb, which is fast and great.
It is less insulating but in the colder months you don't need as much padding or insulation as we normally do in the summer so it reduces waste there, by making it somewhat lighter of a package. Operationally, too, it will be great for us because it's one piece. Instead of the team having to grab two pieces and fit them into the box, this is one piece that just pops open and slides in.
Personal life time! What do you like to do outside of work?
I'm pretty simple. I just like enjoying time with friends and family. I just got married, so spending time with my wife. I do enjoy sports. If I'm not spending time with them, it's sports.
Eagles fan?
Eagles fan.
Are you born and bred in Philadelphia?
I was born in West Virginia but only there for a few years as a baby. Other than that I've lived in Philadelphia. I did go to school in Pittsburgh.
Do you like to cook with your new wife and family?
Yes! We love to cook and we've gotten my wife's mother to subscribe to Misfits Market. We cook things that we never would have gotten before at the regular store.
What has been the craziest thing that you cooked recently?
The craziest thing we've cooked ever were fiddlehead ferns. We had no idea what they were because they're really funky looking. My favorite thing has been the shishito peppers. I never had them before working here and I love pan frying them with soy sauce. So good.
What's your favorite thing about working at Misfits Market?
I love the challenges. That's what makes it fun. There's always stuff to do, there's always the next thing we're working on. I enjoy being able to work with all of the different functions of the company from marketing and learning about the return on investment for events. I love the team! We have a great group of people. It's been awesome so far.
If you could describe yourself as a type of misfit produce, what would it be and why?
I did put some thought into this! I would be cabbage.
Cabbage?!
Yes! My thought behind that is: It's a hearty, humble, yet versatile, nutritious, and economical piece of produce. I love the fact that no matter the year it grows, it can feed millions of people, it's cheap to buy, and cheap to make. It's packed with nutrition, it's versatile. I don't think it gets enough credit and I love that about cabbage.
Since it's the holidays, we want to know about your favorite food traditions.
I'm Italian so I have many of them. I'd say my favorite has been my mom's side of the family will make pizzelles. They're cookies, and we always make them from scratch, which is really fun. My siblings and my parents sit around the table together to make them. But of course we do the Feast of the Seven Fishes, so there's a lot of food in our holiday traditions.
We're asking you to choose a charity to donate to, and you're the money guy so you have to approve it! What charity did you pick and why?
I picked VETRI Community Partnerships. It's a nonprofit that offers educational resources and connects children and people in the community to eating healthier. Whether it's cooking classes or giving them access to organic food, it's about connecting children and people in the community to better eating. It not only fits very well into what we do at Misfits, but my mother-in-law is very involved and very passionate about their mission so I thought it was a great fit.