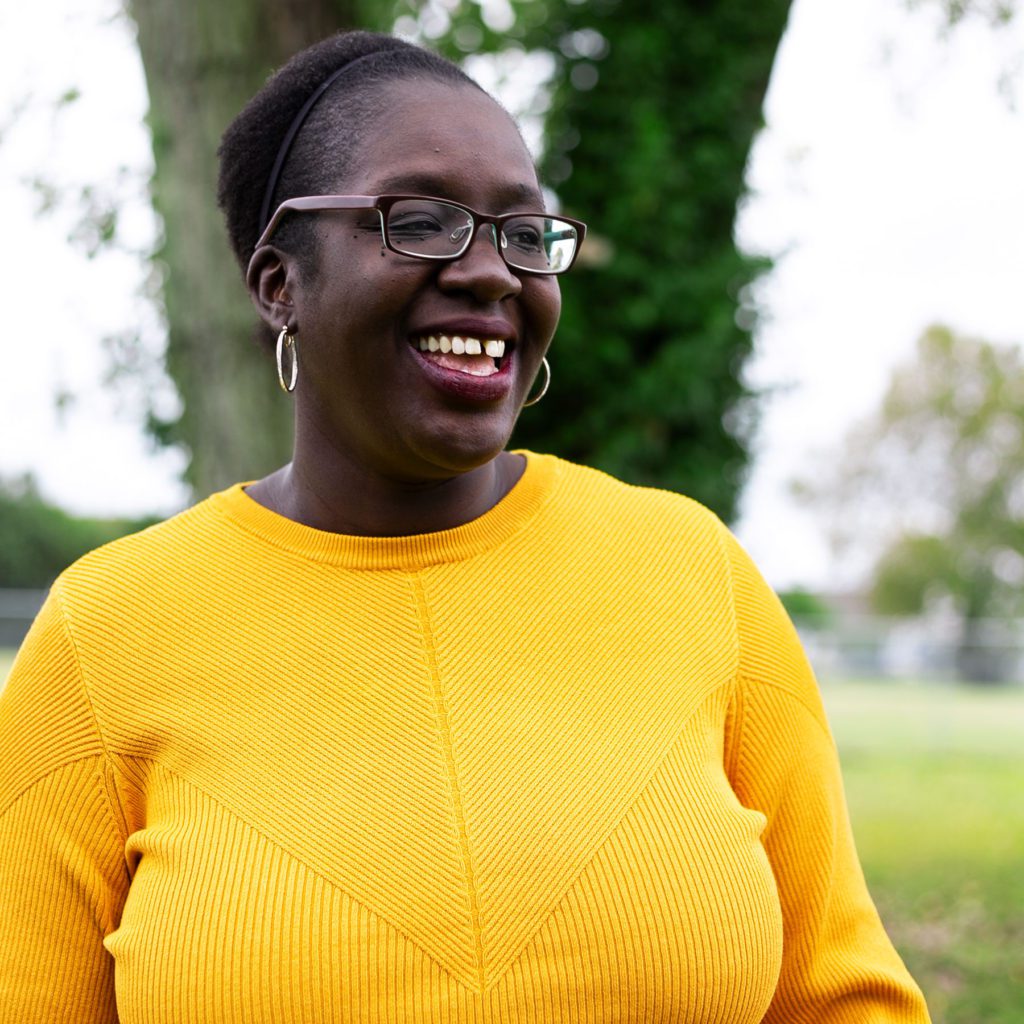 Moraa Gekonge was Misfits Market's third-ever hire, and as Director of Warehouse Operations, she's responsible for ensuring that production is running efficiently and reliably—i.e., getting everything out the door and to you. But ask anyone on the warehouse floor and you'll quickly learn that she's the heartbeat of our operations, always fostering a positive, respectful culture.
Originally from Nairobi, Kenya, Moraa single-handedly build our fulfillment team from the ground up, focusing on giving second chances to people who wouldn't otherwise get them. Whenever she makes a hire, she's looking for those who can build on our community of mutual respect.
Tell us about your role at Misfits Market.
I am the Director of Warehouse Operations, which means I ensure that production and fulfillment is running efficiently and reliably. It's a lot of planning and organizing, making sure that our staffing is right, making sure we know what we're packing and that it's going to the right place. I work across teams from inventory to procurement, and my main job is getting our orders out the door correctly.
So, basically you run the show and without you, it would all fall apart?
Oh, my goodness, no! We have such an amazing team. We've grown quickly but organically, and it's very strong, strong team. It's like a family! We are all really passionate about what we're doing and our mission and it's definitely 100% a group effort.
Before Misfits Market, what were you doing and how did that lead you to this role?
I've always worked in fulfillment, operations, and logistics. Prior to Misfits, I was working at a medical technology company in New York that worked in developing countries. I was responsible for coordinating with our manufacturers and ensuring that our supplies and equipment and people got to where they needed to be.
However, the experience that's most relevant to Misfits was my role at Global Address Me, a fulfillment center in New Jersey. I built out fulfillment teams and was responsible for ensuring that we got everything out that needed to go out.
Though something I've really taken seriously here and that I've done at other jobs is try to be influential in the work culture. Something I've talked many times with [Misfits Founder and CEO] Abhi about here at Misfits is developing that culture.
When you say work culture, what do you mean by that?
When I started, Misfits was just a team of two other people. We were working in, like, a 16-square-foot room and I was tasked with building the entire fulfillment and production team. One thing I always wanted from the beginning was for us to foster an environment of mutual respect, cooperation, and to be able to give opportunities to people who were struggling to find opportunities through other traditional means. That was the foundation that I was trying to build our team on.
It was on that condition with Abhi that we actually built a band of misfits, not just figuratively. We very seriously gave second chances and opportunities to everyone. Some of the first few people we employed were recovering addicts. We were, and still are, really focused on telling people that we were interested in helping to build their futures and not focusing on their past.
Can you talk more about how Misfits hires?
We not only look to hire skilled and experienced fulfillment associates, but we also actively provide job opportunities to formerly incarcerated individuals as well as people from local immigrant communities. The produce world is rife with skilled agriculture workers who also tend to be recent immigrants. We love supporting these communities and we tap pretty heavily into that workforce, particularly for prep and bag teams that handle the pre-pack of produce.
Our goal in hiring formerly incarcerated people or recovering addicts is rooted in our belief that what a person brings to the table today and in the future is not beholden to their past mistakes.
What do you look for in these new team members? Why do you think it's important that we hire from these different backgrounds?
We look for dedicated and experienced warehouse and fulfillment workers who have experience working with fresh produce as well as general order fulfillment experience. Our fulfillment associates tend to be a mix of working mothers from immigrant communities, young people from Camden and Philly urban neighborhoods, as well as people from nearby New Jersey suburban townships. This cross-cultural make up allows for a super vibrant work environment that is both welcoming and challenging.
We push our associates to work hard to meet production goals all while fostering cooperation, collaboration, and a truly judgement-free work space. Our workforce represents the local area — walking on the facility floor one gives us a good a snapshot of who lives and makes up the local Philly and Camden areas.
What's the most surprising thing you've learned while working at Misfits?
I'm surprised at how pervasive the issue of food waste actually is. When I first started here, we began working with small farms, and that was the idea I always had—that [the food waste issue] was reserved for small farms that were unable to sell their produce. As we grew and I started hearing things from [Director of Procurement] Daniel about larger farms and partners that we work with, I was pretty surprised that even large-scale farmers struggle with this issue of food waste, too. I was shocked that these unhealthy ideas we have regarding food and what our food should look like have bled across all groups of individuals and the entire agricultural industry.
When you're not at work, what do you like to do in your free time?
I have two young children, a husband, and an extended family that's nearby. Family is really important to me, so when I'm home, I'm with them. I also try to spend time outdoors. I love hiking.
What do your kids think about mom's job and misfit food?
They love what I do. It's a huge sacrifice though, because I do work all the time. I try to be [at Misfits] very early in the morning to be supportive to everyone on the floor. My kids know that I'm gone a lot but they like what I do. I bring home fruits and vegetables and they love that.
One thing I've always taught my kids is kindness and accepting people for who they are. The last time I had a parent teacher conference for my son, his teacher said that any time there is a new kid in class that he's the one person to go up and talk to them and ask them to hang out. In an interesting way, working here fits into what I teach them: accepting everyone and everything as they are, as they come to you.
You relate it back to the food because even though it's a little funny looking, we still take it.
Yeah, exactly.
Since working at Misfits, what has become your favorite food to cook with?
The two things that I always will grab when we get them is avocados and cherry tomatoes. One of the more interesting things I haven't tried yet is Romanesco cauliflower, which is really freaky looking, and I'm looking forward to trying it. When we get anything interesting, I try to grab them, like the muscadine grapes. They're so weird but taste like grape jelly!
Anything else about Misfits?
It's just a great company and we have a great mission. We have our own growing pains as the team expands, of course, but Abhi is a fantastic, super smart person and we put all of our trust in him. It's a great company and everyone's bought into it.